Alpha Satellite Re:ZERO: Shibuya Scramble Figure Emilia Crystal Dress Ver.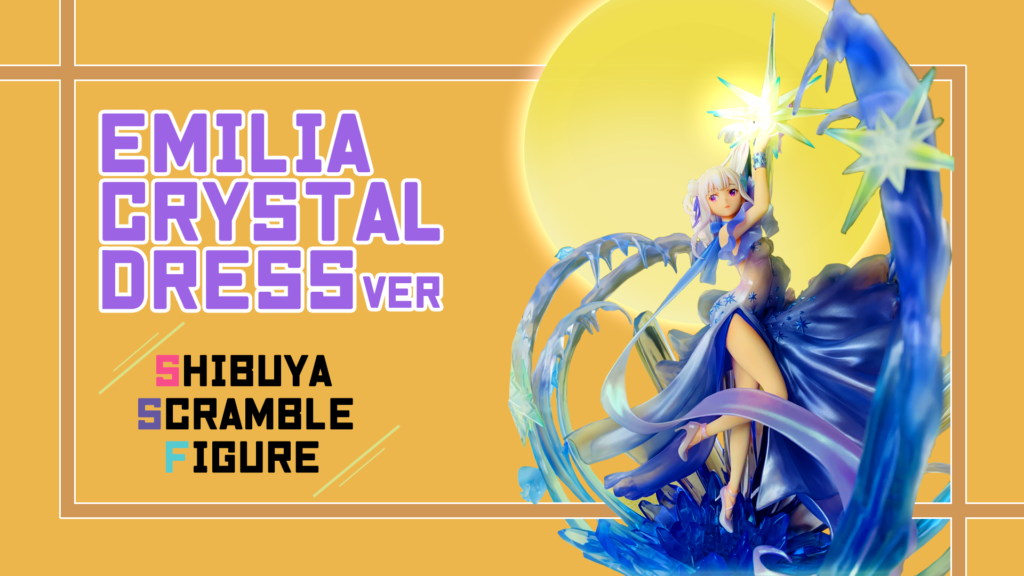 ---
Special thanks to RNG_sama from MyFigureCollection.net for making this article possible
CHARACTER AND TOY LINE DETAILS
Emilia is a mysterious silver-haired half-elf from the anime Re:ZERO – Starting Life in Another World –. From her appearance, you could already tell that she's the main heroine assuming you haven't watched the anime yet. But since you're here, then you might already have seen the first season of the series at the least.
Humans had often stayed away from Emilia knowing that she's the "Witch of Frost". But have you even seen a slightest glimpse of what she'd look like dressed as what people call her? Well, Alpha Satellite has this design fully reimagined!
The Shibuya Scramble Figure is composed of an exquisite collection of anime figures that emphasizes on a design's animation and charm. Every detail is important for this collection, even eye contact with the figure. And, we shall see all of that in this figure review.
Dubbed as an Ice witch, we'll finally get a peek at Emilia in white ice crystal dress!
SHIBUYA SCRAMBLE FIGURE: EMILIA CRYSTAL DRESS VERSION HIGHLIGHTS
Premium figures come with premium boxes. The Emilia Crystal Dress ver. is absolutely one of a kind. It's packaging says it all! A large cube wrapped in cellophane plastic. The box showcases a minimalistic design. What you read on it is what you'll get.
From the box's appearance, you could already tell that the figure would be massive. And it is! The Emilia Crystal ver. figure is massively gorgeous! Her pose screams "I'm a queen!" And with the crystals and ice that surrounds the figure, she's definitely an ice witch.
Emilia's expression on this design holds so much grace. It's like she's posing for a model magazine considering there's proper expression from her mouth and her stare.
There's a lot of sparkly details in this design, needless to say. The creases on the dress suggests there's a strong gust of wind coming from the base which explains the movement of the outfit. You'll also notice this specific element from the figure's hair.
Looking at the angle where the body is facing, you could tell that in the eyes alone that the manufacturer meticulously sculpted the figure to perfection. In the same angle, you'll also notice that the engraved shapes are fine and flawless.
If you're an Emilia stan, you'll be going crazy looking at the figure. To be honest, the figure is such a tease. You know what I'm talking about! Nevertheless, it's still a wholesome experience.
The visual effects are absolutely stunning! If you haven't realized it yet, the flower base bloomed and Emilia emerged from it. The base can stand on its own as a figure if you look at it closely. The effects are definitely well-crafted, and without any flaws, it aids the main attraction for an eye-catching view.
Indeed, the Emilia Crystal Dress Ver. is one its kind. It isn't ridiculous that a figure's price with prestigious design could rise as high as double its pre-order price. Needless to say, it's an exclusive figure worthy of its current value. So, by how much did its price rise actually?
OUR VERDICT
Initial Price: $287 USD
Current Price: $514+ USD
Retail price could go as high as $514 USD! It's almost twice the initial price, and believe it or not, the secondhand market could go as high as $800! That's definitely an intense price range, but at the same time, it's a reasonable amount for a sought-after piece.
The Emilia Crystal Dress Ver. is one of those figures that would make you go 'Wow!' at first sight. It's an outstanding sight indeed, and it's one that deserves all the collectors' attention, not to mention Re:ZERO fans. Well, Emilia herself is waifu material, and for reasons that we've already mentioned, this figure earns itself an S Grade!
Are you a die-hard Emilia fan? Check out our review on this Ichiban Kuji Emilia figure!