Bandai Yo-Kai Watch Soft Vinyl Series: Shogunyan figure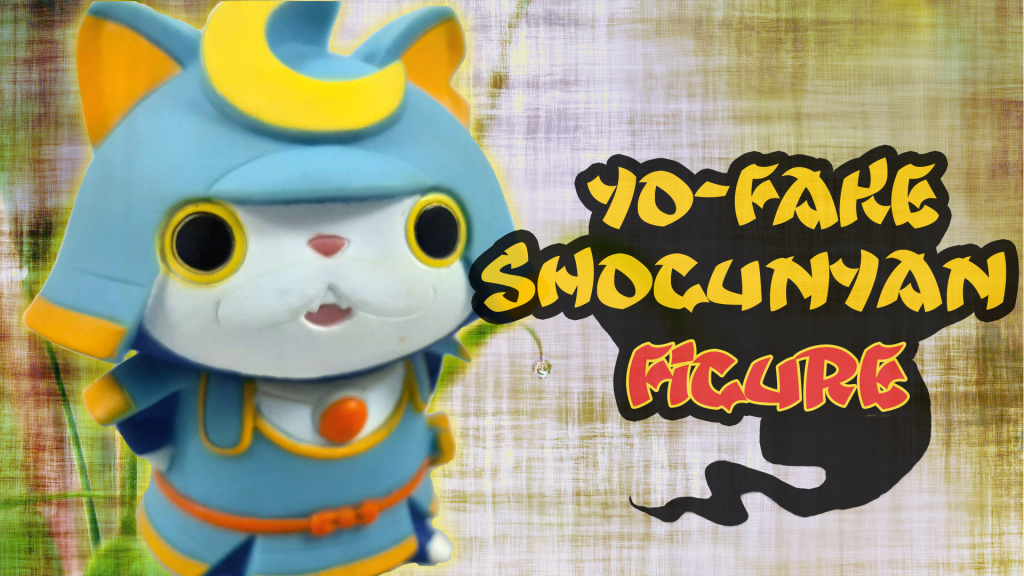 ---
SERIES AND CHARACTER DETAILS
Let's face it. Capturing and collecting creatures are a lot of fun, especially when you're able to battle them out against sneaky ghosts in the video game franchise of Yo-kai Watch.
There's an absolute feat in collecting all Yo-kai, and to be able to befriend the rarest of them all, you have to fulfill some prerequisites into the game. For Yo-kai Watch though, calling these Yo-kai as rare would be an understatement. Instead, they're called Legendary Yo-kai and there are only a handful of these unique creatures — pretty much, they're played as aces on your Yo-kai team.
First gen Legendary Yo-kai have a significant place in every heart of Yo-kai Watch fans. Armored in a samurai suit, Shogunyan is shrouded with a legendary folktale. His appearance does say so, but all in all, the mystery also revolves around the main Yo-kai, Jibanyan, whose ancestors link to Shogunyan himself.
The Yo-kai Watch franchise also showcases different toy lines and one of them is made by Bandai. Unfortunately, many figure pirates took advantage of the series' popularity to squeeze dirty money out of it.
ORIGIN OF FAKE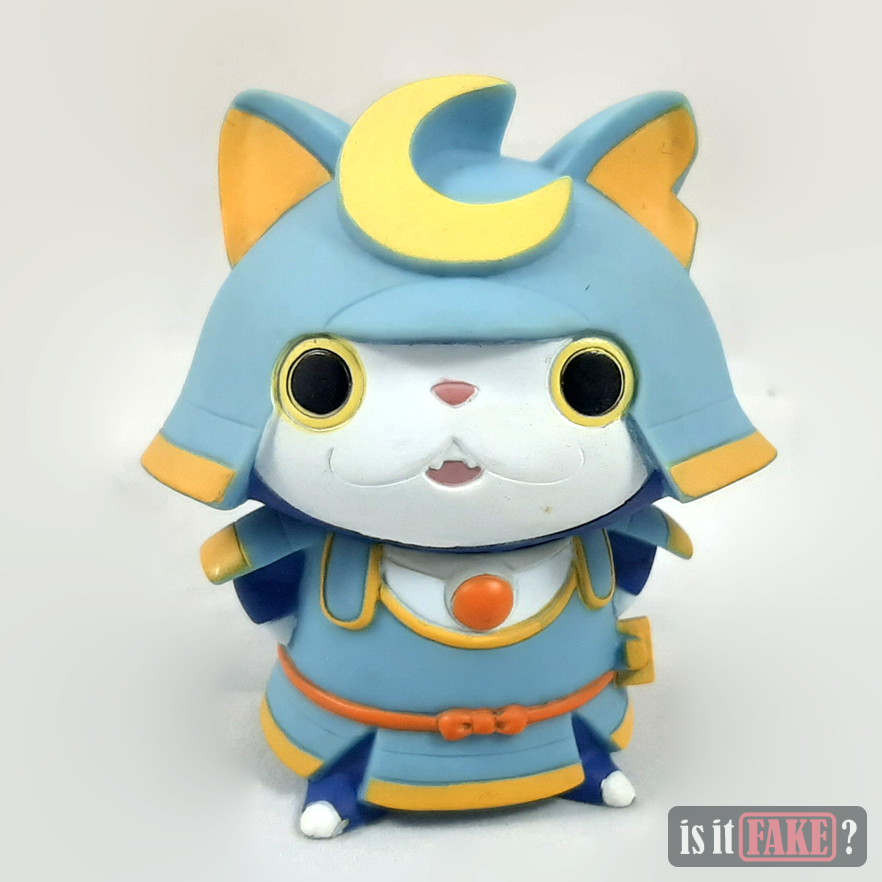 Bought on: AliExpress
Origin: China
Vendor: AprilDu Mart Store
Distribution Area: Worldwide
Have you ever considered shopping for figures on an e-commerce website? Well, to tell you the truth, there are actual risks in shopping on such websites. Look at AliExpress. The number of bootlegs on the website just keeps on rising.
If you're shopping on AliExpress, there's no doubt that the item will be from China. There are many bootlegs that come from China, to simply put it. Why? Because many manufacturers produce their authentic products there, making them vulnerable to such illegal activity.
Still, you shouldn't doubt an item for its country of origin. As we've mentioned, many authentic Japanese toy figures are made in China. One of many differences between a fake and the real item is their appearance.
DESCRIPTION OF FAKE
Well done, fake Shogunyan figure! It has a box of its own. However, you'll see that the box isn't in good condition. There are several tears and scratches on it plus it's not sealed which is really bothersome.
As you can see, the box at least has a Bandai logo on it. But you have to take note, not all figure boxes that have the manufacturer's logo on it are authentic. There are reported cases where boxes with logos contain bootleg figures. More often than not, bootleggers are just getting smart in misrepresenting their items.
Going over the fake figure's box, it would really seem like a legitimate box, but the quality in which it arrived does really raise questions.
Upon opening the box, you can see the fake figure sealed inside a plastic. Initially, a white background with an adhesive is also found inside the box. Perhaps, it helps the figure to be kept intact inside the box.
The flaws, overall, are already seen from a fair distance. By getting a glimpse of each angle, you discover which sides are full of defects. You could say that these might all be related to a careless paint job the bootleggers did to this fake Shogunyan figure.
Apart from that, it's noticeable that the fake figure's body is pointing towards the right.
Starting with the head, you'll see that each eye has the yellow paint overlapping the supposed painted area. Not only that, the nose's paint job also looks sloppy. The mouth also looks deformed if you'll look at it closely. While at the back, you'll find a few dark yellow stains which you wouldn't guess what that is.
So far, the quality of paint used on the figure looks pretty bad. There are areas that seem faded, especially the ears. And aside from the inaccurate paint job, there are also cracklings on the yellow edge of the samurai helmet.
The body area isn't any different from the head. However, it's obvious from this angle that the fake figure's chin has odd cracks on it. Most probably, it's because of the cheap paint that was used on it.
Faded paint, overlaps, and an inaccurate paint job is what you'll find all over the body. If you want to be more specific, you can spot these flaws on the shoulders, belt, the sword, and especially the center of the body armor. And if that isn't enough for you to falter, its tail will probably give you the creeps.
Under the figure, you'll find that the bootleg has an item code engraved on it. Also, you can find the copyright imprint as well.
If you will look at the real Bandai Soft Vinyl: Shogunyan figure, you'll see a perfectly-painted piece. Of course, there'd be items that won't look exactly as perfect, but most definitely, they won't be released as well. Instead, you'll find them stored in the factory's trash bin. This gives us a hint that the fake Shogunyan figure is actually a factory-reject.
Nevertheless, the authentic Shogunyan figure is a piece worth collecting. For its design, you could say that Bandai still offers an affordable price for it.
PRICE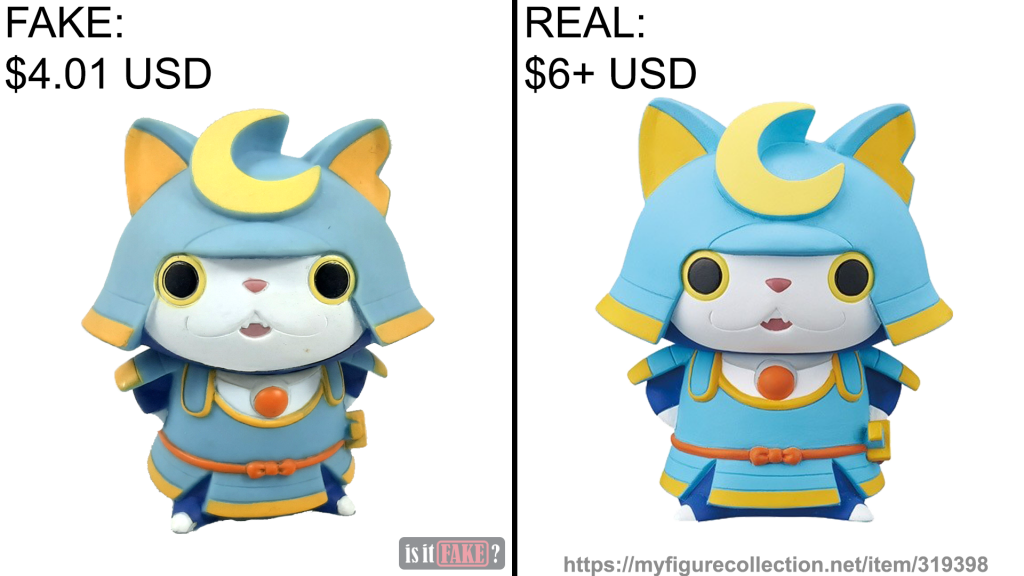 The fake Shogunyan plush carries a $4 USD price tag on it. Considering the uncertain services of AliExpress, it might eventually get lost in the mail, which you wouldn't even consider risking. As for the figure, it's only good for practicing your figure painting skills.
If you really want to collect high-quality pieces, you'll be wise to choose the real Bandai Shogunyan figure. On its initial release, its price goes as low as $6 USD in Japan. However, six years has already passed. The price is expected to be way higher than that now — say, around $20 USD.
WHERE TO GET A REAL BANDAI YO-KAI WATCH SOFT VINYL SERIES: SHOGUNYAN FIGURE
We weren't kidding about the authentic Shogunyan plush going over $20 USD. It's only reasonable since authentic figures tend to go up in prices when the demand meet it.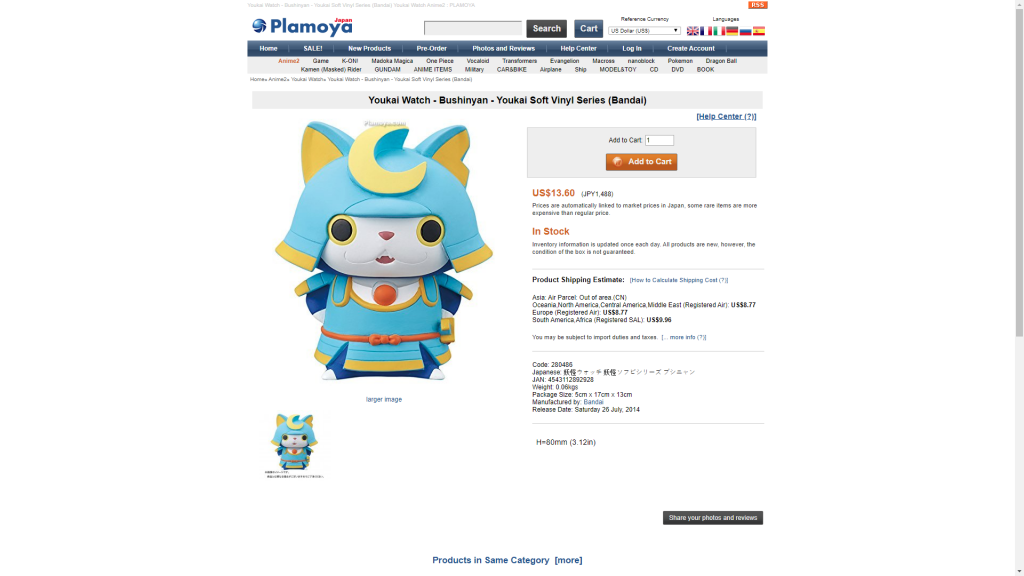 Luckily, we found Plamoya selling the exact Bandai Soft Vinyl: Shogunyan figure for $13.60 USD. However, there's a slight of a catch — they aren't able to deliver the figure within parts of Asia at the moment. But for other parts of the globe, the situation looks okay for a smooth delivery.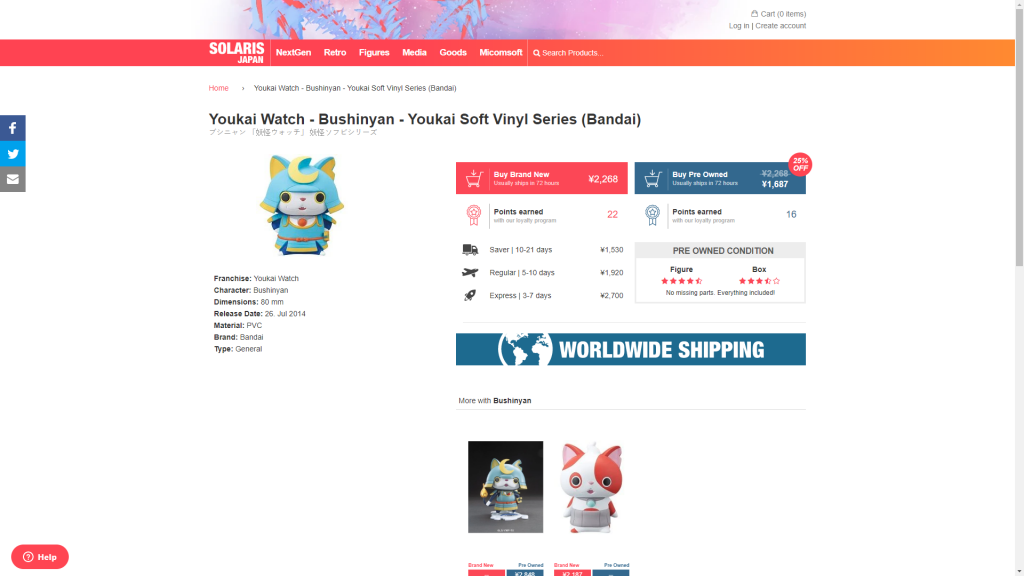 This article won't be complete if we won't be providing an option that offers worldwide shipping. Although the figure costs around $21 USD on Solaris Japan, you'll be able to get the item at a considerable timeframe.
If you're into other Yo-kai merchandise, you can definitely browse both of the websites for more items licensed by the franchise.
OUR VERDICT
The fake Shogunyan figure is incredibly a mess. It's full of paint stains and the paint job was done rapidly. Yeah, sure, there's a possibility of it being a factory-reject, but there's no reason to release it in the market since it's already defective as it is. Yo-kai fans will just be disappointed if they see a low-quality item mixed in to their collection.
Needless to say, this fake has an amateur finish — which is deserving of a 70% terrible rating.