Banpresto Dragon Ball World Collectable Diorama: Fused Zamasu figure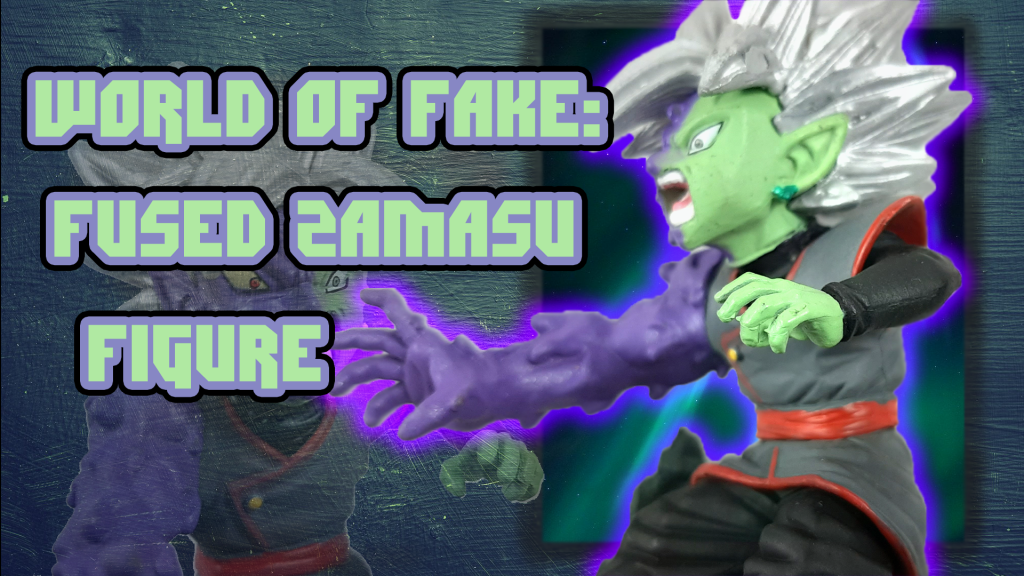 ---
CHARACTER AND TOY LINE DETAILS
Unable to control a unique fusion technique, Zamasu turned into an abomination mutating half of his body into a purple and slimy substance. That's what he got for abusing the Potara Earrings so much that his half-immortal body got in the way of the fusion technique.
This was one of the factors why Future Trunks defeated the Fused Zamasu in Dragon Ball Super. His greed for power overwhelmed his sense of reality. And because of that, the future timeline was saved.
The World Collectable Diorama Vol. 1 is a collection of miniature figures from Banpresto. It showcases iconic fusions from the Future Trunks Saga in the anime. One figure we already wrote about is the Super Saiyan Blue: Vegito figure which you might also want to read after this review. The Fused Zamasu figure from the collection shows off the greedy god's mutation and from his face, an awful lot of regrets.
Needless to say, bootleg figures are on the round to fool fans of the World Collectable Figure line. Bootleggers will do anything to fill their pockets with dirty money.
ORIGIN OF FAKE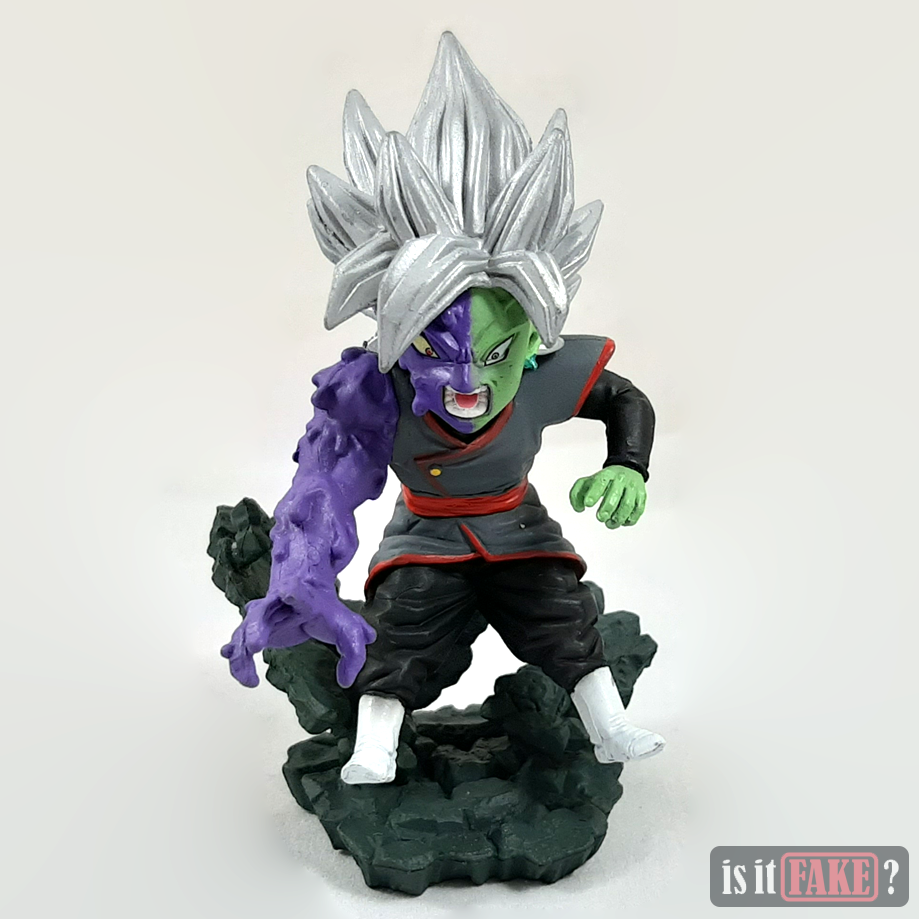 Bought on: AliExpress
Origin: China
Vendor: mark
Distribution Area: Worldwide
If you're looking for miniature figures, you should avoid searching in AliExpress. We all know that's where they place all the bootleg anime figures. Many third-party shops like mark just come up with generic names and put up items of many types.
We all know that shops from e-commerce websites like AliExpress can provide good customer service. Nowadays, shops even leave messages of thanks to acknowledge their customers for their patronage. But don't be fooled. Even though they can provide this satisfactory service, it doesn't mean that the item can be fully trusted.
Take this fake Fused Zamasu figure that we got from mark. For sure, you'll have every reason to doubt shops like that.
DESCRIPTION OF FAKE
The fake Fused Zamasu figure is definitely an odd bootleg. First, it has a box of its own, but the box isn't sealed at all. From that point, you'll start to second-guess the true nature of this item.
Based on the closeup photos of the box, you'll discover that the Banpresto and Craneking logo are missing. The thing with World Collectable Figures are these logos are always present like any prize figures made by Banpresto. For content that's made by Toei Animation, on the other hand, authentication stickers are always visible on top.
The problem with the fake box is that there aren't any of them found on it. There's no real evidence that the figure is an authentic item. It only shows signs, as we can see from the box, that this figure might be a bootleg after all.
Upon opening the box, you can see that the fake figure is sealed in a thin resealable plastic. Inside it, you'll find the figure, the base and a connector. To be honest, the figure already fits on the base perfectly, but you can tell that the figure is in an odd position. Apart from that, the connector couldn't fit on its socket so we had to exclude it.
The scratches and paint mishaps are already seen from a fair distance. You can also tell that there are inaccuracies on the details.
The face really hits south for this fake Fused Zamasu figure. We know there was a mutation on this design, but the face looks like an abomination. It's definitely rigged the way it is. Apart from that, the face is also filled with tiny scratches, especially on the right cheek. The mouth also looks unrefined.
Going through the hair, you'll see a couple of dents: one, located at the right side, and the other, at the back. This area is also filled with scratches and are found from different strands of hair.
Majority, the topmost area of the figure holds the most flaws, but the underlying areas are still worth looking at.
The body of the fake figure might look smooth as you think, but there are still minor scratches found on the hands. Aside from that, the left mutated arm is awfully covered in a small amount of glitter. As minor as these flaws can be, they're still deemed unacceptable.
Paint inaccuracies are also found in the body area. If you'll look closely on the red painted areas, you can tell that these are selfishly painted. It feels as if the bootleggers are already running out of red paint. Faded paint can also be seen on the area where you can see the clothing's yellow button.
As for the lower area of the fake figure, scratches are widely seen on the shoes while the back robe's textured unevenly. This particular area needed more polishing, but even if it's polished, the figure still cannot be sold without permission. It's basically another bootleg World Collectable Diorama. A worse kind, indeed.
Evidently enough, the base also looks rough and unrefined. There are details that need to be enhanced to pass quality control.
The real World Collectable Diorama: Fused Zamasu figure is absolutely incomparable to the bootleg. Its details are spot on, and for a mini figure, it's most probably a catch for its price tag. After all, if you're into World Collectable Figures, this collectable series is worth displaying in your glass cabinets.
In the end, these mini figures aren't as detailed as scaled figures, but obviously, you can spot the difference between the fake and the real thing. As for the price, both might have a huge gap between them, but is it really worth getting the fake ones?
PRICE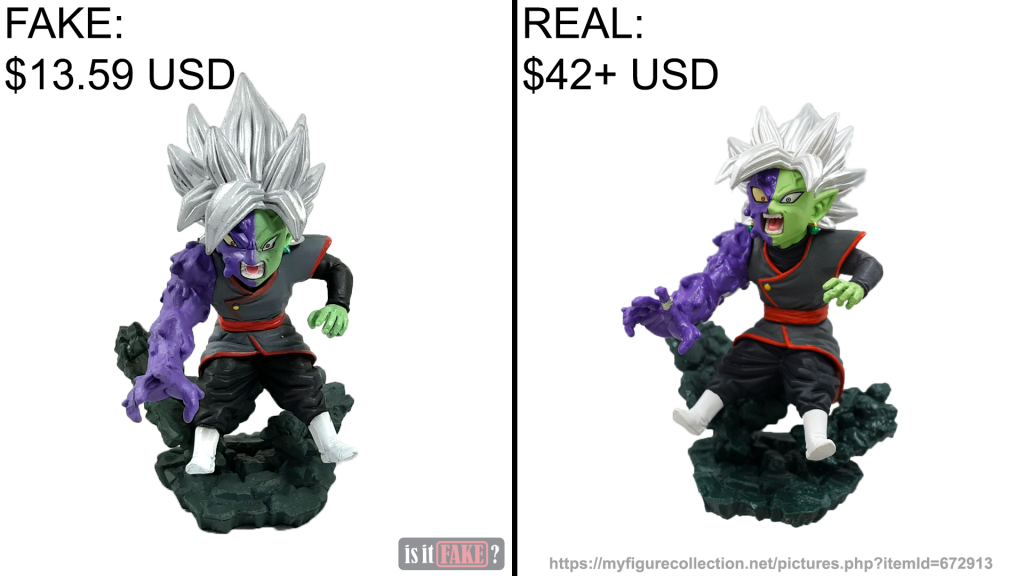 As for the prices, you'd wonder why these little figures are so expensive. But wait, we did mention that this Fused Zamasu figure is included in a set. The World Collectable Diorama Vol. 1, apparently, is sold altogether — as well as the bootlegs. So, it's okay if you're going to be hesitant. 4 fake figures for $13.59 USD? Well, that's quite not right.
For the real figure set, online stores still has stocks of the current volume. If you'll do the math, it's like spending $10.50 USD on each figure. It's just that you'll need to shell out more cash, but it's worth collecting all the figures in the set!
WHERE TO GET A REAL BANPRESTO DRAGON BALL SUPER WORLD COLLECTABLE DIORAMA: FUSED ZAMASU FIGURE
The Fused Zamasu figure from the World Collectable Diorama Vol. 1 was last released back in 2018. Luckily, the figure set is still available online — just make sure that you're looking in the right places.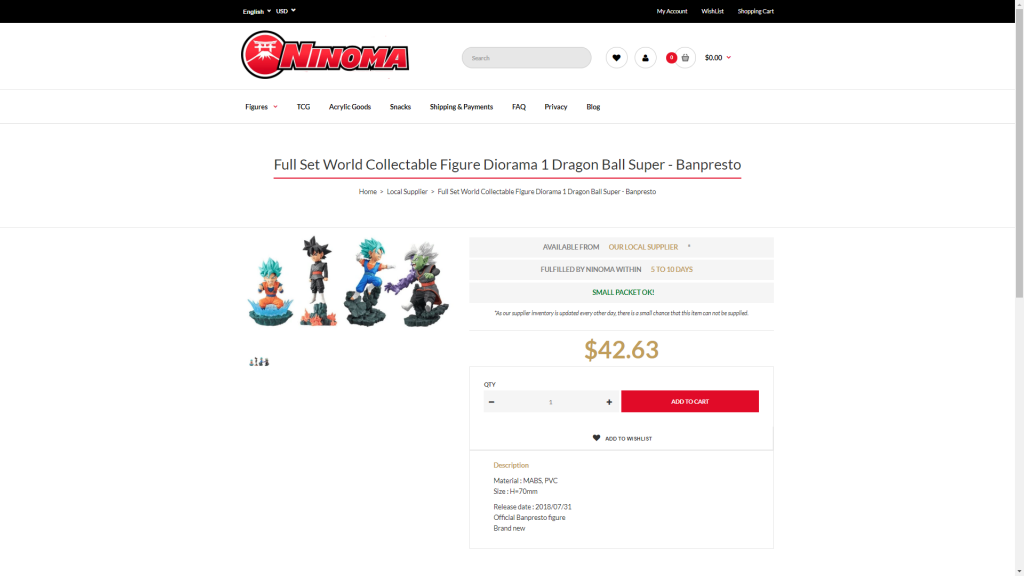 Ninoma – The Japanese Market has the figure set for only $42.63 USD. You'll definitely get the flawless figures since the website ensures that all products are authentic. The figures you order from the website are also up for worldwide shipping. Indeed, you'll experience a hassle-free shopping of anime figures at Ninoma.
If you're a fan of Zamasu in particular and would like to see an awesome design from Bandai instead, you might want to look in Lunar Toy Store.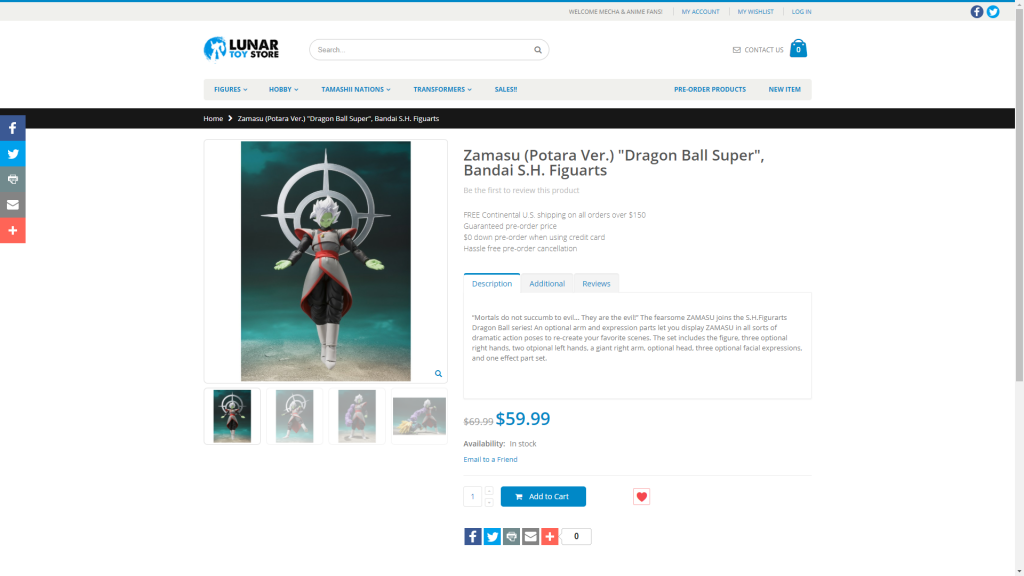 The Bandai S.H. Figuarts: Zamasu figure is a scaled action figure and unlike the Fused Zamasu figure, it's more detailed and interactive. The set also includes morphable body parts such as when the character turned into an abomination as well as his godly appearance. The figure is available for $59.99 on the website which is a good deal since the figure's selling for around $60 USD in Japan.
No doubt, it's easy to look for authentic figures online. Shopping online provides a hassle-free experience — you just have to know where to look. Nevertheless, fake anime figures are all over the internet, so it's best to do your research or join communities that provide information on bootlegs as well as authentic figures.
OUR VERDICT
The fake Fused Zamasu figure is an absolute monster. Its appearance is enough to make you puke. Needless to say, the figure is covered in dents and inaccurate details. It's basically an example of how insane bootleggers are into copying anime figures. It's a shame that this item is out there in the market, and chances are, people are going to get it on their hands without knowing it's a bootleg.
For obvious reasons, this fake figure deserves a beating of a 90% bad rating — definitely give it a pass!