Banpresto DXF The Grandline Men: Sabo figure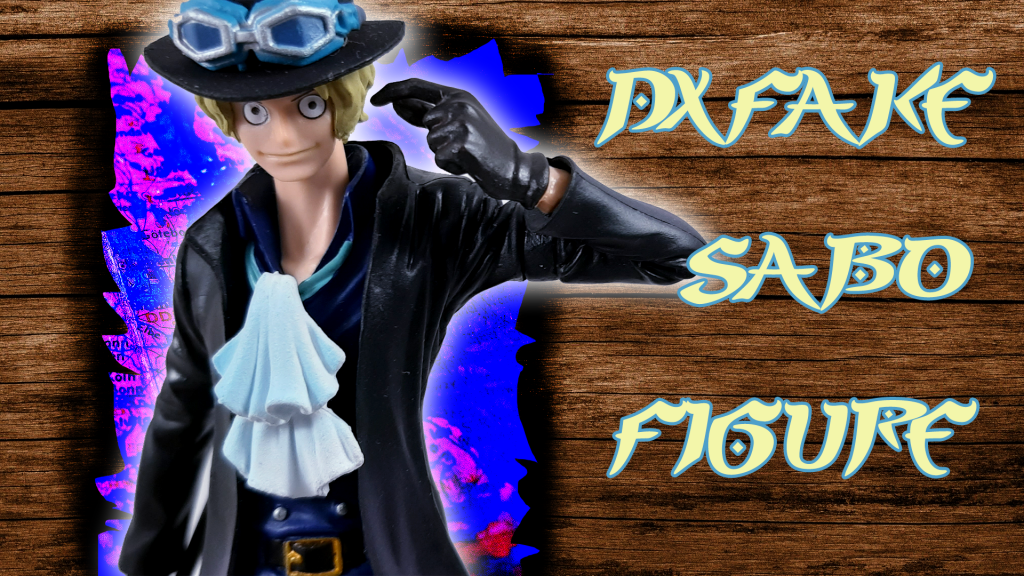 ---
CHARACTER DETAILS
One Piece has such a rich story that characters from the past have stories that are told behind the scenes. Take it from Sabo, who happens to be Luffy's childhood friend.
Sabo is a sworn brother to Monkey D. Luffy and Portgas D. Ace. You could say that they were a dynamic trio when they were kids and sworn together that they'll be pirates when they grow up. But unlike Luffy and Ace, Sabo was born from a noble family. In fact, he has family ties with the king of the Goa Kingdom. But due to unexpected chain of events, he was eventually appointed as the chief of staff of the Revolutionary Army which was established to overthrow the World Government.
Of course, Sabo and Luffy also shared adventures even when they had different goals set. His appearance made it known to One Piece fans that there's another brother to our protagonist that's as deadly as Portgas D. Ace. This is why it was easy for Banpresto to include Sabo in The Grandline Men from the DXF collection.
ORIGIN OF FAKE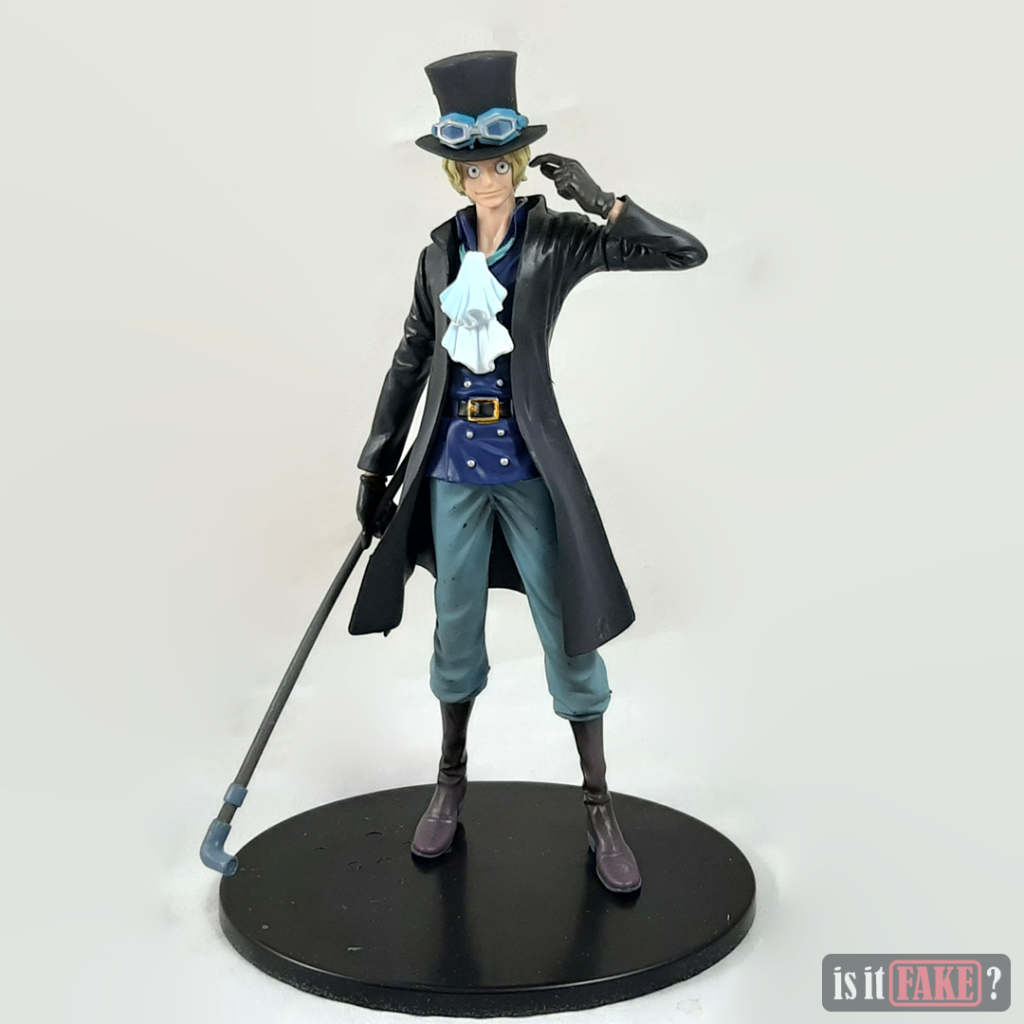 Bought on: AliExpress
Origin: China
Vendor: Amelie
Distribution Area: Worldwide
The world of bootlegs is something you should explore but never indulge. These items are just unworthy and would often bring you disappointment, if you ever decide to get one yourself. Basically, you only have to know about bootlegs so that you could protect yourselves from such items.
The fake DXF Sabo figure is an example of a bootleg that's made in China. Well, initially, many authentic anime figures are made in China because most manufacturers have their factories located there. For this reason, figures are pirated in the same place in most occasions. So, it's still hard to determine whether a figure that's made in China is really a bootleg or the real one.
So that you'll easily be able to figure it out, take a look at this fake Sabo figure!
DESCRIPTION OF FAKE
The fake Sabo figure has a box of its own. However, we found it suspicious enough because it was unsealed, and although the manufacturer's logos are intact, the box could very much be a bootleg.
Authentic figures are tightly sealed. It's made that way to protect the figure as well as to secure the brand. Aside from the manufacturer's logos, anime figures are also secured with an authentication sticker from the licensor. This means that the creator of the anime gave permission to manufacture figures based from their anime.
The bootleg's box, on the other hand, doesn't have an authentication sticker. Yes, the manufacturer's logos are intact, but the print's probably just a cheap copy. You'll notice this from the quality of the print and from the quality of the cardboard itself.
Upon opening the box, you can see that the figure is initially dismantled and sealed inside a plastic.
The fake figure's components do fit together, however, it's disturbingly loose that the figure can easily break off into pieces when budged. It also fits its base well, but the left foot has a bit stuck on its socket that's why we only see one bit on the base.
The whole figure feels powdery as if there are particles on the figure that you don't feel like touching. It's also difficult maintaining the figure since one component tends to fall off, especially the left hand that's holding Sabo's weapon.
If those flaws aren't enough, then you haven't seen it up close yet.
The first thing you'll notice on Sabo's head is his ridiculously huge hat because this is his identity, an extension of his original appearance. The goggles on the cap though, has signs of being inaccurately painted. You'll see that there's an excess of blue paint over the supposed gray-painted area.
Since the cap couldn't be removed from the design, the bootleg hides the flaws under it quite well. But if you look really closely, you'll see some dents on the hair and a misaligned paint on the left eyeball. The hair looks dirty stained as well.
The main body also gives a weird feeling. The centerpiece of the figure's clothing gives us a hint that it's painted stainless white, but in truth, the whole area has a faded blue paint. This is definitely a turn off for collectors because it sets a confusing palette for the figure.
There are gold-painted areas on the figure that are all scratched or torn off. These can be found on the belt and some buttons on the back. And at a close sight, there are hidden uncut pvc plastic on the coat as well. You'll notice this on the right sleeves.
Speaking of the coat, it has a few deformities on the lower portion and some dents as well. These are most noticeable if you look at the lower right portion of the coat.
Aside from the fact that the hips area is loose, the legs and feet have these minor scratches. The left leg has the most visible tiny scratches you can see compared to the other, but regardless, this kind of flaw won't be found on an authentic figure.
Nonetheless, minor dents are also found on the shoes.
Of course, the real DXF The Grandline Men: Sabo figure wins over the fake — like every other authentic item. The quality of the real figure looks slick and detailed. Not only that, the paint job also looks spot on and looks really neat. In our opinion, Banpresto did a good job making this Sabo figure, and since it's a prize figure, it definitely has a worthy price tag hanging on it.
PRICE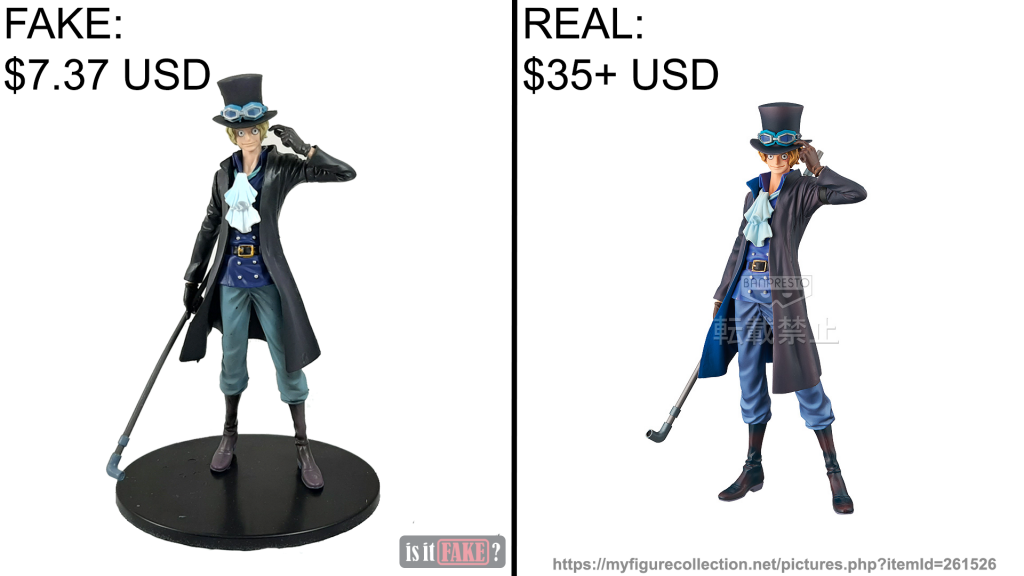 Can you just imagine spending $7.37 USD for a dirt-cheap fake? And if there are people out there tolerating this and saying that it's okay, then they're in for a huge disappointment. In the end, it's their money and hard work that's going down the drain. Since you've already reached this part of the review, then you're probably a wise person who wants value for their cash.
Needless to say, authentic anime figures do cost a lot, especially for special designs. For the prize figure though, it may vary from different factors. And for about $35 USD, you already got yourself a deal for the real DXF Sabo figure.

WHERE TO GET A REAL BANPRESTO DXF THE GRANDLINE MEN: SABO FIGURE
A figure that's released last 2015 may indeed be hard to find, especially if your options are only limited to online shopping. However, there are times when manufacturers make succeeding batches of old figure — it's when they're brought back due to popular demand.
Currently, we're lucky enough to find a real DXF Sabo figure of the same model on Solaris Japan.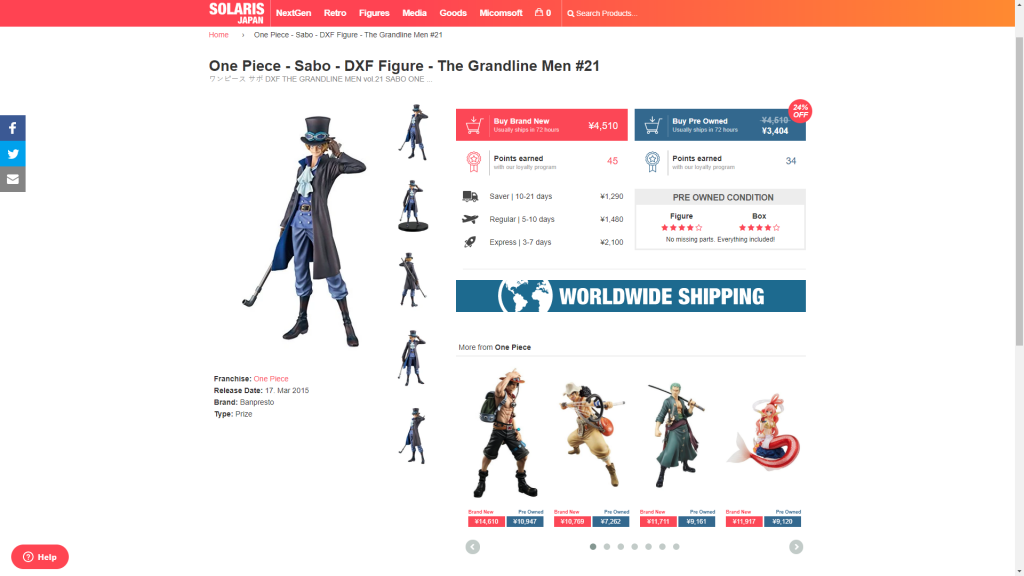 The real figure costs around $42 USD on the website. Although we mentioned that it would go around $35 USD minimum, the website that sold off the figure with the said price already went out of stock. So if you're still dying to collect Sabo figures, Solaris Japan is your best bet for their stocks.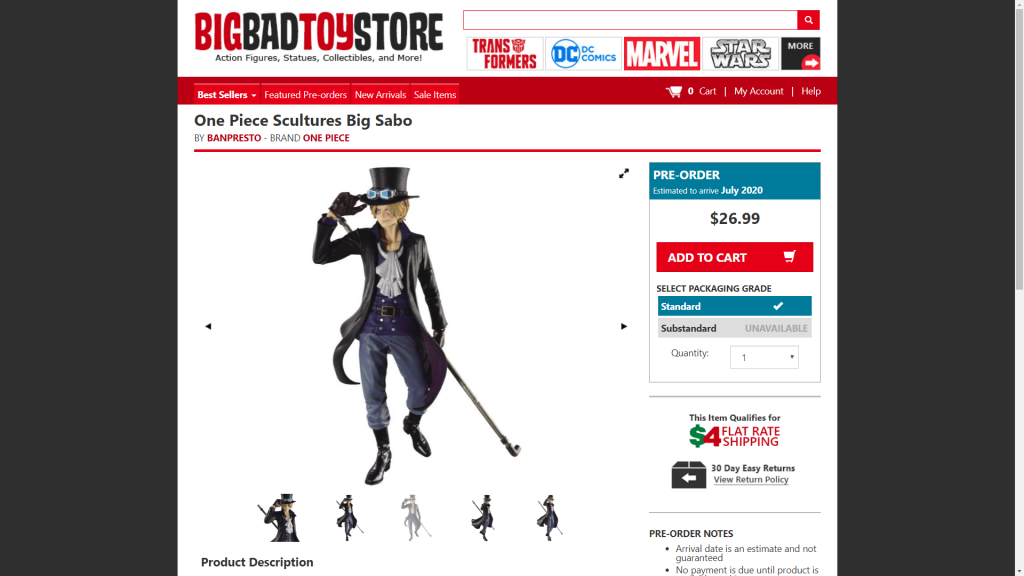 If you're into cheaper selections, you might also want to consider getting the SCultures Sabo figure from BigBadToyStore.
The SCultures Sabo figure is currently on pre-order on the website and it only costs $26.99 USD with a standard packaging grade. And if you're within United States, you could also enjoy their $4 Flat Rate Shipping which is kind of a big deal.
OUR VERDICT
The fake Sabo figure is definitely a hurricane disaster for One Piece fans. It has an awful lot of paint defects, dents, and even missed some details. If you'll think about it, Sabo as a grown-up in the anime has a scar on his right eye. The bootleg missed that tiny detail which completely blows this item's cover.
Overall, there are a lot of things wrong about the figure. Whether they're just tiny flaws or the most noticeable ones, it's safe to say that we're giving this bootleg a 90% awful rating.