DVD: Mischievous Kiss: Love in Tokyo (China/Malaysia)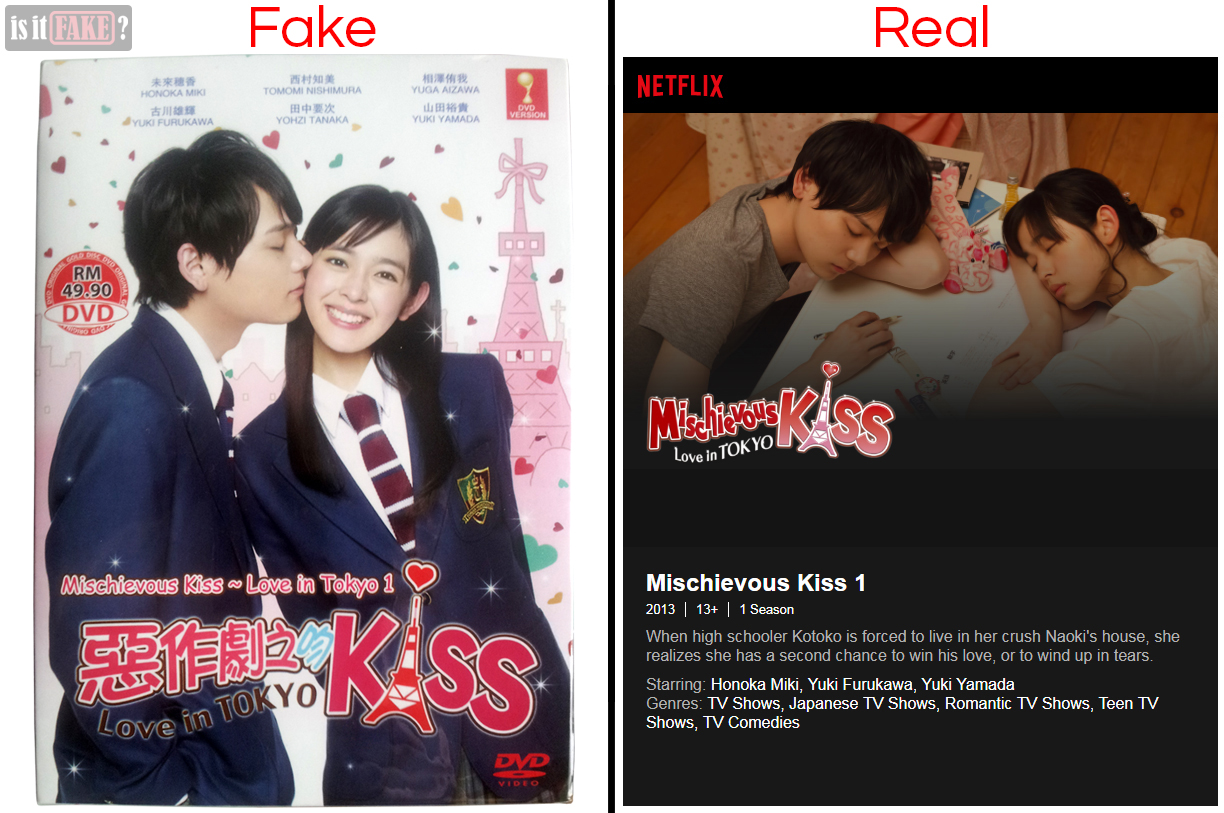 Series Details
Falling in love with someone way out of your league may be a painful thing to experience, but it sure is fun to watch when it's happening to someone else.
Fuji TV's Mischievous Kiss: Love in Tokyo, or Itazura na Kiss: Love in Tokyo, is a Japanese television series based on a manga that started its run in 1990. It tells the tale of Kotoko, a ditzy, unintelligent girl who falls for the exquisitely handsome genius Naoki. When he instantly rejects her confession of love, the heartbroken Kotoko resolves to give up on him. That would've been the end of the story, only unforeseen circumstances (involving a meteor destroying her house) set into motion a series of events that would ensure the pair's fates would forever be entwined.
A love story so popular it's been adapted for television in Japan, Taiwan, South Korea, and Thailand, as well as been turned into a movie and anime series, Mischievous Kiss: Love in Tokyo remains in huge demand – which explains why the piracy around the franchise has been rampant.
Origin of Fake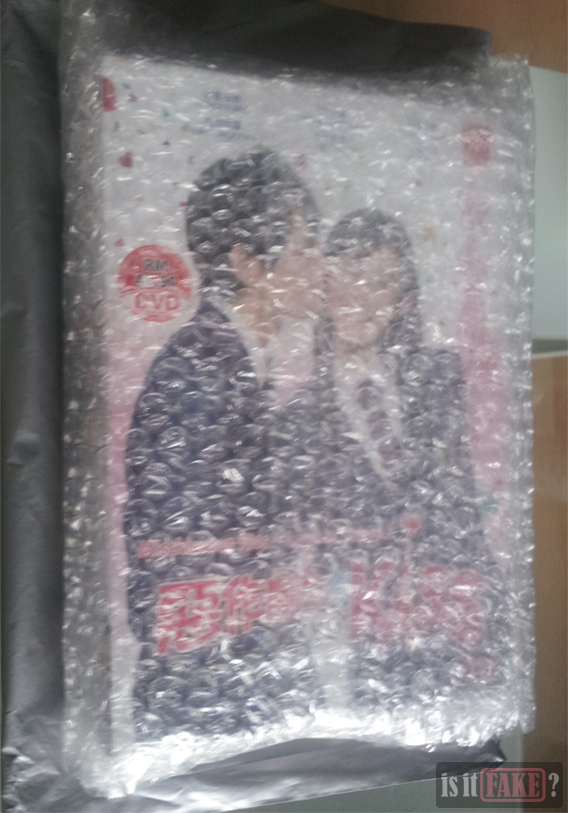 Bought in: China (online store)
Video Origin: Fuji TV
Subtitle Origin: Unknown
Vendor: Ember Power (M) SDN. BHD.
Distribution Area: Worldwide
DVD Production Date: 2015-03-19 23:28 (UTC+8)
DVD Medium: Unknown
Burning Software: BurnAware
Burning Hardware: Unknown
Chinese online stores are notorious for selling fake items. Malaysia is infamous for producing pirated DVDs. Put those two together and what do you get? This fake Mischievous Kiss: Love in Tokyo DVD box set, a product manufactured in Malaysia and sold on a Chinese online store.
The fake's vendor identifies itself as Ember Power (M) SDN. BHD, a local business in Malaysia. But just because a company is legally registered doesn't mean all its practices are legal.
The truth is that some Malaysian companies produce and distribute products despite not having the valid license to do so. So how can you tell if a company's product is legit or not? Read on to acquaint yourselves with the telltale signs of fakery!
Description of Fake
We received the fake Mischievous Kiss: Love in Tokyo package covered in bubble wrap. The box itself is sealed in transparent plastic.
At a glance, the box looks fairly convincing.
However, it won't take you long to notice those banged-up corners. Though the damage isn't terrible, it's obvious this item wasn't treated with the best care. If the cardboard that makes up the box wasn't so flimsy, maybe this would've never happened.
That's one advantage the official DVD box set from SPO Entertainment has over this fake – its cardboard is thick and rigid, preventing its sides and corners from getting warped. You'll see this official product further down below.
The art on the fake's front cover is an image you'll find in the official Mischievous Kiss: Love in Tokyo website, Facebook,  and Twitter. As expected, the fake's print quality isn't great, so you'll notice some blurring.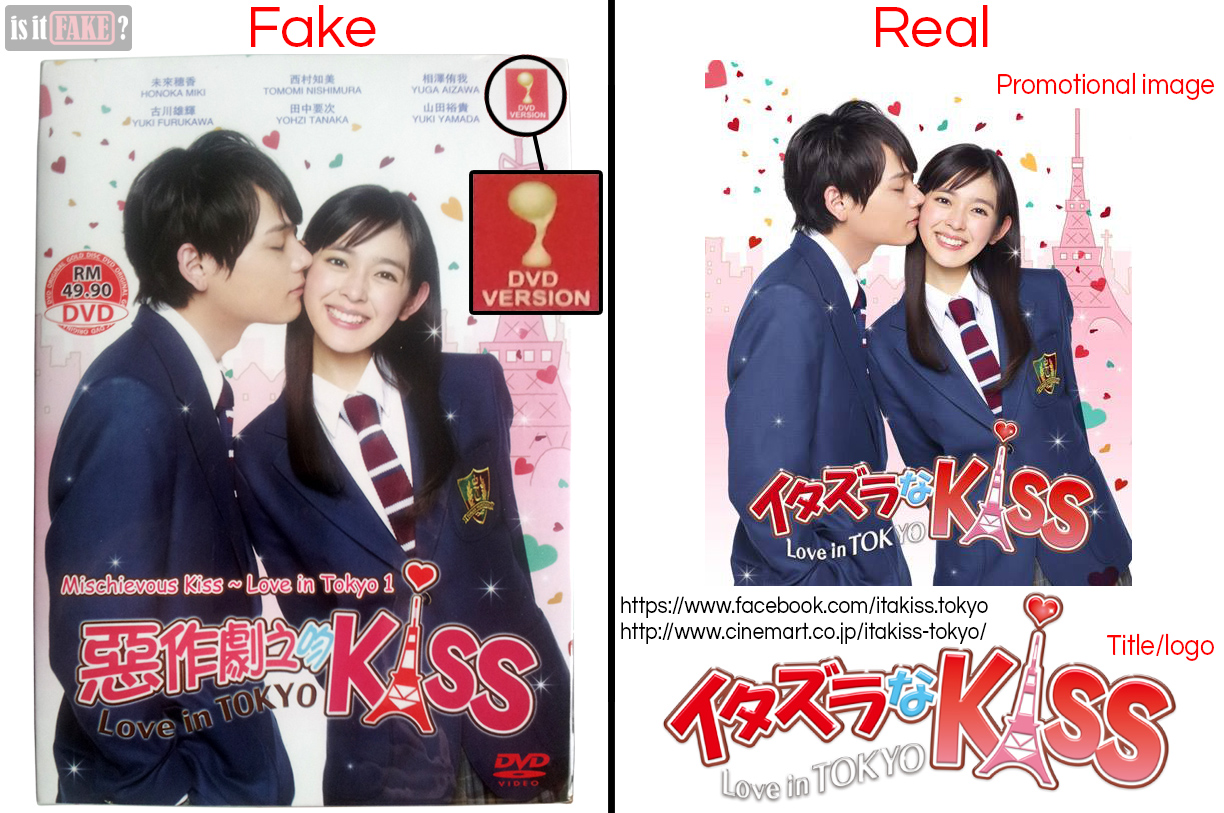 Do some additional scrutiny, and the problems start cropping up.
One of the most obvious is the fake's title and logo. The main title has a portion in Chinese instead of Japanese. Below this, the squiggly "Love in Tokyo" is the wrong color (brown). The way it's curved is even different from the official's.
In addition, above the main title is the title in English – in the Comic Sans font. Comic Sans is universally hated; a good artist/cover art designer would know this, and would never use such an abhorred font in any work.
You can see more differences when you focus your attention on the official title and logo. Not only are a majority of the colors used different from the fake's, the official also has more styling. For one, both the Japanese characters and English letters sparkle and are rendered to look like they have volume as well as reflective surfaces. The letters in "kiss" also feature a color gradient. The heart above the Eiffel tower boasts more detail.
On the fake's front cover, you'll also see a circle showing the price in Malaysian Ringgits.
On the upper right is a dark orange rectangular logo with a strange symbol and the words "DVD Version." This image is found on many unlicensed Malaysian DVDs, so it should be a dead giveaway that this specific Mischievous Kiss: Love in Tokyo DVD box is a fake. Unfortunately, not many online shoppers are aware that this logo essentially represents piracy.
Let's get one thing out of the way: the art on the fake's back cover is taken from the official DVD product.
Aside from that, things get real interesting. For starters, we've got a Chinese as well as English synopsis. The English can be found on the series' unofficial wiki. 
Below the synopses, there's a lot of information to unpack. Let's first focus on the lower right section.
On the lower right just below the actress' skirt is a holographic seal with "Original KPDNKK Tulen" written on it. Licensed products often come with such seals as evidence they are legally produced and distributed. However, some pirates are known to create fake seals, so the presence of a seal isn't 100% proof that a product is legit – especially if that item is from Malaysia.
Below the holographic seal is a square sticker featuring the Malaysian coat of arms, a barcode, and the words "kementerian dalam negeri," which is Malay for "home ministry." This suggests that, despite being a bootleg, this Mischievous Kiss: Love in Tokyo DVD box is approved by the Malaysian government. When scanned, the barcode even brings you to a page sponsored by the government discussing the product's age rating and synopsis.
To the holographic seal's left is a sticker bearing the name, address, and contact information of Malaysian DVD manufacturer, Ember Power (M) SDN. BHD.
To the left of the Ember Power sticker, however, are Chinese characters that spell out a different company (which is named in English below the tech specs) and address. According to the address, this company is in Taiwan.
Ember Power's Mischievous Kiss: Love in Tokyo DVD set is therefore probably a reproduction of a Taiwanese DVD set. The latter, in turn, is also likely a fake, given that there is no evidence any Taiwanese companies ever acquired the rights to produce and distribute DVDs of Fuji TV's Mischievous Kiss: Love in Tokyo.
The nail in the coffin? The lack of any mention of Fuji TV, the Japanese television network that produced the show, or SPO Entertainment, the only company that produced the official DVDs.
The box is open on the right side, allowing you to slip the plastic DVD case out.
The DVD case features the same art and details as the box. But what's unusual is that DVD case is inserted into the box so that the sides don't match. So if you're looking at the box's front when you slip the case out, you'll see the case's back instead of its front.
If you're familiar with Japanese DVD box sets, the problem should be obvious. The Japanese sometimes treat their DVD boxes like manga; some of them have their opening on the left side instead of the right. Had the fake been designed with this configuration, the box's front cover would always match the case's front cover, and its back the case's back.
The DVD case opens to reveal three discs piled on top of each other.
The fake DVDs feature Japanese audio with three subtitle options: traditional Chinese, simplified Chinese, and English. The main menu, episode selection menu, and subtitles menu all feature Chinese characters and an ugly, lazy design.
The episodes themselves feature the Fuji TV Two logo on the upper right corner. This is the Fuji TV station dedicated to drama and anime where Mischievous Kiss: Love in Tokyo was originally shown. Its presence in the videos proves the episodes were ripped straight from Fuji TV Two.
The video quality isn't spectacular, with the graininess worsening the larger the screen. This is to be expected; all 16 episodes were, after all, squeezed into 3 discs. In contrast, the official DVD set from SPO Entertainment spreads the episodes across 8 discs.
Price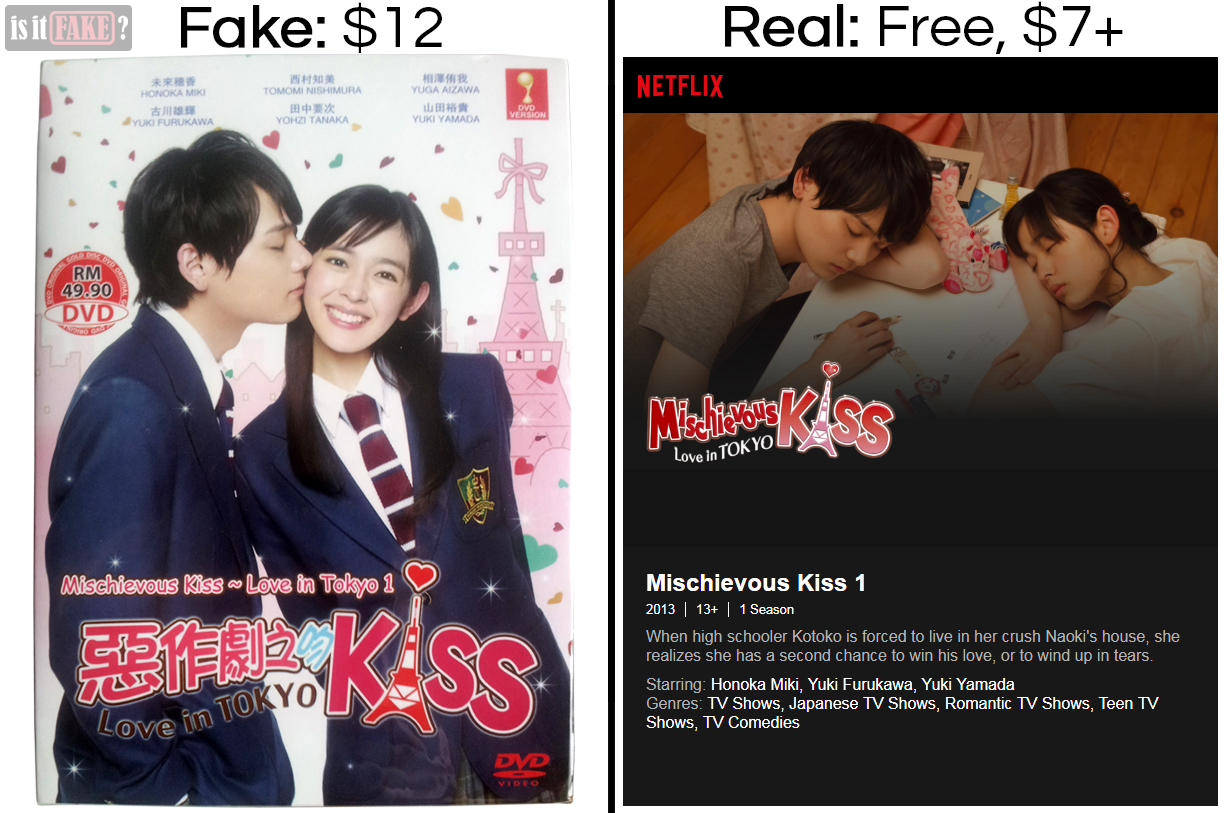 Ready for the goods news?
Watching Mischievous Kiss: Love in Tokyo legally is cheaper than buying the pirated DVD. Additionally, the legal alternative boasts superior video quality.
Where to Watch/Buy Mischievous Kiss: Love in Tokyo Legally
Mischievous Kiss: Love in Tokyo is available on Netflix. 
If this is your first time to avail of a Netflix subscription, your first month is free. You can cancel any time before the trial period if you don't want to spend a single dime. But if you choose to stick with Netflix, the service will require an extremely affordable fee. The most basic plan is $7 per month, while the premium plan, which allows you to watch any show in HD or Ultra HD, is $10 a month.
Mischievous Kiss: Love in Tokyo on Netflix has English, Japanese, and Spanish subtitles.
The best thing about subscribing to Netflix is that you also get to watch Mischievous Kiss: Love in Tokyo season 2, the first season of the Korean version Playful Kiss, and hundreds of other TV series, movies, and animated shows.
You can watch Mischievous Kiss: Love in Tokyo Seasons 1 and 2 for free on Viki. The catch is, the shows aren't available in all regions.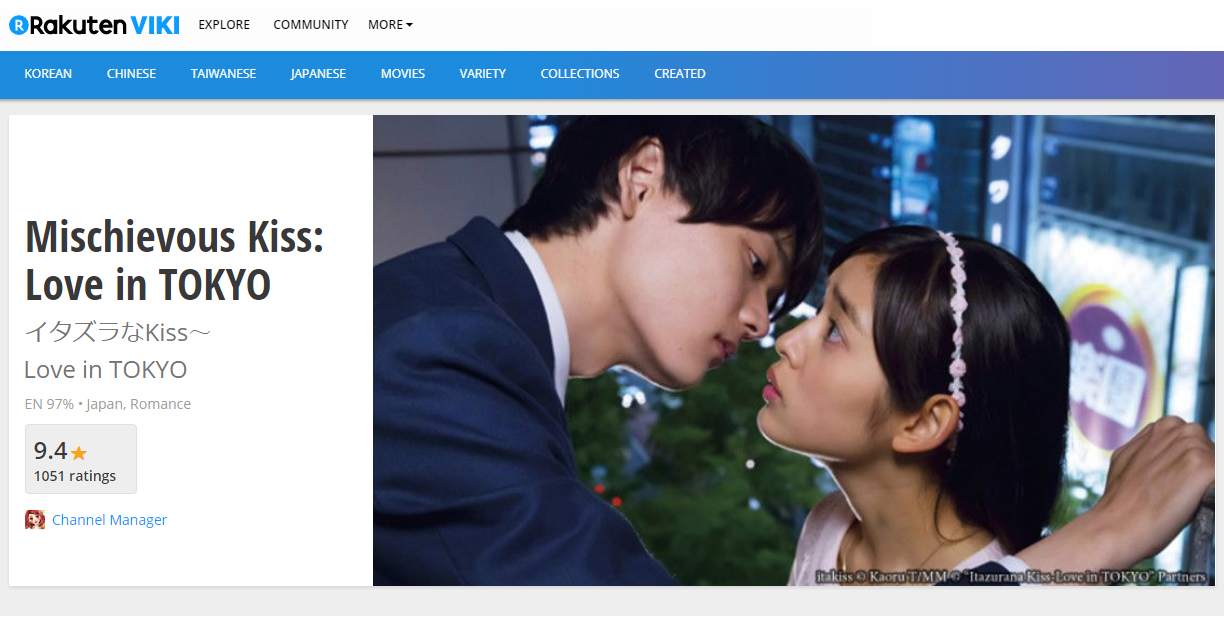 Both seasons of Mischievous Kiss: Love in Tokyo are also free on Dramafever. This service is not available in all regions.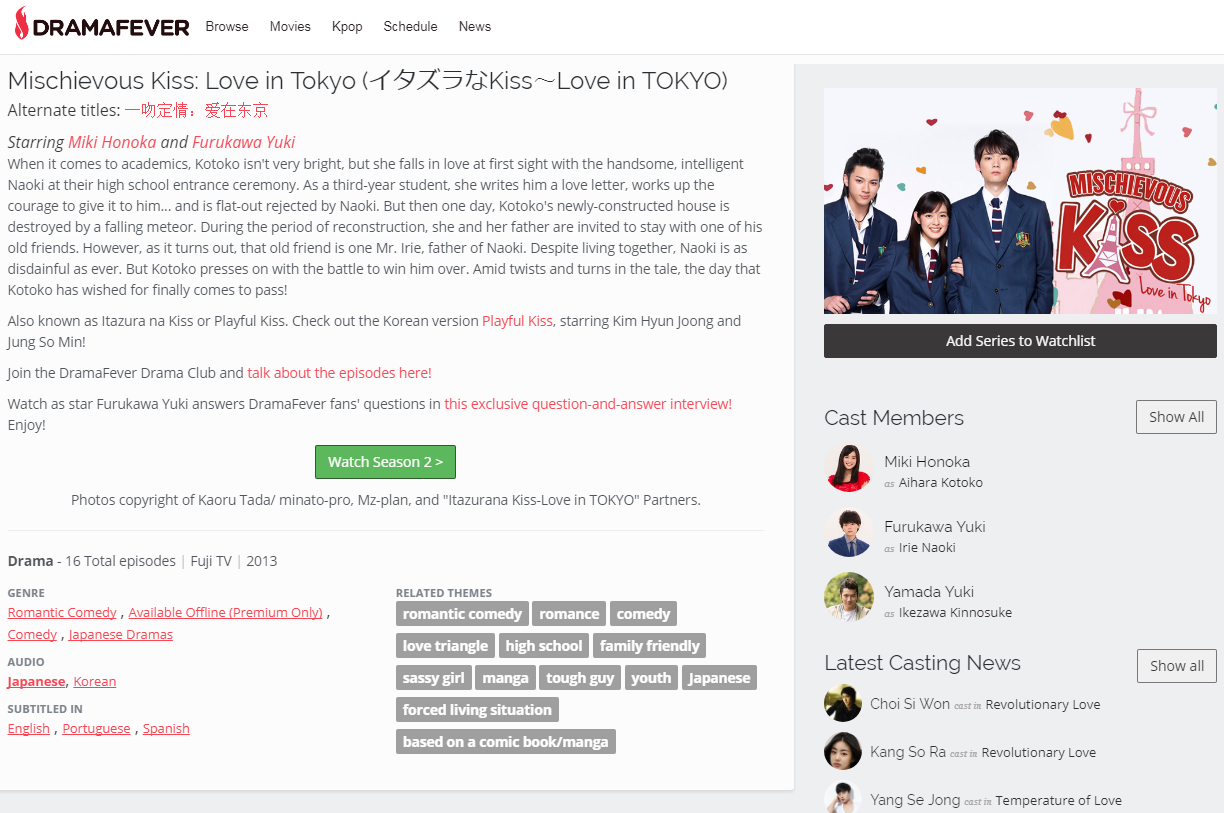 You can even watch the shows on Crunchyroll, though again, their availability depends on where you live. 
If you want the official DVD or Blu-ray items, it's going to cost you a little bit more.
The official Mischievous Kiss: Love in Tokyo website has a list of all the DVD and Blu-ray products released between 2013 and 2015, and even provides links to the online shops where you can buy them, such as Cinemart online shop and Amazon Japan. 
The official Mischievous Kiss: Love in Tokyo DVDs come in two sets. The first is the Director's Cut Edition DVD Box 1, which consists of the first 8 episodes, a booklet, and a slew of other goodies. Check it out here and here. 
The second is the Director's Cut Edition DVD Box 2, which includes the last 8 episodes, as well as a booklet and a host of bonuses. It's available here and here.
The Director's Cut Edition Boxes also come in the Blu-ray variety, which you can locate in those same shops.
Interested in other legal Video on Demand services? Check out our Get-Dramas page!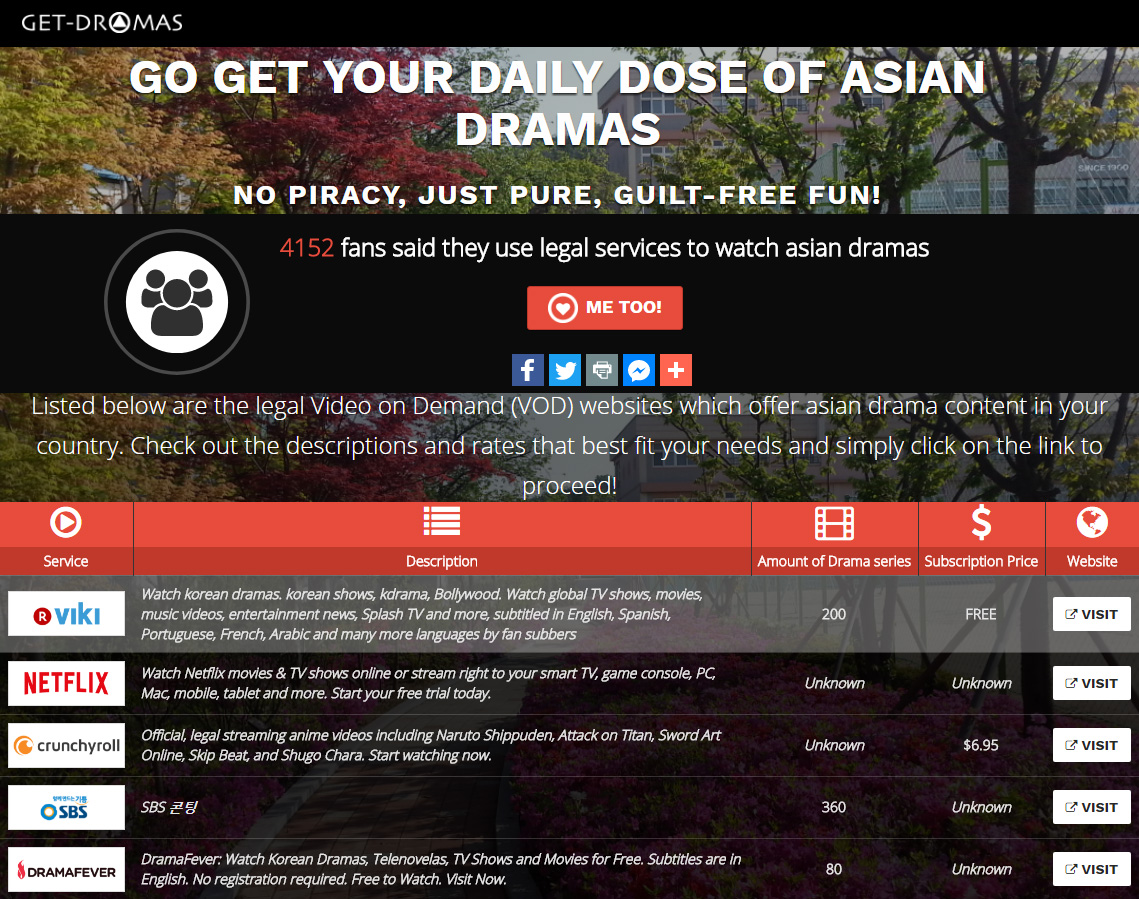 Our Verdict
There really is no contest: this pirated Mischievous Kiss: Love in Tokyo DVD box set is both more expensive and features worse video quality than the legal alternatives. As if that wasn't bad enough, it also comes in a substandard, beaten-up box that makes for a mediocre display item.  For these reasons, this fake deserves nothing less than a 70% terrible rating.