First Trailer of Cells at Work! Code Black Revealed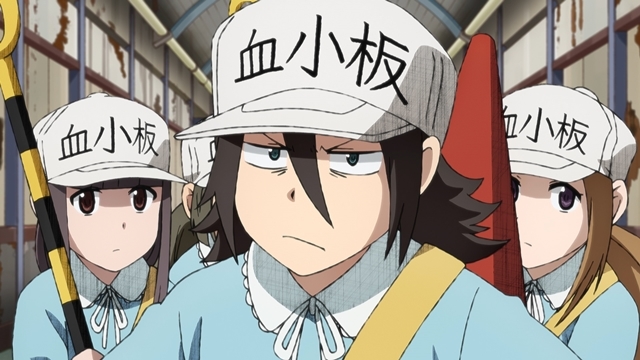 ---
Cells at Work! Code Black on Twitter announces additional cast and staff members on their first promotional video of the manga spin-off. You can check out the trailer of the anime adaptation here:
Hataraku Saibou Black is a separate anime from the original anime series Cells at Work!. Code Black is scheduled to premiere in January 2021 airing on the same month as the season 2 of the original series Cells at Work!! (with two exclamation point).
Kodansha Comics describes Cells at Work! Code Black's story as:
In this new spinoff of the hit manga Cells at Work!, a newbie Red Blood Cell is one of 37 trillion working to keep this body running. But something's wrong! Stress hormones keep yelling at him to go faster. The blood vessels are crusted over with cholesterol. Ulcers, fatty liver, trouble (ahem) downstairs … It's hard for a cell to keep working when every day is a CODE BLACK!

The manga and anime Cells at Work! showed you what happens when a young, healthy body gets in trouble … but what if the body wasn't so young, and was never very healthy? This new take stars a fresh-faced Red Blood Cell and his friend, the buxom White Blood Cell, as they struggle to keep themselves and their world together through alcoholism, smoking, erectile dysfunction, athlete's foot, gout … it's literal body horror! Whoever this guy is, he's lucky his cells can't go on strike!

– Kodansha
The new casts are as follows:
KENN as Red Blood Cell
Lynn as White Blood Cell
Yumi Uchiyama as White Blood Cell
Takashi Narumi as Gastric Chief Cell
Yurika Kubo as Platelet
The newly announced cast members of the upcoming anime has expressed their worries on abusing the body with excessive alcohol and food. Through Cells at Work! Black, they learn how to take care of the body properly through moderation.
SOURCES: Cells at Work! Code Black Twitter, Official Website, Comic Natalie