IS IT FAKE? Fairy Tail Standing Character By Chibi Tsume Lucy Heartfilia figure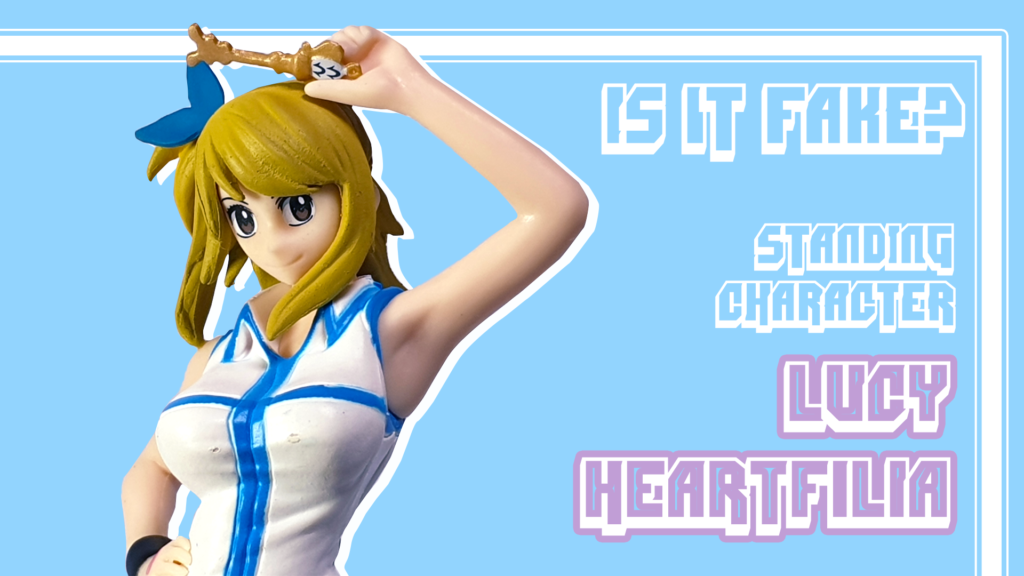 ---
CHARACTER AND TOY LINE DETAILS
We know the long-running anime Fairy Tail ended a few years ago, and definitely, it left fans a strong emotional feeling — similar to when a good movie ends and you still wanted more. Fans could be wondering what happens to the characters after all they've been through.
Well, the main characters of the anime series became iconic pieces for the Standing Character collection created by Chibi Tsume. Your vain and bustling Lucy Heartfilia is one of them, of course.
Lucy is an absolute beauty! It's because she cares a lot about her appearance. Needless to say, she packs a punch with her Celestial Spirit Magic whenever necessary, although she avoids being mixed up in a battle as much as possible.
The rampant production of bootleg anime figures is still a problem for many manufacturers like Tsume Art. The Standing Character: Lucy Heartfilia figure is one of countless figures that's been copied illegally so bootleggers could get money off other's works.
Let's find out if this Lucy Heartfilia figure is a bootleg or not, shall we?
IS IT A FAKE FIGURE?
Every decent figure usually comes with a handy box. As expected, this Lucy Heartfilia figure has one, but there's something fishy about it.
An authentic figure box normally has authentication seals or stickers on it. You would usually see a sticker of the licensor on it, and as for the manufacturer, they have their logo on the box.
To give you a little bit of a background, Tsume Art is a manufacturer based in Luxembourg, and you'd normally see French descriptions on most of their figure's packaging. In addition to that, their figures are created in Luxembourg, but these are mass produced in China — which totally makes sense by the way.
Needless to say, the box still gives an awful vibe. It feels flimsy, and the cardboard ridiculously wiggles — a sign of an inferior material. The color of the box also looks dull. The resolution of the print is way off. Lastly, the box isn't exactly sealed when we got it.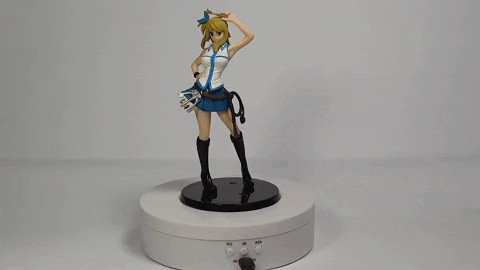 Animated GIF
Lo and behold, the Lucy Heartfilia figure!
The figure is sealed inside a plastic casing, although it's quite questionable. Nevertheless, we got a figure and a base.
The figure isn't an exact fit for the base, but it stands well — at least for the photos to be shot properly. And if you look closely, it's definitely a deceiving sight.
Let's just say that the figure is well-sculpted, but there are a bunch of fishy edges, not mention rough ones as well. The paint job isn't accurate, and there are some parts on its surface that's smooth, so it's too early to say whether it's a fake or not at this point.
Consistency matters when it comes to authentic figures, and manufacturers are actually nitpicky about it. If you're looking to outsmart the bootleggers, then you should know how inconsistent bootlegs are.
Zooming in on more details, the Lucy Heartfilia figure sure has an odd hair. The surface just feels powdery and icky at the same time. Its color, not to mention, is very dull and a little bit washed out.
Have you noticed the keys chained to her belt? Well, that's an example of sloppy details you'd see on a bootleg. Key aren't curved in the real world nor in anime — at least not awfully curved like this one.
To be honest, the figure has some smooth details, but it's rather horrifying to encounter a piece like this. You'd probably mistake this as an authentic, but the fact that it's exceedingly inconsistent, you'd definitely think twice.
OUR VERDICT
To be straightforward, this Lucy Heartfilia figure is indeed a fake. Unsealed packaging, blunt details, and the inaccuracy of it make this piece as such. There's no proper standard to determine whether a figure is a bootleg or not, but always remember, these nasty products are often inconsistent.
This figure definitely can't pass the vibe check. It barely even stands properly on its base! Getting a bootleg Fairy Tail figure doesn't make one a fan of it. Lucy Heartfilia would probably smash the downvote button on this. It's an irritating sight, so we better blast this one with an 85% AWFUL RATING.