KonoSuba: Phat! Company Aqua Figure – 1/7th Scale [18+]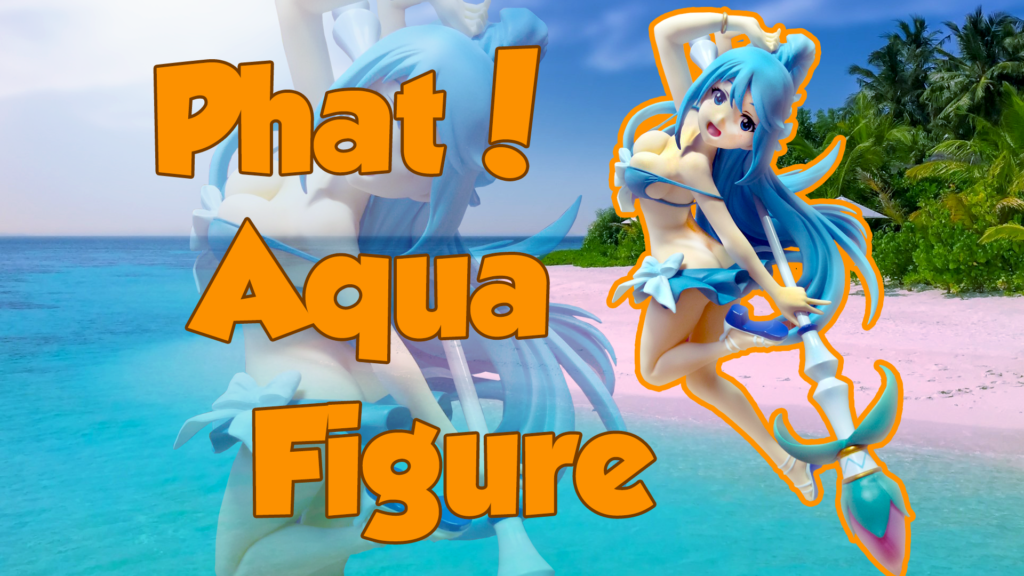 ---
Special thanks to Lord_Azazel from MyFigureCollection.net for making this article possible!
CHARACTER DETAILS
Presenting the Goddess of Water, Aqua or popularly known as Aqua-sama, from the comedy-isekai anime genre KonoSuba: God's Blessing in this Wonderful World.
Despite being a beauty "beyond idols shown on television" as mentioned by the anime protagonist Kazuma, Aqua can easily be described as a reckless and clumsy god, not to mention persistent. She longs for ordinary people's praises, to worship her in temples. That's why she seeks to help people at most times — eventually ruining the deed anyway because of her uncontrollable behavior.
At most times, she annoys Kazuma which became the number one formula of the show. Other than that, her visuals are top-notch which is why Phat! Company made Aqua ready to dip in summer pool in her stunning bikini.
"Kazuma-san, your eyes are falling out," Megumin points out as Kazuma stares at Aqua's flawless body. Anyway, let's check out this figure!
PHAT! COMPANY AQUA SCALE FIGURE HIGHLIGHTS
We have here Aqua-sama, ready to dip in the pool with her flawless body — definitely a treat for the eyes. You'd think that it was easy making this figure because it's all just skin but that's the beauty of it. How does Phat! Company make such a lovely figure who's wearing only a bathing suit?
Check out the pose! You feel the character graciously moving in that pose. The expression is so innate to her. Most of the time she could be really clumsy, so it's rare that you'd imagine her wearing a swimsuit.
Up close, you can tell that the loose swimsuit strap is such a tease. That way, it reveals more of her bouncy chest although the ribbon's kinda cover most of the front part. Nevertheless, the ribbons on the swimwear looks appealing.
The figure really feels smooth as you look at it. The texture of the hair is is just perfect. The design didn't cut on putting some accessories which glitters glamorously, if we may add.
The details on the body are breathtaking. You'll see that by looking at the belly button area, the butt, and the cleavage — careful not to stare for too long!
The paint looks solid on her. There isn't a hint of glossy paint on Aqua, needless to say. The hue is pretty much on point considering there's a majority of cool colours on her.
Have you look at her eyes? She has this adorable stare, and when you pair that with a couple of blushes, it's definitely a captivating look. Overall, the figure has this cute and sexy vibe.
The base, to be honest, isn't really special although it does the adequately to keep the figure in its elegant position. Also, you might wonder why she's wearing heels in this when she's supposed to swim. Well, we're not totally sure about that, but it absolutely adds to her hotness!
OUR VERDICT
Initial Price: $130 USD
Current Price: $167+ USD
While the figure started off at a mid-range price in 2019, it didn't really go as high as many collectors expected it would. This is an opportunity! In fact, the Aqua figure by Phat! Company is still available in many online stores.
All in all, the Aqua figure is an impressive piece. You definitely get more than what you paid for with this figure although you might think twice if you're picky with a figure's base. Even so, the design is absolutely smokin' and ready to be paired with Megumin, also made by Phat! Company. Both would be perfect for a summer photoshoot!
Needless to say, Aqua in swimwear is an eye-candy! Phat! Company deserves an A+ grade for this piece.