KonoSuba X Re:ZERO Collaboration for Japanese Gacha Game KonoSuba! Fantastic Days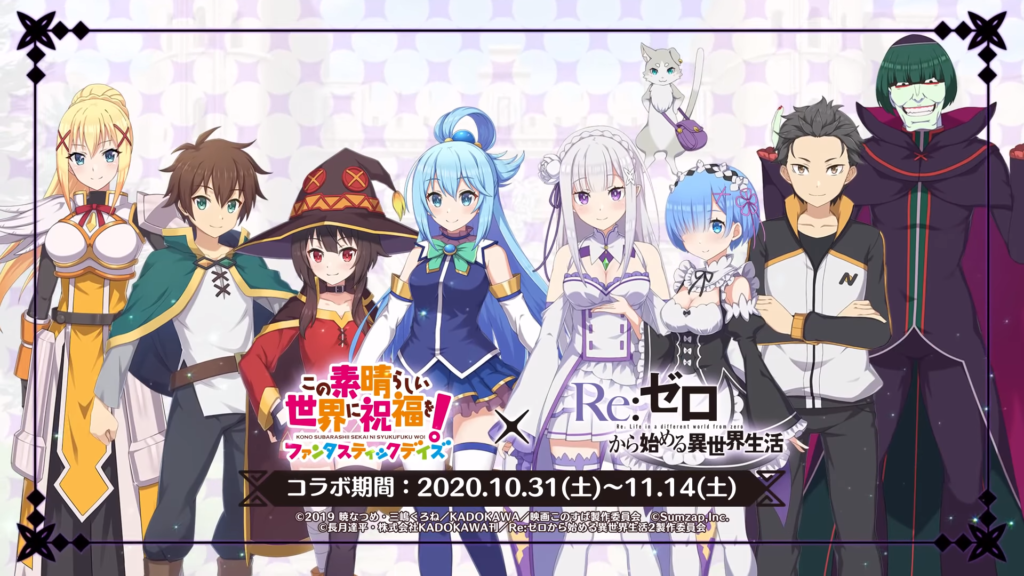 ---
Anime gacha game Kono Subarashii Sekai ni Shukufuku wo! Fantastic Days or KonoSuBa! Fantastic Days will be teaming up with Re:ZERO for an Isekai collaboration. A new trailer for the event scheduled to be held on October 31st has been release:
New characters from Re:ZERO will be added to game — and that's on top of the original KonoSuba! characters that's already in the game, obviously. The trailer features KonoSuba characters getting themselves dressed for the Re:ZERO world. It shows Emilia, Rem, Subaru, and Petelguese being added to the game.
This introductory trailer show the gameplay with some of the Re:ZERO characters. More introductory trailer are available on the collab website.
Konosuba! Fantastic Days is a Japanese Gacha game that was released on iOS and Android on February 27th of 2020. It's based on Natsumi Atsuki's light novel series KonoSuba! — an Isekai anime comedy which you wouldn't drop without a laugh.
The game itself is a party based RPG where you can recruit characters from the anime. In the collaboration, characters from Re:ZERO have been added which makes the gacha game enjoyable for fans of both series.