Kotobukiya ARTFX J: Tokyo Ghoul Kaneki Ken Awakened Version Figure

SERIES DETAILS
In an alternate reality of Tokyo, there exists creatures in human form who treat normal humans either as slaves or tasty cuisine for their insatiable appetite. In the normal world, we call them cannibals but in this parallel universe, they are called Ghouls.
A boy named Kaneki Ken, who himself thought that he was just living a normal life as a college student, went out on a date with a girl whose true intention was to eat him alive. Barely managing to survive this terrifying encounter, Kaneki woke up the next day already a ghoul himself which made a 360-degree turn to his mediocre life.
Due to its interesting storyline, Tokyo Ghoul was a hit anime and there was no doubt that there will be collectible figures of the main protagonist, Kaneki Ken, who had gone through so much psychological trauma in the series and had finally awaken his potential as a full blown ghoul. In his awakened form, Kaneki Ken made his way in the sought-after creations of Kotobukiya in their ARTFX J figure series.
While the anime revolves around ghouls in an alternate Tokyo, there are also ghouls that lurk in our world who, instead of feeding on humans, feed on people's wallets that are full of cash. These ghouls create fake items, especially figures based on popular anime, so that they could trick fans and satisfy their hunger for dirty money. Not even the ARTFX J Kaneki figure could survive their treachery.

ORIGIN OF FAKE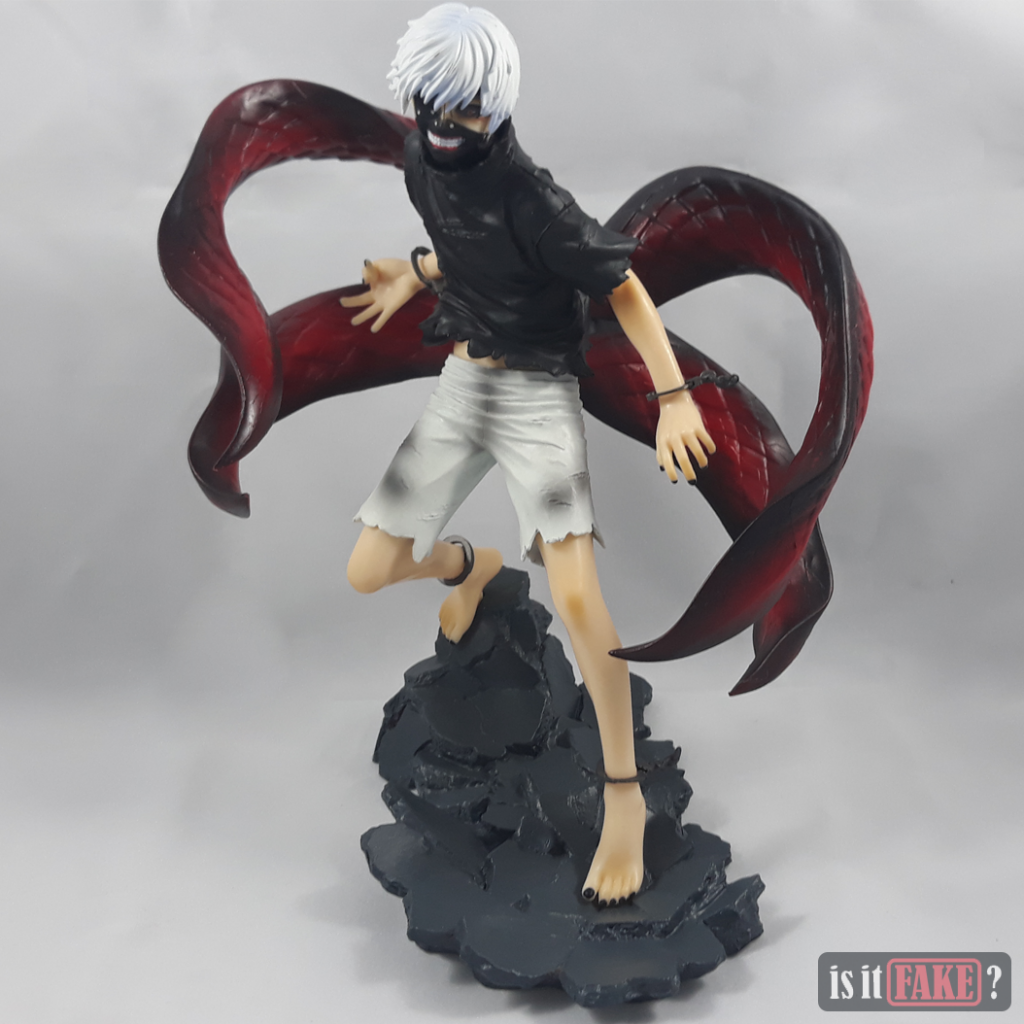 Bought on: AliExpress
Origin: China
Vendor: FT Future Store
Distribution Area: Worldwide
Most of the anime figures that you can find on AliExpress would probably be bootlegs and would have very cheap prices. However, it looks like that FT Future Store is a kind of ghoul that would suck your wallet dry for the price it has set on the fake ARTFX J Kaneki Ken Awakened Ver. figure. Oddly enough, the name of the store gives you an impression that they wouldn't even bother selling figures. It may be a unique name but one would definitely be skeptical on buying a figure from a store with such label.
It's not very surprising as many shady stores on AliExpress that sell fake figures do come up with such ideas. Nevertheless, if you're not careful enough, there's a chance that, one day, you'll receive a box full of regret and inside it is an awful bootleg. That is why it's important to research and read a few reviews of either stores you're buying from or the figures that you want to collect. What more could be a great addition to your research if it's not the information on the fake figure itself.
DESCRIPTION OF FAKE
It's not unusual for a fake figure to be delivered with a rickety packaging. The fake ARTFX J Kaneki Ken figure isn't an exception. Not only that the box was out of condition, it seems that poor quality images was also printed on it.
The fake ARTFX J Kaneki Ken Awakened figure's box has two windows for quality-of-display on its top and front. Low quality images of the fake figure are found on its front and sides while the back has an image of an animated Awakened Kaneki Ken and a background of the figure in Japanese. Usually found at the bottom of a figure's packaging are hazards.
The fake figure's box is indeed a disappointment. At a steady observation, it has already given away its true face as a bootleg figure.
Some authentic figures may come with a substandard condition box. It means that the packaging have been scratched or mishandled and it's totally fine since most legitimate stores would tell you the actual condition.
However, putting the fake figure's box alongside the authentic ARTFX J Kaneki Ken Awakened Ver. figure's box, a ray of light shines as we spot a lot of difference between a bootleg and the real deal.
For a start, it's credits to Kotobukiya for releasing the real ARTFX J Kaneki Ken Awakened Ver. figure so there's no doubt that there will be a logo of Kotobukiya as well as ARTFX J figure series. Since Tokyo Ghoul was produced by the anime studio, Pierrot, it's very likely that figure's from the said anime series are licensed by them. Thus, the appearance of the sticker of authenticity by Pierrot on the authentic figure's box.
While the fake ARTFX J Kaneki Ken figure's box is definitely an eye-sore, the figure itself would probably make you cringe once you notice its flaws but of course, like any other fake, it's a two-faced abomination that's full of regrets.
Out of the box, the fake ARTFX J Kaneki Ken figure is enclosed in a thin, yielding plastic mold which holds it in place while inside the box. It's an awakened version of Kaneki Ken since its Kagune on its back is already exposed apart from its wrathful appearance. Admittedly, the flaws on this fake figure is hard to notice but looking closer will give you a bigger picture of its deceitful appearance.
Its defect start from the base of the figure which doesn't seem like a fit base for it. It does look like that there was a lapse in the measurement since you'd still need to stretch the fake figure so that you can attempt to attach it on its base. While that's not difficult enough, attaching it on its base requires a lot of pressure before it gets adapted to it.
Now that we see it on its base, there are just odd qualities that doesn't match the figure well. One is that the fake ARTFX J Kaneki Ken figure's white hair is somehow faded showing a slight blue shade on it. Another is that there are stains of black paint on its short pants which may look like Kaneki has already gone into a fight and had dirt stained his clothing. Aside from the odd paint job, the handcuffs on the fake figure's wrists and ankles are somewhat doughy. It's disappointing since you'd expected a firm build on the handcuffs.
Putting it beside the real ARTFX J Kaneki Ken figure give you a full view of the actual thing. Aside from annoying spots on the fake, it has missed details on the base which should depict crumbled rocks at the least but utterly failed. It's highly possible that the fake ARTFX J Kaneki Ken figure is a factory reject which would mean that it should have been trashed not sold. It's obviously a ghoul that's gone rogue.
If the fake figure's description isn't enough, you will be surprised at how the fake figure's being sold for.
PRICE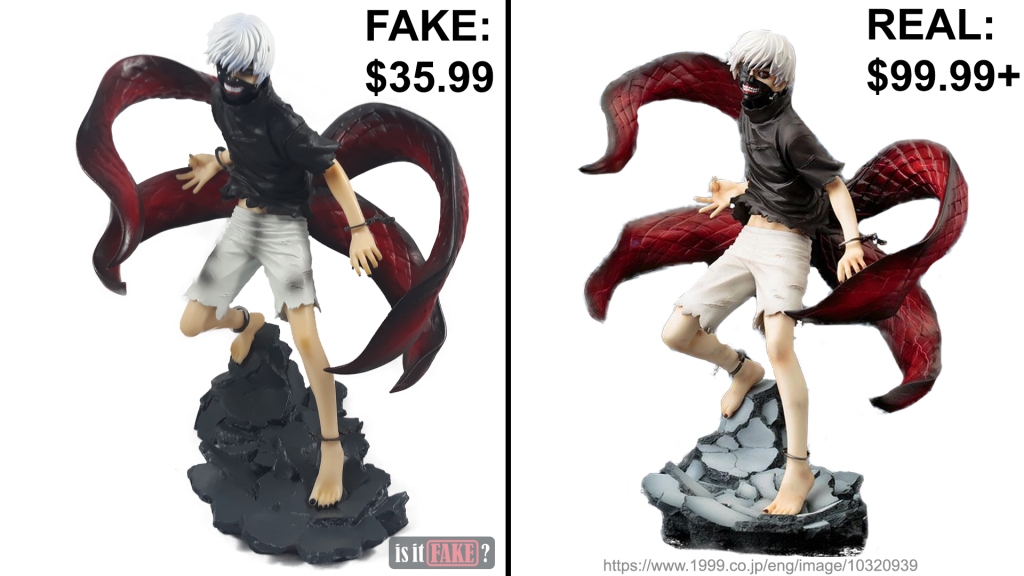 As we've mentioned about the fake figure's ridiculous price, it's utterly unbelievable that the fake ARTFX J Kaneki Ken figure would be priced at $35.99. Obviously, an enthusiastic figure collector could easily avoid being tricked into buying the fake figure but mostly, the victims would be those who are only beginning to collect. It's definitely out of reason that such a fake would even be priced as much as this one.
On the other hand, the real ARTFX J Kaneki Ken Awakened Ver. has just had a recent release of a repaint version for $99.99 last August 2018 while the non-repainted version figure of 2015 is already at over $200.00. Though, it's not that surprising since authentic figures tend to have an increase in price especially when they're already considered as rare. Luckily, we've found websites that are still selling the 2015 version of the authentic figure and if you're on a budget the repaint version is rather new and cheaper.
WHERE TO BUY THE REAL ARTFX J KANEKI KEN AWAKENED VERSION FIGURE
A smart collector would always look if they'd be able to get the authentic figure from the manufacturer itself. Since Kotobukiya is based in Japan, one might think it's hardly available overseas. Though currently out of stock, KotoUS, an official distributor of Kotobukiya merchandise, has the real ARTFX J Kaneki Ken Awakened Ver. in their listings as a preorder so it wouldn't hurt to check their website from time to time for Kotobukiya figures.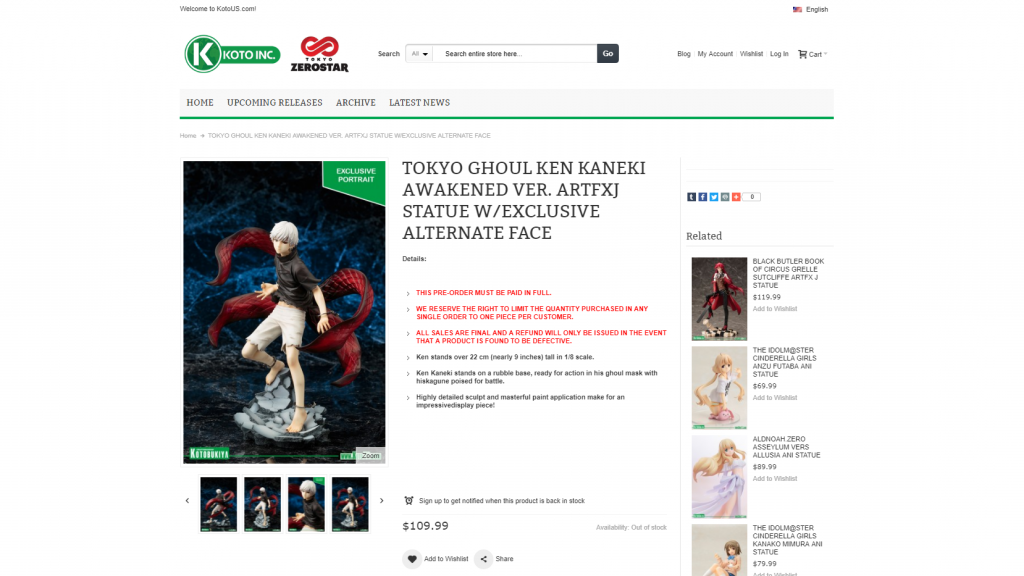 A website that would have worldwide shipping for Kotobukiya figures is Solaris Japan. They also have the real ARTFX J Kaneki Ken Awakened Ver., however priced at approximately $209 since of its possible demand and rarity. It's truly a collector's item.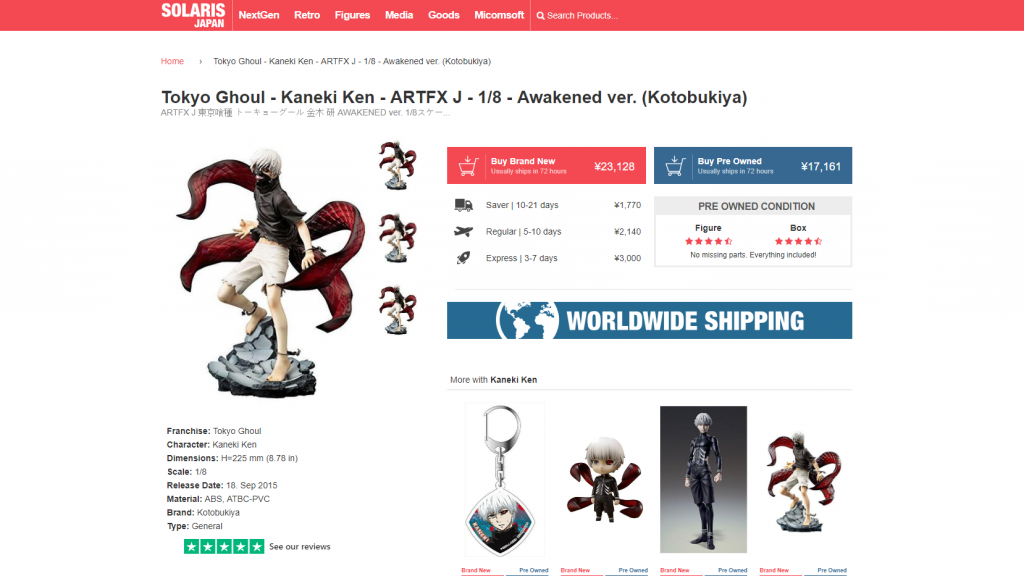 A cheaper yet similar quality ARTFX J Kaneki Ken Awakened Ver. is the repaint version which was mentioned, released last August 2018. The BigBadToyStore, fortunately, has the figure in stock and looks like that they have a discounted price for it as well.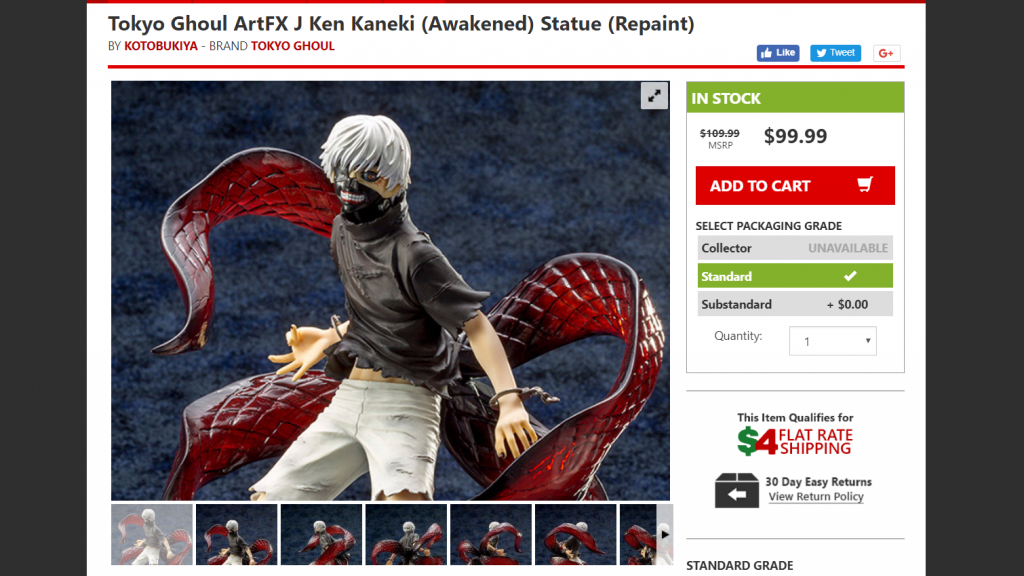 As expected, the authentic ARTFX J Kaneki Ken Awakened Ver. would truly be worth for your glass cabinets of figures. It would be unimaginable for someone to put bootlegs in precious glass cabinets which that person even spent a large sum of hard-earned cash for. Needless to say, a bootleg figure is never worth it whatever its price.

OUR VERDICT
The fake ARTFX J Kaneki Ken figure is definitely an unfathomable ghoul. Its faded details and questionable plastic odor would make you think twice to even put it out of its dilapidated box. While it doesn't deserve to roam the streets of Tokyo for its rigged quality, it should at least be satisfied for deserving to get a 70% terrible rating.