My Hero Academia: Kotobukiya ARTFX J Toga Himiko figure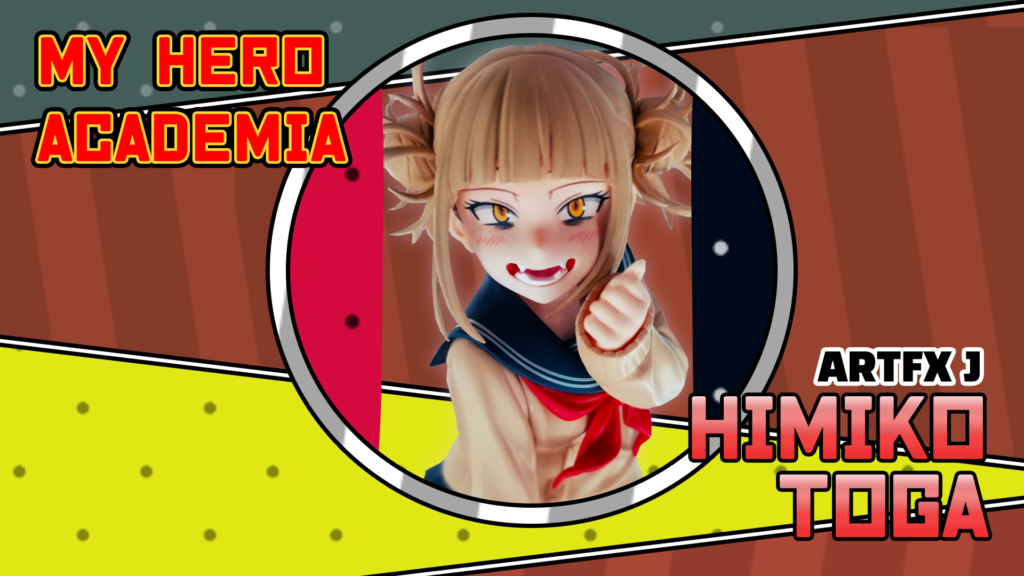 ---
Special thanks to GoldMario100 from MyFigureCollection.net for making this article possible
CHARACTER DETAILS
Toga Himiko is a prety and cheerful girl who usually wears an adorable beige seifuku (a long-sleeved sailor uniform) from the anime My Hero Academia. She blushes easily and has an appearance comparable to a feline. She's loyal to her mission, but apparently, she's a villain.
Himiko blushes at the sight of blood and excitement. Obviously, she's mentally unstable, but serves Shigaraki Tomura with respect and loyalty. All members of the League of Villains, including her, wishes to wreak havoc on Tokyo to make chaos prevail — just because they're pure evil.
Kotobukiya makes Toga Himiko lovable in their ARTFX J design. Let's check her catty appearance filled with cheerful killing intent.
KOTOBUKIYA ARTFX J TOGA HIMIKO HIGHLIGHTS
Kotobukiya holds a large collection of scale figures. Under the ARTFX J line, you'll see a hefty detailed stock of anime figures as well as those based from American pop culture, like Star Wars. It's a diverse brand, I must say. It keeps getting better through the years, and Toga Himiko could be one of the best within her price range.
With such villainous smile, Toga Himiko still has that adorable expression that could catch hearts of MHA fans. She's definitely showing her crazy side in this figure.
Look at the left hand, what do you see? Well, it's that usual cute expression anime girls use whenever their photos are taken. But when you look under, she's holding a knife — she's absolutely looking for a kill. In this angle, you can tell that the figure's smoothly detailed.
She's wearing her civilian outfit here. It's her basic seifuku outfit as we've mentioned. She's usually not that hostile whenever she wears this outfit — just as it was represented in the anime. Of course, she's very unpredictable, which is why we're looking at her in this manner.
She looks innocent with just looking at the face. If you're into anime girls with fangs, she definitely passes the waifu check. The blush also looks perfect on her. The design also made an enhanced version of the character's eyes, especially its features. The sculptor is really keen to details.
You can tell in the close up photos that the creases on Himiko's outfit is spot on. It follows the figure's pose smoothly. There's definitely movement on the pose, and that's why this specific element on her outfit shouldn't be neglected.
Toga Himiko has that frizzy, bun hair that's unbelievably in order. Fair enough, the design's also faithful onto this detail.
All details in check, the base wouldn't be left behind. It's a simple base, yes, but its color harmonizes with the figure. The item really looks stable on this which is very important when picking scale figures.
It's a gorgeous piece, indeed! It's unquestionably one of the must-collect pieces you should get under Kotobukiya's My Hero Academia figure line. But is it really worth the price you're paying for? Let's do some price check!
OUR VERDICT
Initial Price: $88.60 USD
Current Price: $123+ USD
Take note, the figure was released last October 2020, but of course, it still took some time for the price to go up since its pre-order state — when it was actually around $88 USD. Nevertheless, it's one of the evidences of a worthy figure.
The ARTFX J Toga Himiko really sets the bar for mid-tier figures. It's a flawless figure, nonetheless. As we've mentioned, it could be one of those figures you should get first if you're into collecting the MHA figures across all brands. The figure, by default, deserves an A+ grade on the scoreboard!