My Hero Academia PVC Keychain: Izuku Midoriya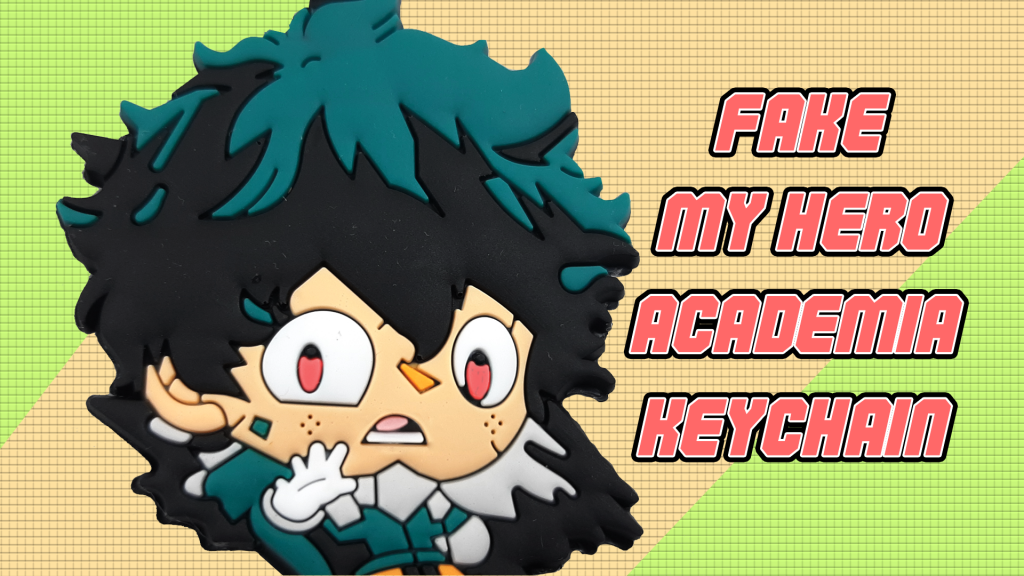 ---
ITEM DETAILS
There are a lot of merchandise you can offer to anime fans. Of course, one of these are handy keychains. Let's say that you have one attached on your phone or wallet. It does give a message to other people that you're more or less an anime fan — and you're proud of it!
While anime merchandise ranges from posters, figures, or even body pillows, anime keychains are most commonly displayed in public. So, it's safe to say that you want them looking at their best quality. It can also start a conversation between two strangers, and if it's gonna look awful, you might turn a possible friend away.
One of the most popular anime that's still on-going is My Hero Academia. More often than not, it's the talk of the town during anime conventions and the franchise has indeed a lot of anime merchandise on sale. Who's to prove whether these merchandise are licensed or not though?
Unfortunately, popular anime series like My Hero Academia are targets of piracy. A lot of merchandise like the ones mentioned above are being made and sold in public without permission from the ones who created the show. Even though it's just a rough margin, there's still an impact when "custom-made" items are being bought and sold.
ORIGIN OF FAKE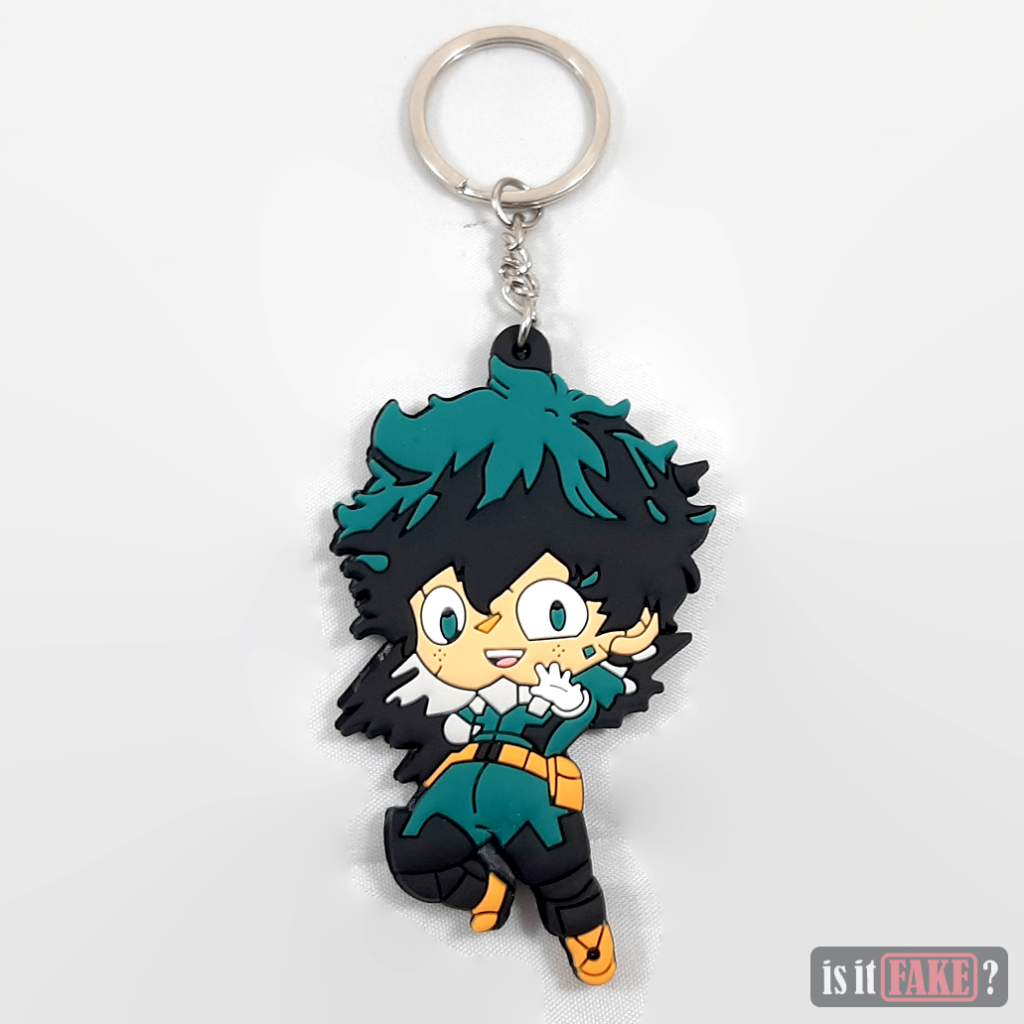 Bought on: AliExpress
Origin: China
Vendor: warm wind beautiful sunshine
Distribution Area: Worldwide
A lot of shopping websites offer customized anime goodies because why not? If you can make money out of popular shows, then go for it. Squeeze the creative juices out of your mind so that you can turn hard work into cash. However, there's a fine line between selling unauthorized merchandise and having them licensed first so that you can sell them. Of course, you will still have to get permission from the creators.
There are also websites that you should avoid getting licensed keychains from. Some of these are eBay and AliExpress. Most likely, you're getting the items from third-party merchants who you wouldn't want to trust the quality of items with. For example, warm wind beautiful sunshine is a sketchy seller on AliExpress. This "customized" Izuku Midoriya keychain should tell you why.
DESCRIPTION OF FAKE
We have here is a My Hero Academia: Izuku Midoriya PVC keychain. You can see that the item is only wrapped in unbranded, thin plastic.
Most licensed anime merchandise are properly sealed in a branded container before you even find them wrapped in a plastic like this fake. You can also tell from the missing barcode tag as well. There are hardly any details that tell you who the manufacturer of the item is. The item's suspicious enough to be an unauthorized item.
True anime fans are serious in buying anime merchandise. They want branded items that are sealed, or even in boxes, and would even spend a thousand dollars on collectibles alone. And since most collectibles are acquired randomly, it's possible to spend a lot on collectible keychains if you're trying to complete the set.
As for the fake Izuku Midoriya keychain itself, it may look like there's nothing wrong about it. After all, it has a cute artwork of the character and serves as a proper keychain. However, there's something off about the quality of the item which is what you should be aware of.
You can see a few plastic markings on the character design. That's a bit worrying because you should be considering the flawless quality an authentic item is capable of providing. For this fake, on the other hand, you could just puke at the glue stains on the sides of the design. It's messy indeed if you'll be taking a closer look.
Another annoying flaw that would probably tick you off is that you can see some excess PVC material between its legs as well as on its left knee. This paints a clearer picture of the item's low quality creation.
Admittedly, the fake keychain doesn't look too far from authentic My Hero Academia keychains. However, you have to consider the actual quality of the item in person since authentic items prove to meet the expectations of fans.
There are various of licensed My Hero Academia keychains. One of the noted few should be the merchandise from the Good Smile Company which is also manufactured by Takara Tomy Arts. So if you're a fan of those brands, then we hope you already get what we're talking about. After all, you should be paying for something that's worth your time and money.
PRICE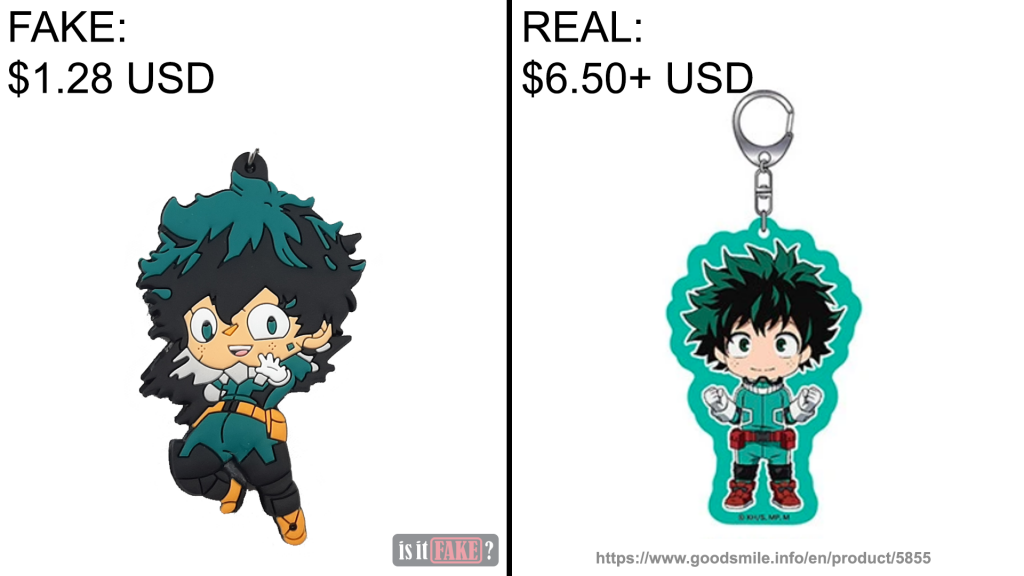 Admittedly, there's a little bit of convenience when it comes to buying collectible bootlegs since you'll already get what you wanted from the start. However for a price of $1.28 USD, it's safe to say that you're just ordering a piece of plastic waste. Judging from the overall quality, it isn't even worth spending a dollar on, and take note, you'll have to cover a lot more on shipping fees for a single bootleg — unless, you're going to order a bulk of trash item.
Licensed My Hero Academia keychains are much worth it and we're not only saying this. True anime fans take pride into having authentic merchandise, and for a price of around $6.50 per keychain, we'd say that you've got yourself a good deal.
WHERE TO GET LICENSED MY HERO ACADEMIA KEYCHAINS
If you simply type in google search, then you'll just be disappointed since a lot of the results will lead you to sketchy websites or item postings from Amazon which you won't even be sure of.
We recommend going over at Hobby Search instead of just using plain, old google for searching anime merchandise. The website has a catalogue of anime goodies as well as figures. In that way, you'll know what items are licensed and authentic.
Here are some examples of licensed My Hero Academia keychains: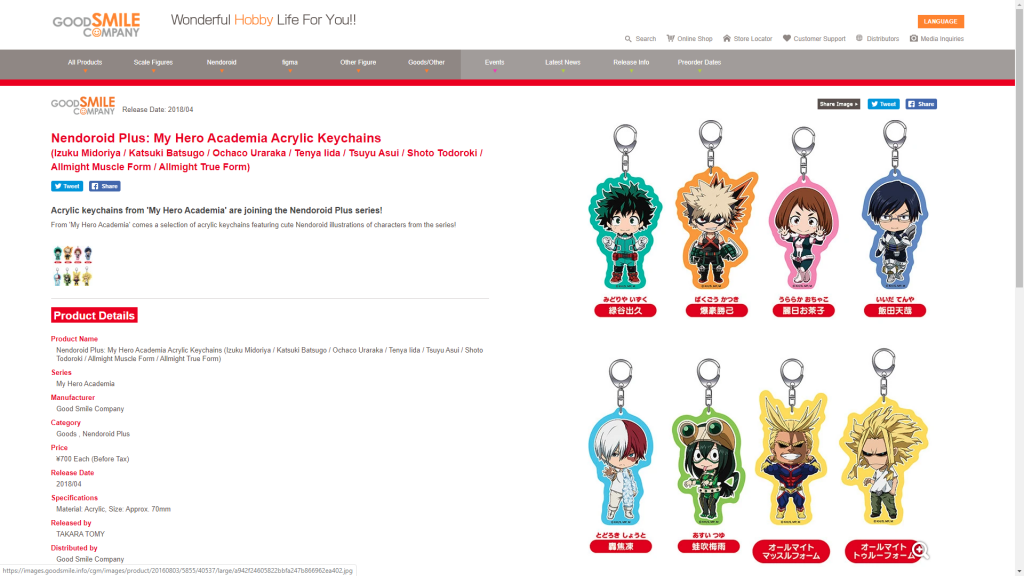 Good Smile Company has been handing these My Hero Academia keychains since 2016, although there's already little to no trace of them online. The items may still be available at hobby stores especially in Japan where you'll find a lot of the anime's collectibles.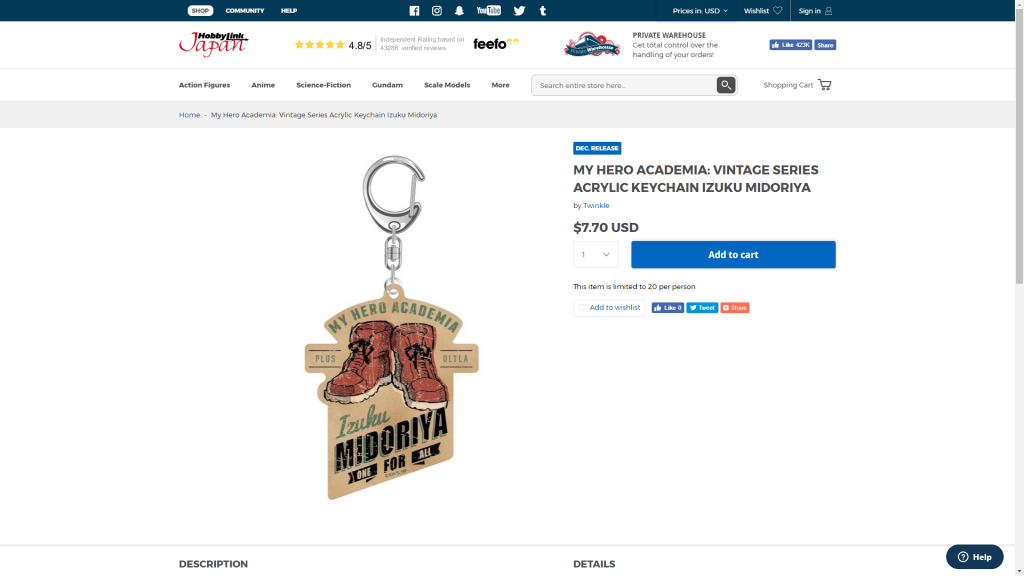 On the other hand, you'll find a lot of authentic My Hero Academia collectibles on HobbyLink Japan. The keychains are surprisingly at par with the original prices of the merchandise in yen (700 yen per piece). For $7.70 USD, it's safe to seal the deal with the website and get your own authentic My Hero Academia keychain.
Needless to say, it takes a little bit of research in getting authentic items online. In addition to that, you should also consider looking up the reputation of the website where you're getting the item from regardless if it's anime merchandise or not. It's better to be safe than sorry.
OUR VERDICT
The fake Izuku Midoriya keychain showed us its flaws despite being a simple item. Isn't it surprising that even keychains like this would have a defect that would definitely turn off fans of the series. The plastic bits at close sight are utterly disgusting. The design, on the other hand, is rather questionable as well. Whether it's only fan art or not, you'll be able to tell some inconsistencies on it.
Nevertheless, the fact that this is a fake keychain gives us a spine-chilling cringe. It wouldn't pass either way so we're giving it a 60% terrible rating.