One Piece: MegaHouse Portrait of Pirates Vinsmoke Reiju figure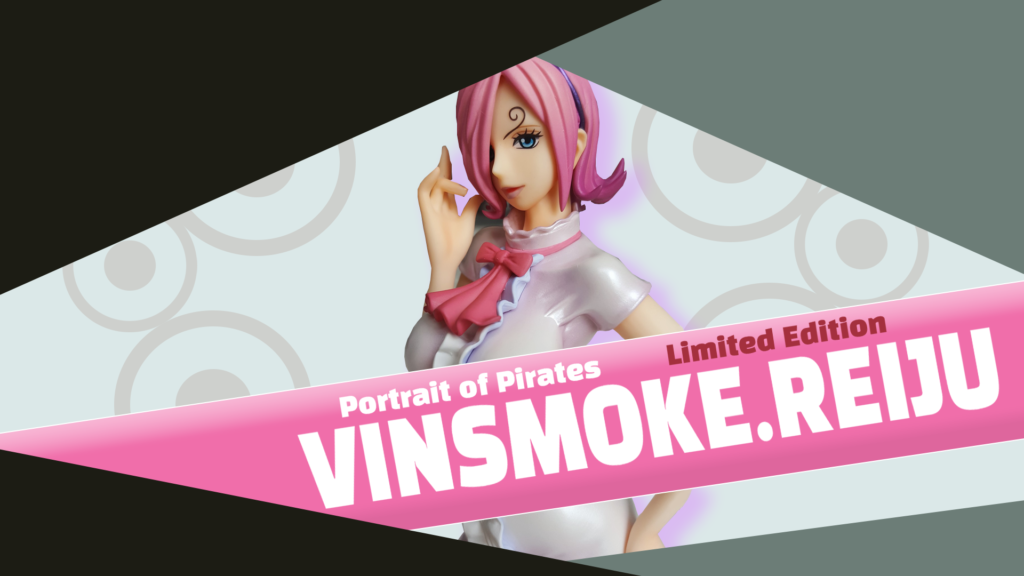 ---
Special thanks to BloodyViper74 from MyFigureCollection.net for making this article possible
CHARACTER DETAILS
Ahh! The Vinsmoke Family. Rulers of the Germa Kingdom. A family of Underworld mercenaries. A powerful family.
In the One Piece series, it was eventually told that Sanji from the Strawhat Pirates hailed from the Vinsmoke family. Despite their infamous reputation, they have had to ally with Luffy and the Strawhat pirates. The doors finally open to this royalty and Luffy, finally meeting Sanji's sister, Vinsmoke Reiju.
She's a sassy, kind gal who obviously has a thing for the color pink. Pink hair, pink outfit, even her personality is similar to the color's meaning. Heck, she's also known as the Poison Pink because of her poison abilities. On the other side of it, she's a kind leader who resorts to compassion and empathy.
Under the Portrait of Pirates collection by MegaHouse, she's a femme fatale. She shows off a sizzling pose and full glimpse of Germa 66 on her thighs. Let's catch a glimpse of the Vinsmoke Reiju figure from MegaHouse!
MEGAHOUSE PORTRAIT OF PIRATES VINSMOKE REIJU FIGURE HIGHLIGHTS
The Portrait of Pirates collection often stand 22cm tall, or in 1/8 scale — with a base, of course. If you're a fan of MegaHouse, this collection is perfect if you're looking for that affordable One Piece figure. There many are tags under the P.O.P and Vinsmoke Reiju here is under the limited edition product line.
P.O.P is still under MegaHouse's Excellent Model brand, and you'll notice that on the upper-left portion of the box. The Toei Animation sticker of authenticity on the upper-right is also intact.
The packaging alone fits the image of the character in this particular pose. As you can see, she's a badass model here. Her fierce but sweet expression suggests that well enough.
The figure is based on Vinsmoke Reiju when she's outside of her raid suit. It's a small, tight white satiny dress with frills on the neckline. It looks comfortable on her and also feels like we're seeing a carefree character. The tightness of the dress also emphasizes her large bust size making it difficult not to notice it first — lol!
The color of the figure feels defined and evenly shaded. This makes it feel like the figure is an enhanced version of the character compared to what's shown in the anime. You'll notice these details on her outfit, hair, and skin.
The figure shows off majority of her female assets. Apart from her bust, you'll notice the flawless thighs empowered by the numbers on it, which is known to be associated with the mercenary group, Germa 66.
The design is really captivating. The detail on her eyes is spot on. The figure captures the stare you'd get from the character herself. She's gonna kill a lot of men with that stare, no doubt!
OUR VERDICT
Initial Price: $81 USD
Current Price: $149 USD
Let's face it. This Vinsmoke Reiju figure is a limited edition collectible, a JUMP exclusive to be specific. It was released in 2018 and has produced a significant return of investment for people who bought it back then.
Needless to say, the figure is neatly-detailed. It's a piece served on a clean platter. You can never just take a glance on this figure. You'll be staring at it. Its flawless texture and sculpt catches the eyes of every One Piece fan out there. She definitely killed it here with an A+ grade down to her pockets.