Plushie: Line Friends Brown Bear (China)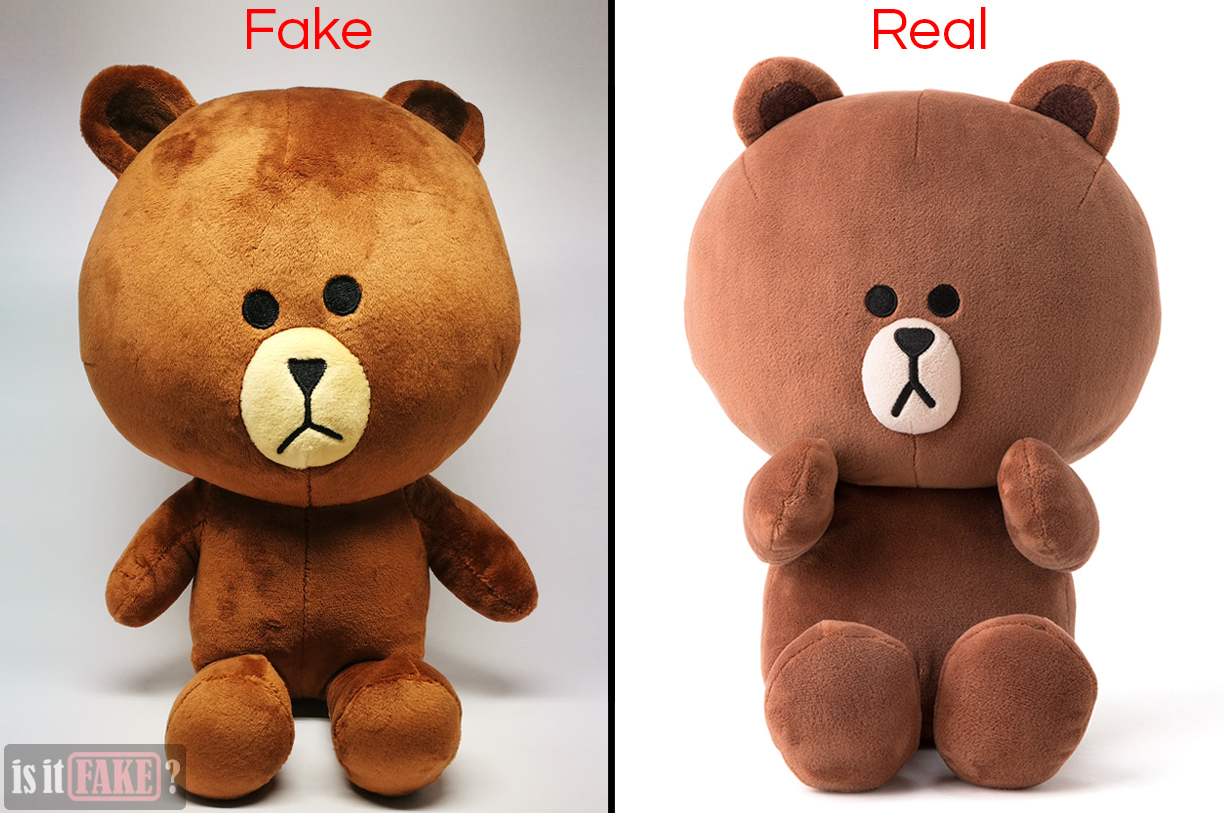 Series Details
Teddy bears have been protecting children from nightmares and winning the hearts of lovers since the early 20th century. And from the looks of it, they're not going out of fashion soon, thanks to the efforts of those in the plush toy-production industry.
Case in point, we have South Korea's LINE Friends series of premium plushies. Loved the world over, these stuffed animals have become synonymous with cuteness and quality.
As expected, LINE Friends' popularity has not gone unnoticed. Bootleggers are now producing their own stuffed critters based on the series, and if you're not careful, you might just end up buying one. Read on to learn how to avoid being played for a fool by these pirates!
Origin of Fake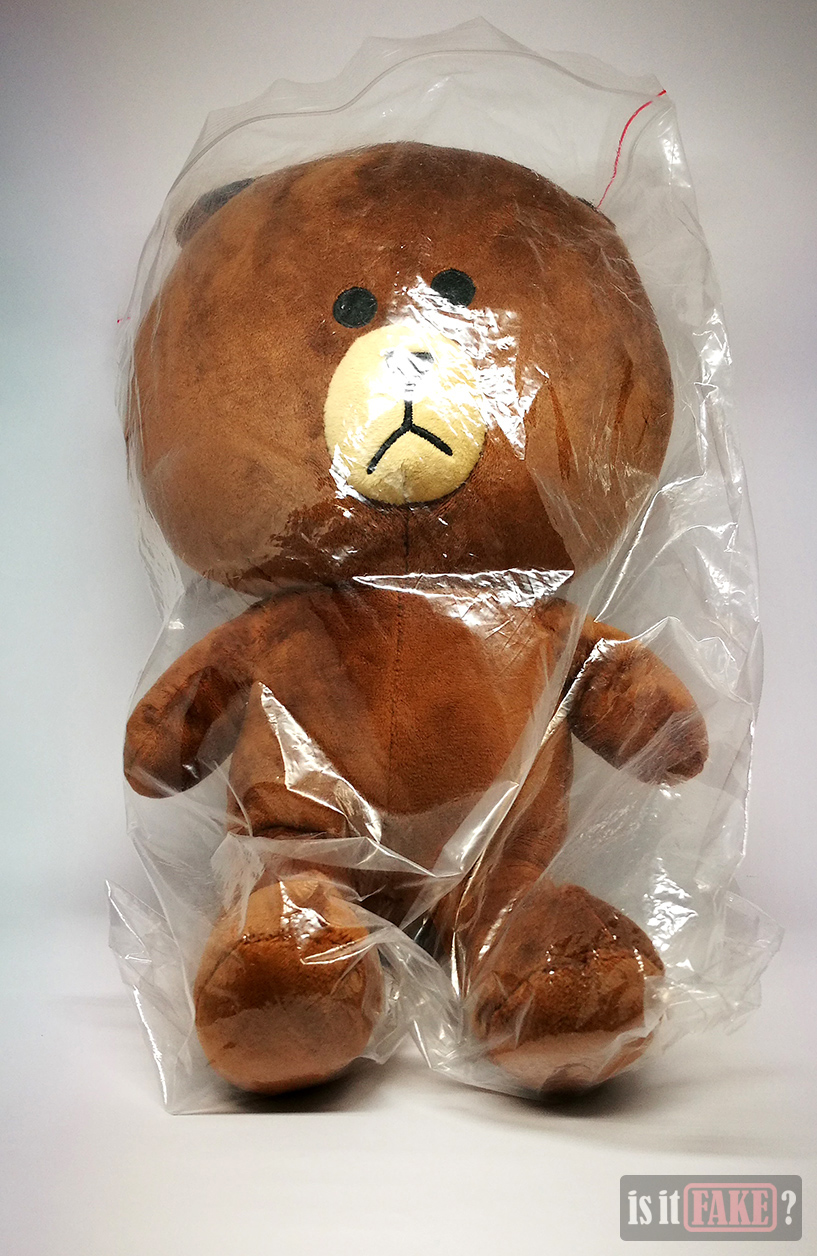 Bought on: Babybabydududa Store, DHGate
Origin: China
Vendor: Babybabydududa
Distribution Area: Worldwide
Sender: Nanhai District, Foshan City, Guangdong Province Keijo God Bless Three-way 11 Apartment 1507 Smith Barney
What is Babybabydududa? It's hard to know for sure, as they don't have their own website. They are, however, mostly affiliated with Chinese online marketplaces – something highly suspicious indeed. Chinese online stores, after all, are bootlegger sanctuaries and repositories for fake products.
Most telling is the fact that official LINE Friends plush toys are manufactured and distributed by the LINE Friends brand itself. Not only did Babybabydududa claim to be these toys' brand, they even used official LINE Friends pictures in their online store to trick you, as the buyer, into thinking you're looking at something of premium quality.
Then the doll you ordered arrives at your door, and you're greeted by something that won't meet any plushie lover's standards.
Description of Fake
The fake LINE Friends Bear plushie was originally so tightly wrapped in plastic its ears and legs were contorted.
As of writing, the ears have yet to recover. While it doesn't take much to straighten them, they have a tendency to lean backwards. The fact that they're completely hollow bags of cloth contributes to their flimsiness.
The problem you'll immediately notice, however, is how dirty the felt looks with its numerous patches of dark brown amidst the light brown.
True, you can brush the felt so that fibers face the same direction, causing  the dark parts to lighten. But this takes more effort than you'd expect, as various sections of the felt seem to have fibers pointing this way and that. You'll therefore have to brush not in a single, but a multitude of directions before you can get the desired consistent coloration.
The felt on the fake is also coarser, while the official's is finer. This coarseness contributes to the bear's "dirty" look.
The fake bear's brown is darker and a tad more orange-y than the official's. In contrast, the soft pastel brown of the official plush doll's is soothing to the eyes.
The fake bear is also misshapen. Its head, for example, isn't a nice round shape like the official toy's. Instead, it's flatter in some areas and lumpier in others, making for an uneven look. Its snout is hilariously bad, with a chin that's jutting out, and a nose that looks like it's been shoved inward into the poor thing's skull.
Its eyes are also lopsided, with the right lower than the left.
The legs have been stitched onto the body in such a way that the toes are angled slightly to the left. You can never straighten them, which will drive the obsessive-compulsive personalities mad and annoy everyone else.
The knitting along the seams is a mess. Often crooked lines are marked by visible knots of thread. You'll see coils of string sticking out, the most noticeable one extending out of the area just behind the right shoulder.
But perhaps the most frustrating thing about this fake bear is its inability to sit. Its head is far too big and its body much too narrow – making it a challenge to balance on its butt. The awkward positioning of the legs doesn't help.
In contrast, the official LINE Friends Brown bear has a much wider body and thicker legs to support the weight of its enormous head. Its butt is also flatter, which prevents it from rolling sideways. With a lower center of gravity and a larger surface area in contact with the ground, the official Brown bear is less likely to topple over.
Check out the comparison images below for a summary of everything that's wrong with the fake bear! All the photos of the official doll are from LINE Friends' product page. 
Price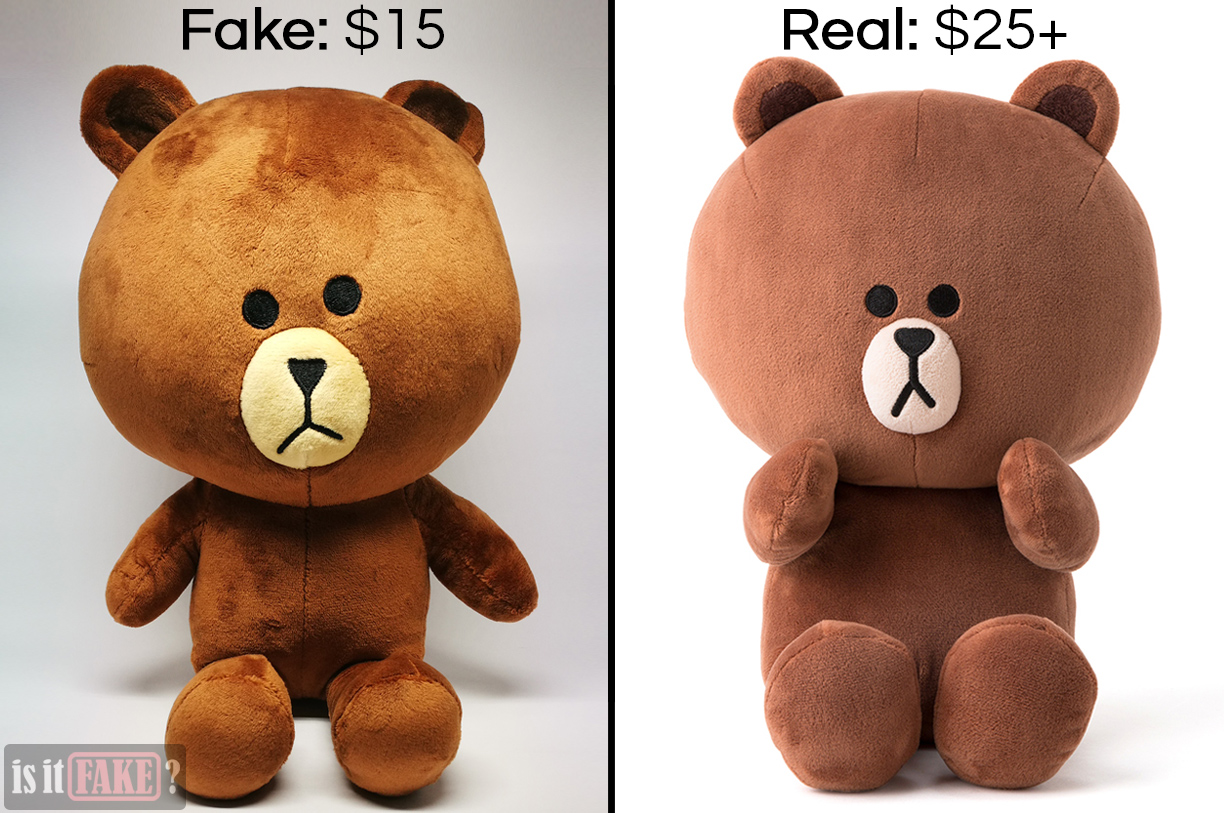 Official LINE Friends plush toys come in a variety of sizes, and the price increases with size. A 28cm doll usually costs around $25, a 30cm doll $32, and a 40cm doll $61. There are, of course, much smaller and larger sizes, and LINE Friends merchandise other than plush dolls.
Where to Buy Real LINE Friends Plush Toys
You can buy LINE Friends merchandise in LINE Friends physical stores found in various parts of the world, including the USA, Japan, Singapore, and China. Just visit the official site; it provides a list of these stores, and even gives you each store's contact information, address, and location on the map for your convenience.
In addition, an online store dedicated to LINE Friends exists for all your purchasing needs. Just make sure you have a Google Translator app or extension to translate all that Korean.
From the store, you can find items such as those pictured below.
LINE Friends plush toys sell out fairly quickly, however, so be sure to be on your toes when hunting for them. The good news is that items do get restocked, or replaced by new versions with every "season."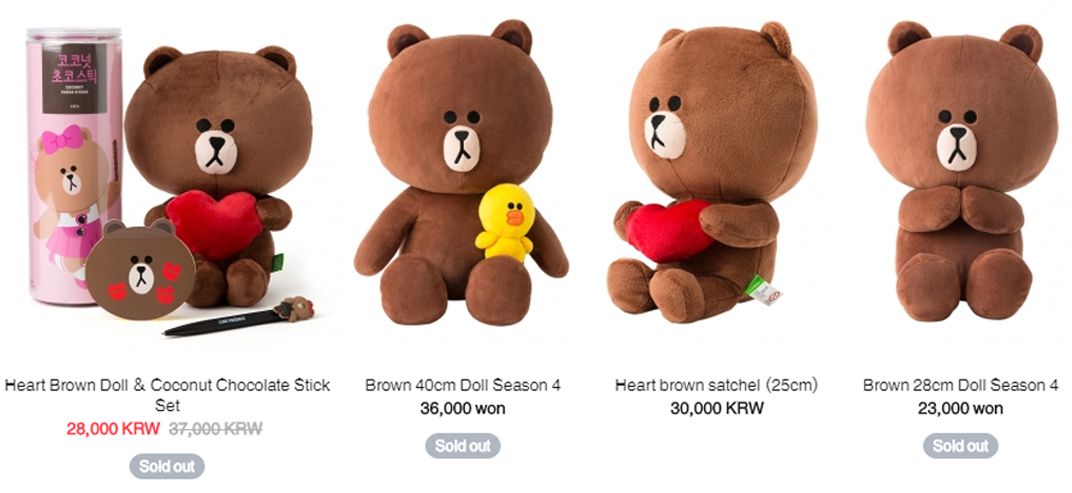 Our Verdict
There's nothing sadder than a dirty, misshapen teddy bear who can't even sit. We're sorry to say this fake LINE Friends Brown plushie is all of that. We give it 65% terrible rating.