Pokémon Center Sitting Cuties: Gyarados plush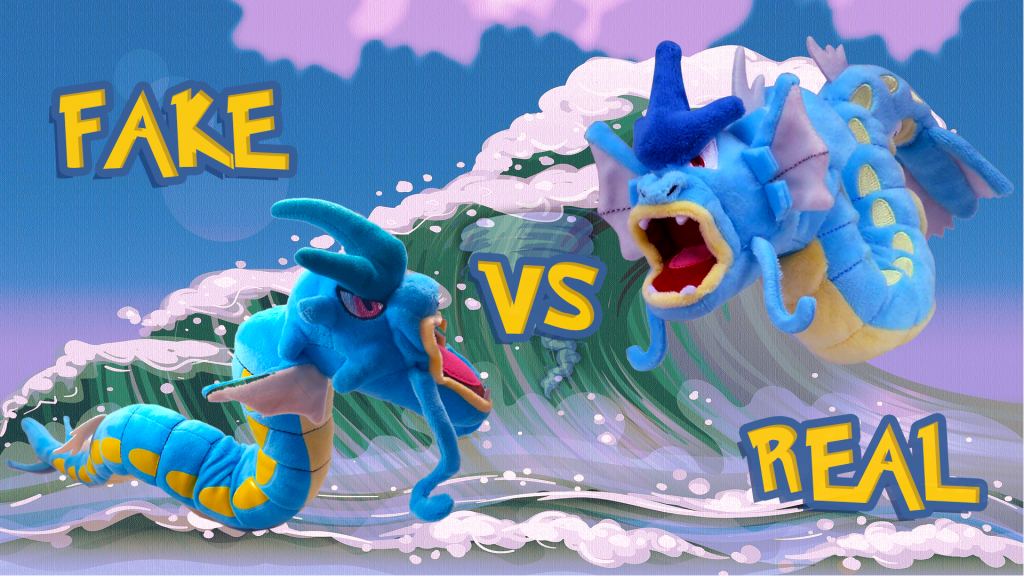 ---
TOY LINE AND CHARACTER DETAILS
They say that fishing a Magikarp in a Pokémon game is a head-scratching experience. The specific Pokémon is so common to encounter that it would really test your patience, especially if you're aiming for a better catch. Although if you decide to keep one, then you're in for a journey on evolving a Magikarp to a massive, destructive Pokémon — Gyarados.
For all we know, Magikarp is dubbed the world's weakest Pokémon. New generations of Pokémon have already been introduced, still none have taken Magikarp's crown. But when it evolves, then you better prepare your guts as Gyarados is a mighty serpentine of the sea. In many versions of the game, the sea dragon could topple even the mightiest of his enemies. Once you get his Hydro Pump and Hyper Beam working, it's all done.
Exaggerations aside, Gyarados is one of the favorites during the early ages of the game. And true enough, Pokémon Center stepped in to bring one of your favorite Pokémon to be made into a cute and adorable plush.
Unfortunately, bootleggers will take every opportunity to get dirty cash into their bank accounts. May it be stealing a design, or just plainly grabbing defective products off the manufacturers' trash bins to sell online without proper authorization.
ORIGIN OF FAKE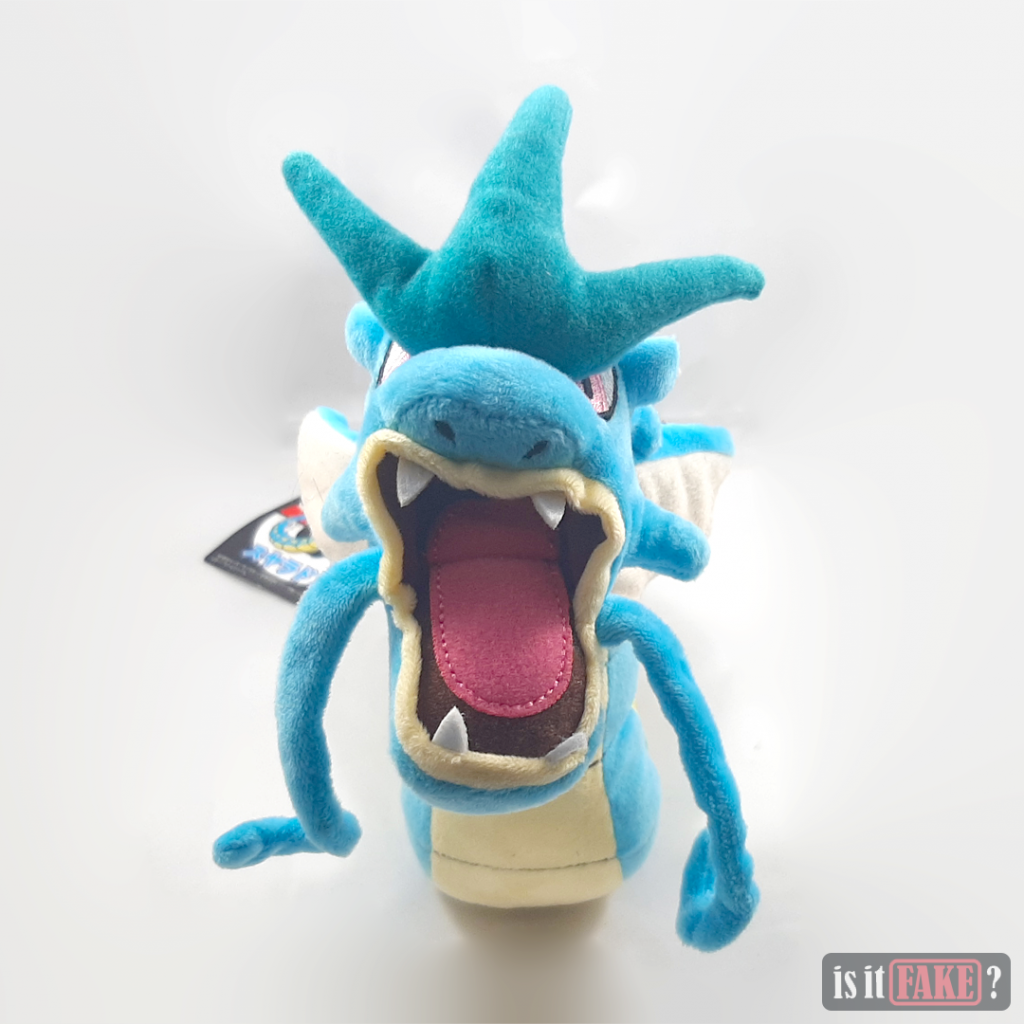 Bought on: AliExpress
Origin: China
Vendor: DoleToy Store
Distribution Area: Worldwide
Plush toys are actually a big thing on AliExpress although you wouldn't want to bet on the website to get high quality stuff. The website is just lurking with a lot of awful bootlegs, and perhaps, you've already encountered an odd-looking Pokémon plush on there.
It's easy to say that DoleToy Store isn't a proper sounding name for a merchant. Don't you think it's too random? Well, it's just as what you suspect. This vendor is really up to no good, and you can make the final decision in avoiding such store by looking at this fake Gyarados plush.
DESCRIPTION OF FAKE
For a first, the fake Gyarados plush doesn't seem to be packed properly. You'll see that it's just the bare plush — without any plastic wrapping. Of course, initially, it was delivered and was packed in the courier's packet, but that's all there is to it.
Although, almost everything looks intact. The Gyarados plush looks like the Pokémon, admittedly. There's also the tag on its tail that says about its manufacturer and copyright. However, you have to keep in mind that products that have many factory defects are thrown into the manufacturer's trash bin. Possibly, it could be the case for this fake plush.
From a close distance, there are some areas of the plush that are arguably suspicious. Indeed, its face could be just deformed from its prolonged storage inside a tight space. Though in reality, it looks that way, permanently, and you can only prove that by twisting its mouth — which is kinda impossible to show in pictures.
In the anime, Gyarados always have that raging red eyes. Oddly enough, you can see that this plush has eyes that's good as cherry blossom.
The face's condition is far from being a licensed Gyarados plush overall. Without a doubt, the manufacturer will be counting the plush as defective, but let's see if its body works quite well.
The body of the fake plush has microbeads inside that acts as its skeleton, so you could position it however you want it to. Fortunately, the bootleg is able to sit erect in its original position although you can see from the sides that the fins are totally flappy. The material used on that particular area looks cheap, and on top of that, some areas in the body have dirt on it.
On the sides, you'll notice that the plush has yellow scales which looks just right for any Gyarados plush. Although if you look closely on the details, you'll notice that there are spaces and gaps on each of the scale. Additionally, the patterns are also inconsistent which gives a sign of its true nature.
Lastly, there are minor inaccuracies on the stitches which are shown on the first images below.
The fake Gyarados plush can still fool a lot of unaware fans. After all, it does have the tag from Pokémon Center, but if you'll be careful enough to get the legit Pokémon items from their website, then you're safe.
All in all, the fake plush has some nasty details that prove that bootlegs are just cheap copies. And if you'll get a quick look at the real Sitting Cuties: Gyarados plush, you'll see a whole big difference between the two.
As you can see, the real Gyarados plush has definite details. It really embodies the plush collection: Sitting Cuties. Apart from that, you can see the difference between the tags since the real plush brings its own banner of the collection. Although it's also possible that the versions are different from the ones released in Japan, but regardless, there's still a big difference in details.
For one, the real plush has embroidered scales while the fake has this cheap, sticker-ish scales. So if you're still undecided between the two, you might want to check how the fake competes with the real plush's price — it's ridiculous!
PRICE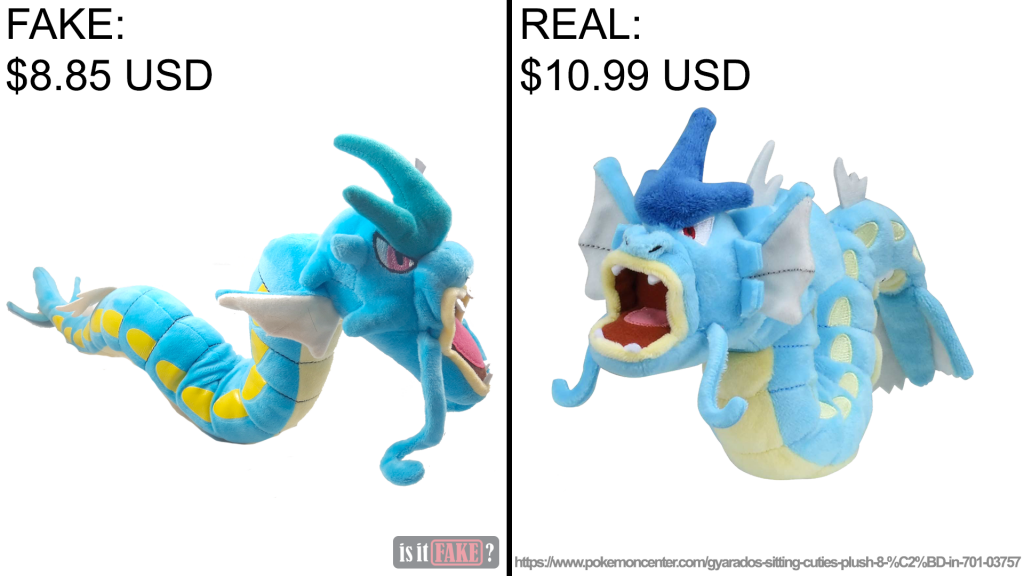 As you can see, the fake Gyarados plush is far from what an authentic plush looks like. But if you would consider the prices, you'll be turned off by how much the fake gets close to the authentic plush's price. For sure, you wouldn't even get a worthless item for $8.85 USD. So instead, be smart and get an authentic Sitting Cuties: Gyarados plush for $10.99 USD.
The real plush also has some price differences per region. In the United States, it's at $10.99 USD, but if you'll be ordering from websites that ship outside the US, the price can go as high as $29.99 USD.
WHERE TO GET THE REAL POKEMON CENTER SITTING CUTIES GYARADOS PLUSH
Pokémon Center is only a click away if you're looking for licensed Pokémon merchandise — that includes plushes, trading cards, figures, apparel, and more!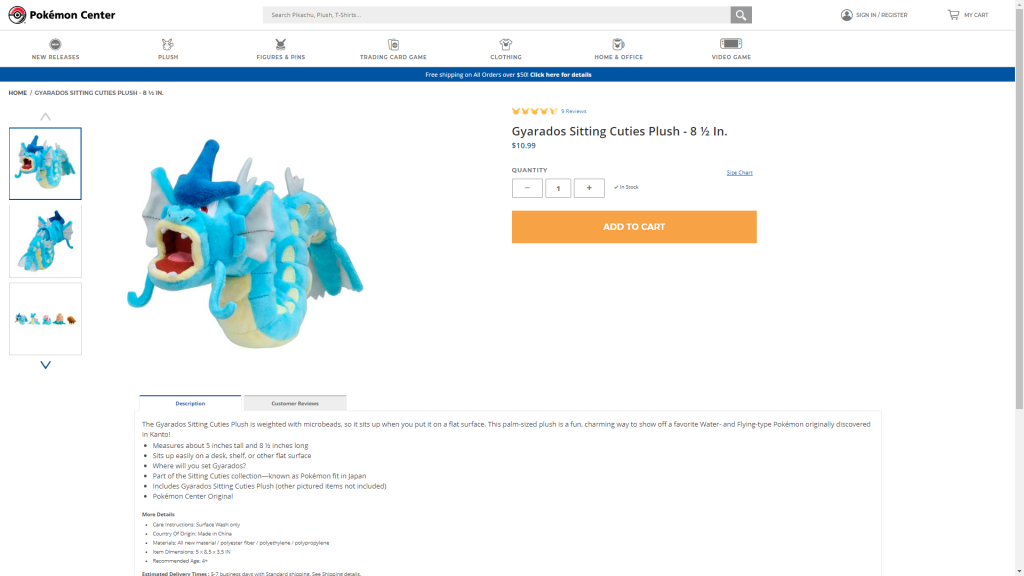 The real Sitting Cuties: Gyarados plush is also found on their website. So if you're within US territories, then you're lucky enough to get the plush for $10.99 since Pokémon Center only ships within the US. Don't get yourself down yet, however, since there's also an option to get the plush in another trusted website.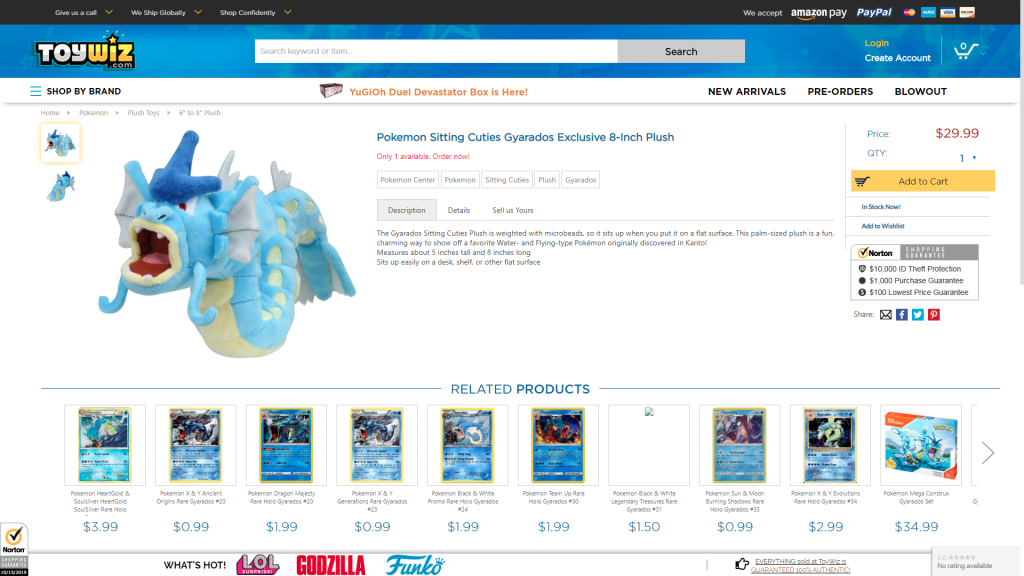 You still have the chance to grab the Sitting Cuties: Gyarados plush on Toywiz. However, it looks like that they have limited stocks for now, so hopefully, they'd restock the item if it sells out. Although, it's not really surprising that the price on this website is much higher than on Pokémon Center. You'd also want to consider how accessible and reliable Toywiz is.
OUR VERDICT
The fake Gyarados is just a deformed piece of cheap polyester. It's also full of dirt considering that it was shipped bare and without protective packaging. Its intention to fool fans by putting the manufacturer's tag on it is rather despicable if you think about it. For what it's worth, it could be a stolen defective item that's sold without the manufacturer's permission. Thus, it deserves an awful grade of 85%.