Pokémon Ditto as Eevee plush keychain (China)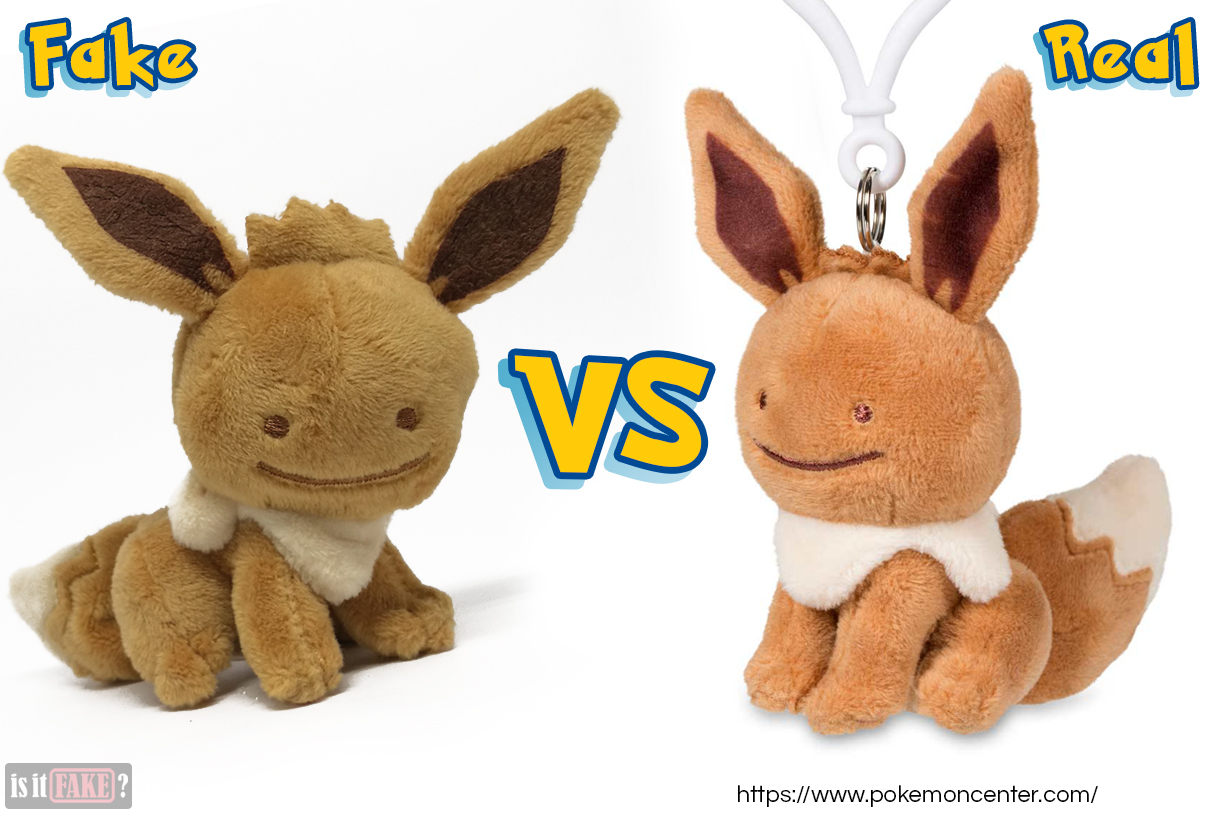 Series Details
Ever since the franchise's inception in 1996, Pokémon has presented us with some of the most unusual creatures one could imagine. Few, however, come close to Ditto's brand of weirdness.
Ditto's default state may be a shapeless, pinkish-purple blob. But when it uses the Transform ability, it can turn into any other Pokémon it wishes to mimic. This disguise is far from flawless; while the body is a perfect imitation of the target Pokémon's, the face retains Ditto's creepy/cute blank eyes and lipless smile.
Ditto, when disguised as Eevee (one of the most adorable Pokémon ever), makes for a disquieting yet charming design. It's small wonder The Pokémon Company has seen fit to sell merchandise of the pairing – and why bootleggers have followed suit.
Origin of Fake
Bought on: Sunny World's Store, AliExpress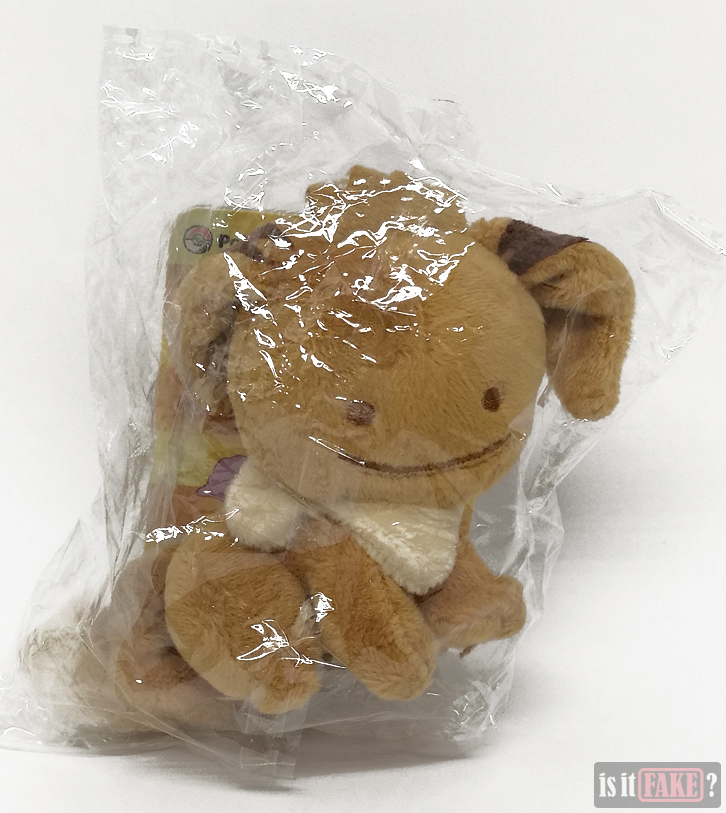 Origin: China
Vendor: Unknown
Distribution Area: Worldwide
We've said it before and we'll say it again: Chinese online stores like AliExpress are notorious for bootlegs. If you want to be sure the item that arrives at your doorstep is an official, licensed product, it's best to shop somewhere else.
Needless to say, we purchased this fake Ditto as Eevee Pokémon plush keychain from AliExpress so you don't have to.
But who makes the fakes that populate such online marketplaces? The truth is, bootleggers are legion – and some of them just so happen to be smarter than your average pirate. For example, the creators of this fake Ditto as Eevee plush keychain have done something that would make Ditto proud – by clever use of a card and a tag, they've convincingly disguised themselves as the official manufacturer, Pokémon Center. By doing so, they've made their product seem as legit as possible… until you take a closer look at it, that is.
Description of Fake
Here's one clue the item you're holding in your hands is fake: it doesn't come in a box or any other type of packaging that's both appealing and informative.
Case in point, while a legit product would have come in sturdy packaging featuring colorful art and licensing information, this fake Ditto as Eevee plush keychain was wrapped in nothing more than a crumpled plastic packet.
The plush doll is tiny, measuring around 3.5 x 2 x 3.5 inches.
Attached to the plush doll is a detachable card – an extremely interesting article indeed, as it is key to the bootlegger's deception.
Simply put, this tag convinces us that it was either once attached to the official plush keychain, or is an extremely close reproduction of such a tag.
For starters, all the non-English characters on the tag are Japanese. In contrast, other fakes' tags or packaging would have a mixture of Chinese characters, some awkward Japanese, and maybe even some terrible English.
The exterior of the tag features the ST 2016 mark, which indicates that the toy has passed the Toy Safety Standards established by the Japan Toy Association – a real organization dedicated to ensuring toys made in Japan won't cause children any harm.
On the exterior, you'll also find a barcode. When scanned, it yields information about an official product manufactured by the Pokémon Center, and sold at said manufacturer's online shop. As you can see from the image above, however, huge differences separate the real product from the counterfeit item. More on that in a bit.
The interior of the card boasts more of the stuff you'd expect from official merchandise: manufacturer information, warnings to parents about possible accidental injuries, an age restriction, and a statement identifying where the item was made (Philippines in this case).
It even mentions the franchise's copyright holders: Nintendo, Game Freak, and Creatures Inc. 
So how do we know this plush keychain is fake?
The fake doesn't look exactly like the plush doll revealed by the barcode.
The fake's head is turned to the side and tilted slightly downwards, whereas the original plush is looking straight ahead. The legs are positioned differently; the fake's left foreleg is stretched forwards, while the original's forelegs are in line with each other. The tuft of fur on top of the fake's head is taller and shaped more like a crown compared to the real doll's.
You'll also observe the vast difference in color. The fake has light brown fur and dark brown eyes, mouth, and inner ears. In contrast, the official has a red/red-orange tint to all its browns.
Then there's the issue of the quality of the craftsmanship.
Once again, let's start with the head. The fake has a misshapen, lumpy skull, while the official's is smoothly round.
The stitching is extremely visible on various parts of the bootleg's body, appearing as deep seams and "cracks" in the fur. While you can readily see the ugly needlework on the "crown" and the ears, they're most noticeable on the tail, around the area where the white fur meets the brown fur.
Speaking of the tail, it lacks stuffing and is basically an empty sack. As such, it collapses in on itself and lacks the fullness of the original's.
Tiny whorls of excess fabric stick out in many places, particularly around the seams on the ears and the crown. The bottom of the feet are especially bad; tiny ropes of thread protrude from the stitching, as if the material is ready to unravel.
The fake's hind feet are shaped oddly, too, with the pink pads sloping inwards instead of being flat.
The hind legs are odd, too. While the official Ditto is sitting on its haunches, the fake Ditto seems to be between standing and sitting on its haunches.
You'll find numerous other problems with this fake, from the droopy, floppy ears to the highly irregular shape of the white fur around the neck. All in all, it's an ugly product – a tiny deformed thing befitting of the word "monstrosity."
After all this, the tag at Ditto's butt is no longer enough to convince us that this item is something other than a bootleg.
This fake Ditto as Eevee plush keychain's price is the last clue. At $4, it's too cheap. You know what they say: if something seems too good to be true, it probably is. The fact is a vast majority of fakes cost only a fraction of the original product. And a lower price makes any item more enticing to just about everybody.
But there's a sinister reason behind the inexpensiveness of fakes.
Toxic substances are often cheaper than those which don't pose a health risk. In order to reduce manufacturing costs, bootleggers therefore use such  dangerous chemicals when creating their products.
Fake plush toys are more likely to be tainted with harmful substances such as heavy metals (mercury, arsenic, lead, etc.) and fire retardants, which have been associated with issues ranging from skin irritation, to reproductive problems, to cancer. Swallowing such items is the quickest way for those chemicals to enter your body, making them particularly dangerous to small children. This is why cheap fakes, such as this Ditto as Eevee plush keychain, are never worth purchasing no matter how low their price
Price
The official Ditto as Eevee plush keychain may cost more than than the bootleg, but it isn't expensive at all. Being the real deal, we can also expect it to have passed the previously discussed Toy Safety Standard, ensuring it's only made from non-toxic high-quality materials.
All that, and it doesn't look like the deformed monster that is the fake.
Where to Buy Real Pokémon Plush Keychains
The best place to go for legit Pokémon merchandise is Pokémon Center. Here, you can find toys, games, apparel, accessories, and other good stuff related to the brand.
Currently available at the shop is the latest iteration of the Ditto as Eevee plush keychain, which costs around $9. Like the old version of the item on which the fake was based, this one is also made in the Philippines, with parts composed of polyester, nylon, and copper. It also measures 3.5 x 2 x 3.5 inches.
If you want more Ditto plush keychains, take your pick: there's Ditto disguised as Squirtle, Jolteon, Vulpix, and more.
If you want a larger plush item of Ditto as Eevee, there's that, too. Measuring 6.8 x 3.3 x 5.5 inches and composed of similar materials, it costs $15.
Or maybe you're sick of Ditto and just want an Eevee plush? Check out this adorable plush doll, which measures 5.5 x 4 x 6.5 inches and costs a mere $13.
Then, there's this rounder version of the character, measuring 7 x 4 x 5.5 inches but also priced at $13.
Another great place to shop is Tomy's online toy store.
Here, you can purchase a 10-inch Eevee plush for $14.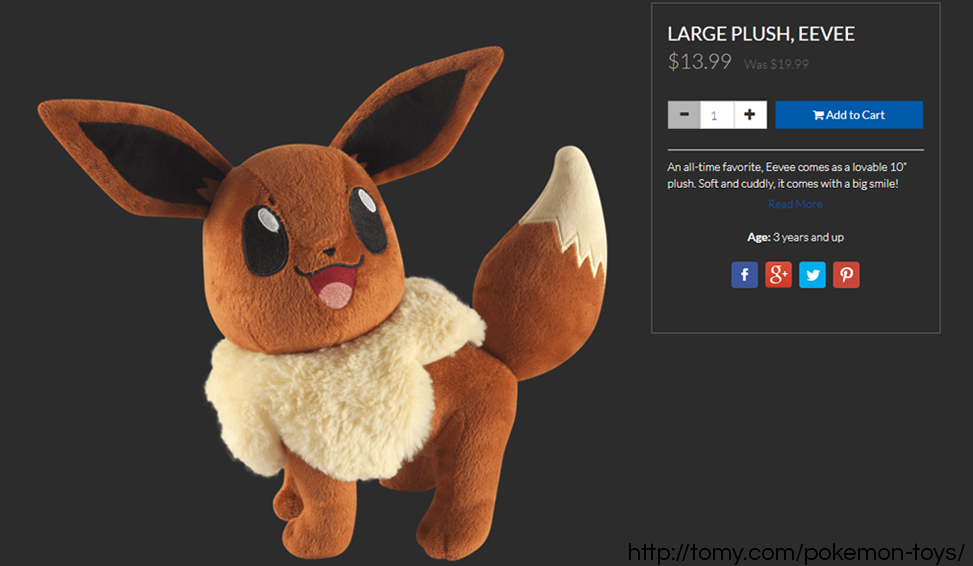 As Pokémon has constantly proven itself the brand that just won't die, these toys will continue to be in high demand. Eevee, for one, is especially popular. For these reasons, make sure to check these sites regularly for new products.
Our Verdict
Ditto's disguise, while remarkable, isn't perfect. We can say the same about this fake Ditto as Eevee plush keychain. Once you've put down the legit-looking card that comes with it, this item is nothing more than a weird-looking, deformed mess – one that is likely tainted with chemicals with the potential to make you sick. It scores a 70% terrible.