Re:Zero Starting Life in Another World: Ichiban Kuji Emilia figure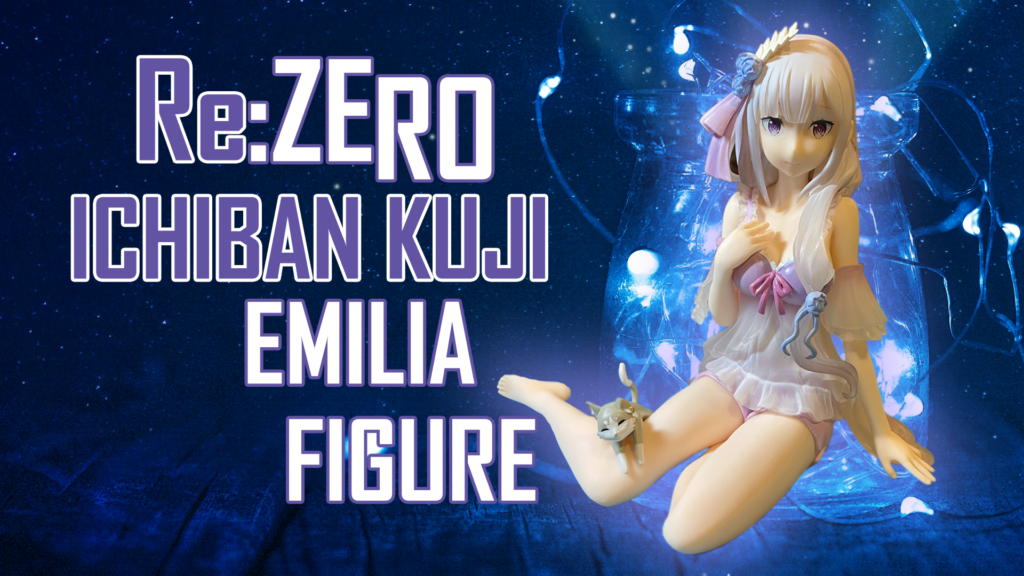 ---
Special thanks to Chibi-Jibs from MyFigureCollection.net for making this article possible!
CHARACTER AND TOYLINE DETAILS
Ahh! We finally got our hands on an Emilia figure, the main heroine of the anime Re:Zero. If you don't know Emilia, she's half-elf and has a long silver hair and purple-ish eyes. She's actually shrouded with mystery despite her warm personality towards others.
In her younger years, she lived alongside pure elves in the woods. She wasn't really familiar with the norms outside the woods that's why she had a hard time adjusting when she started living with humans. In several turn of events, she became a candidate to rule the kindom of Lugnica.
The figure we're going to review for today is none other than a prize figure from Bandai Spirits. Prize figures are known to be affordable, and compared to scale figures, these items aren't as detailed. Prize figures are usually obtained by playing games in Japan, but collectors can get them via retailers as well.
Let's check out whether a prize figure can be as amazing as scale figures!
ICHIBAN KUJI EMILIA FIGURE HIGHLIGHTS
Looking at the figure, you'd wish she was a scale figure in this design. She's absolutely captivating from the overview angle. The outfit, her skin, everything looks flawless from this angle. On a more positive note, she's affordable this way — being a prize figure.
Emilia looks stunning! Seeing the figure up close, you can tell that this is a quality design. Her outfit looks silky smooth even with the zoomed images. The patterns on the outfit still has that decent quality. Knowing prize figures, manufacturers don't really spend that much time as how much they would on a scale figure.
The paint job on the figure is spot on. Emilia really suits the nightgown's hue. The purplish shade matches her personality and her eyes as well. It gives her this mysterious aura. If you'd notice well, Bandai Spirits stayed faithful to her monochromatic appearance.
Emilia isn't alone in this design. She's with her cute spirit Puck lying on her thighs. They're a perfect match for a little slumber party.
The design isn't lacking in any facial features that Emilia possesses. As expected of the Ichiban Kuji collection, her face matches that of the character. The eyes also shines in perfect purple shade.
Let's talk about her pose.
It's true that there's purpose on her pose. The figure didn't really need any base to lean on for stability. And another, her lap's perfect for the other characters in the collection to lie on.
Looking closely on the outfit, the creases look perfect on it. It speaks naturally. It'd look like Emilia just got up from her nap. This kind of detail isn't really being attended to on most prize figures — but this figure definitely hit it right.
Finally, Emilia can really gather a lot of male audience into this design. Just look at her. She's gorgeous! Her skin's flawless and appealing. That's an eye-candy right there!
OUR VERDICT
Draw Price: $6.72 USD
Retail Price: $50+ USD
The Ichiban Kuji Emilia figure from the Madorami no Tea Party collection just came out August of 2020. Considering that it's an in demand design, you can expect for the price to further go up. The collectors who got her firsthand had the upper advantage though.
Needless to say, the figure is worth more than the price you'll pay for. There are little flaws, yes, but the fact that a prize figure can deliver so much says a lot about the majority of Ichiban Kuji figures.
This Emilia figure deserves an A+ grade for its well-crafted quality. We're not saying that you should buy her because she's worth more for the price, but she's definitely for the keeps.
If you can't get enough of our A+ grade on an Emilia figure, then take a look at our review in this massive Emilia Crystal Dress Ver. figure!