San-ei Super Mario Brothers: Bowser Jr. plush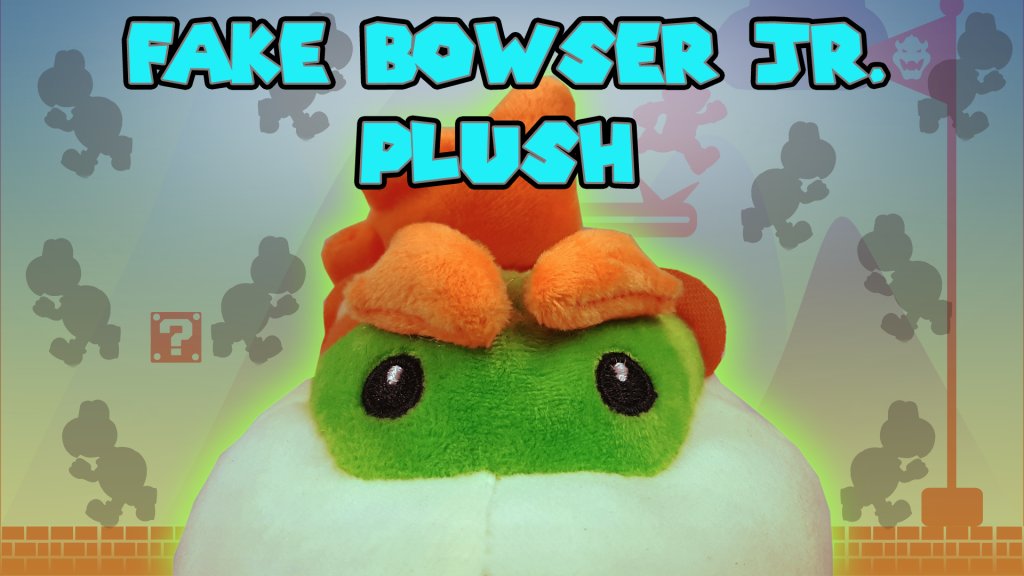 ---
CHARACTER AND TOY LINE DETAILS
The lineup of Super Mario Brothers characters won't be complete without cutesy, devilish beings. While Bowser tries to conquer various regions in the Mario world, he lets his son wreak havoc as well.
If you think Bowser Jr. is just a cute version of the game's main protagonist, then you're most probably wrong. The little rascal also gave Mario a pain in the butt as he kidnaps Peach in the earlier series of the Super Mario Brothers game.
In the franchise's latest release, however, Bowser Jr. wasn't able to make an appearance on Super Mario Odyssey. For this reason alone, a lot of fans are still anticipating to see him in the future games although San-ei did not disappoint these fans with their release of a Bowser Jr. plush.
San-ei is known for making premium plush from different popular franchises like Pokemon and Super Mario. On the other hand, tricky people wouldn't mind stealing the hard work of others, and will see it as an advantage to earn dirty money to put into their pockets.
ORIGIN OF FAKE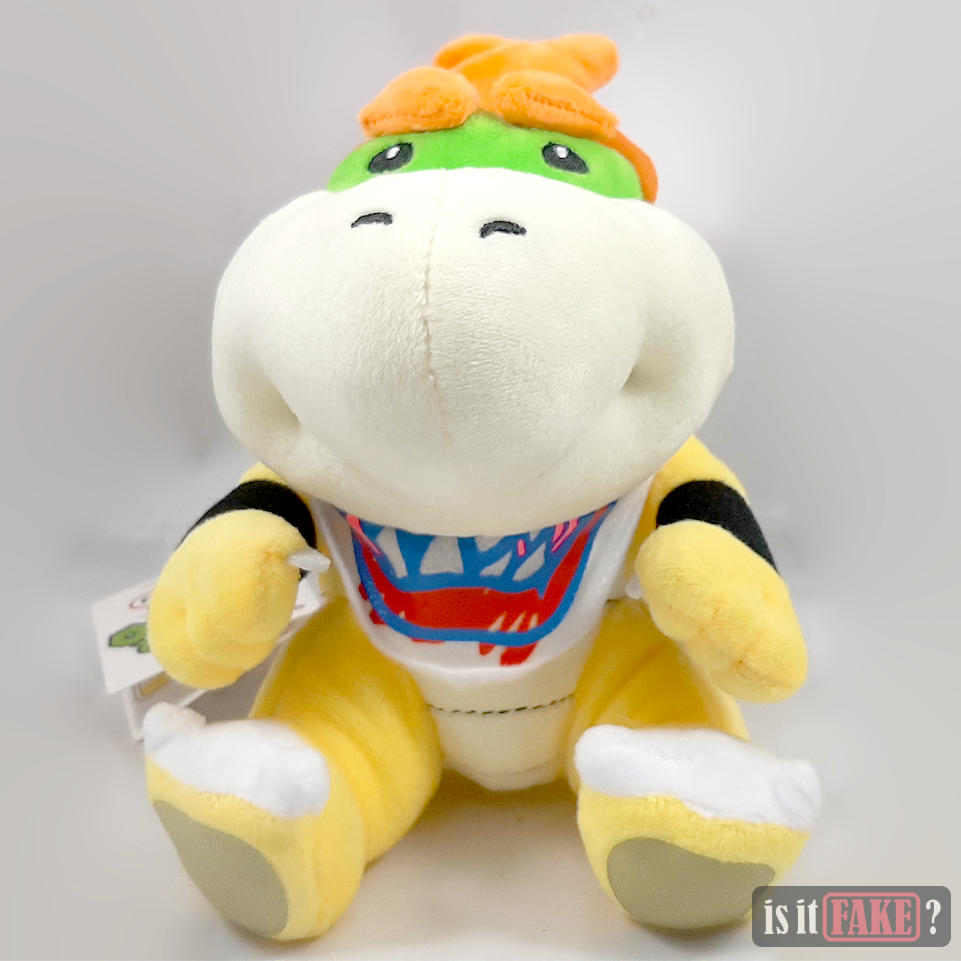 Bought on: AliExpress
Origin: China
Vendor: Best Baby Toy Shop
Distribution Area: Worldwide
Judging from the seller's name, perhaps, it's easy to say that they at least match with the items that they're selling, although Best Baby Toy Shop still sounds a bit generic, don't you think?
If you're going to look for plushes, then you shouldn't bother going to AliExpress as the website is crawling with a lot of fakes and items that are enveloped in shenanigans. These items, if you may not know, can be harmful for children. And for that reason, the vendor may not suit its name after all if they're selling cheap and rejected stuffed toys.
As far as the seller goes, the fake Bowser Jr. plush that we bought from them holds the sole proof that what they're selling is an awful scrap.
DESCRIPTION OF FAKE
For a stuffed plush that's only wrapped inside a plastic, who knows how many possible holes will be on the item.
Plushes are supposed to be sealed and protected because they're just simply fragile. A simple botch may ruin the whole item since they're made from cotton fabric and a lot of stitches. Whatever may be the case for the fake Bowser Jr. plush, we'll be finding out more.
As you can see, the little rascal has a weird smirk on his face. Perhaps, it's a sign that there's a little bit of imbalance with the craft. Now when you look at the mouth area from an overhead view, that's when you'll figure it out. The right side of its mouth has an odd bump that causes the smirk of the plush.
Evidently in the same area, you'll see the stitches are a little bit jagged as well.
If you'll be taking a quick look at an authentic Bowser Jr. plush, then you'll completely notice that the baby apron of the fake has got its art cut off. Apart from that, the gory art looks terribly painted aside from the fact that it's nastily drawn.
The feet of the plush is no different from the rest as it's also flawed. If you look at it steadily, you'll see that the toes are uneven. The right toe seems a bit shorter than the other, and this counts as a tiny flaw which also ruins the whole item. Apart from that, the toes looks like there are only 2 claws for each — which is weird!
And at the bottom, you'll see more of the jagged stitches.
The back of the little tortoise is really interesting. This where you'll discover that the plush is lacking in size, and that mass which makes you feel that it's the real Bowser Jr. you're looking at.
From a fair view, the fake Bowser Jr.'s shell is out of shape. And as for the spikes, they're not that scary at all. Although we get that the plush was supposedly adorable, but it just doesn't project the little imp Bowser Jr. is. Aside from that, some of the spikes are crooked while the fabric in each are oddly flapped out.
Lastly, the head's awfully flat. From the looks of it, Bowser Jr. has a comb like that of a rooster, and as for this bootleg, you could see that certain area faces toward an odd direction. You'd expect it to be tightly straight, although that may not be the case for the real Bowser Jr. plush — or is it?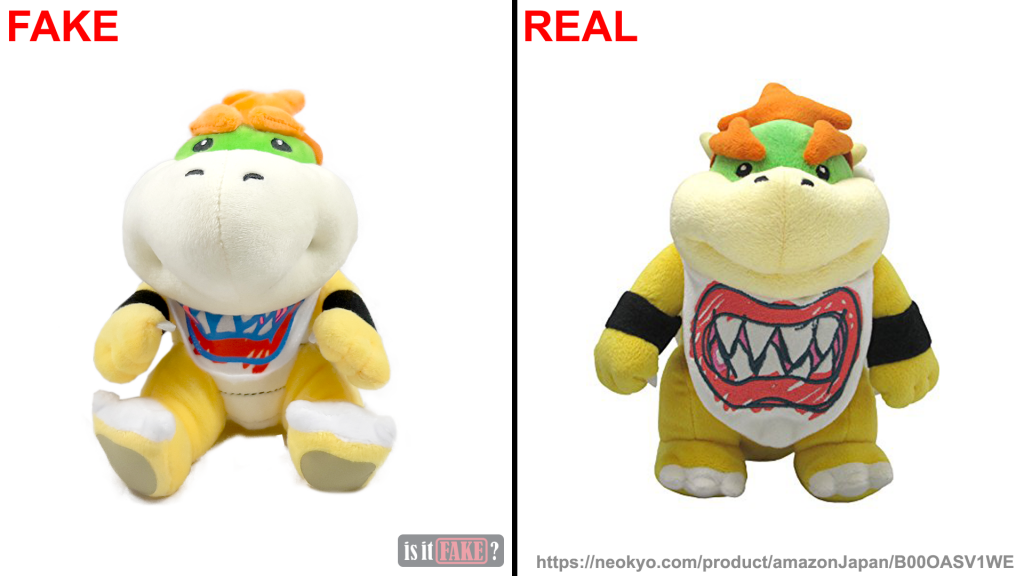 The real Bowser Jr. plush is a total badass, and fits the character perfectly. For a first, he wasn't supposed to be cute, although you may always see that side of him because that's how Super Mario characters work. From the looks of this authentic plush, he could be thinking of ways how to kidnap the princess again.
On a more serious note, the plush looks awesomely buffed that projects the physique of Bowser Junior. And unlike the fake, its price is just as affordable as buying an apparel.
PRICE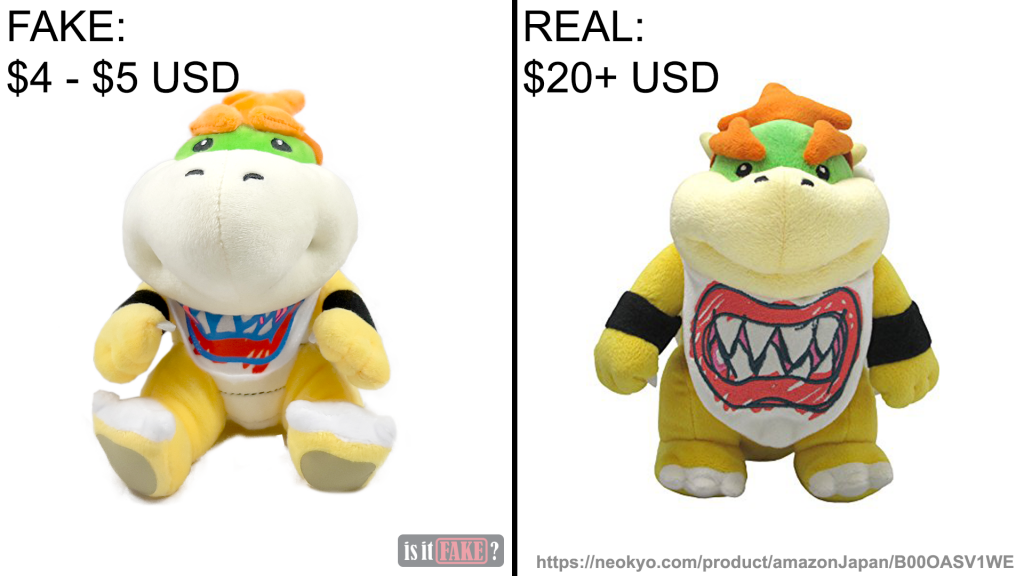 For a cheap bootleg, the fake Bowser Jr. plush's price tag ranges from $4 to $5 USD, and if you'll be contented with that, then you haven't thought of the hassle of waiting for it in the mail, not to mention the pricey shipping fee. On top of that, you'll get yourself an irregularly shaped stuffed toy which is probably contaminated.
The real Bowser Jr. plush made by San-ei Boeki has a really nice touch to it plus the price is pretty reasonable. For $20 USD, you'll be getting a plush that's worth your time and hard-earned cash. There are no more words to put into this adorable Bowser Jr. plush besides that it's an impressive design.
WHERE TO BUY THE REAL BOWSER JR. PLUSH
You're still in luck since the real San-ei Bowser Jr. plush is still available for purchase online. For around $20, you'll be able to enjoy the fluffy plush, and you can find it on HobbyLink Japan!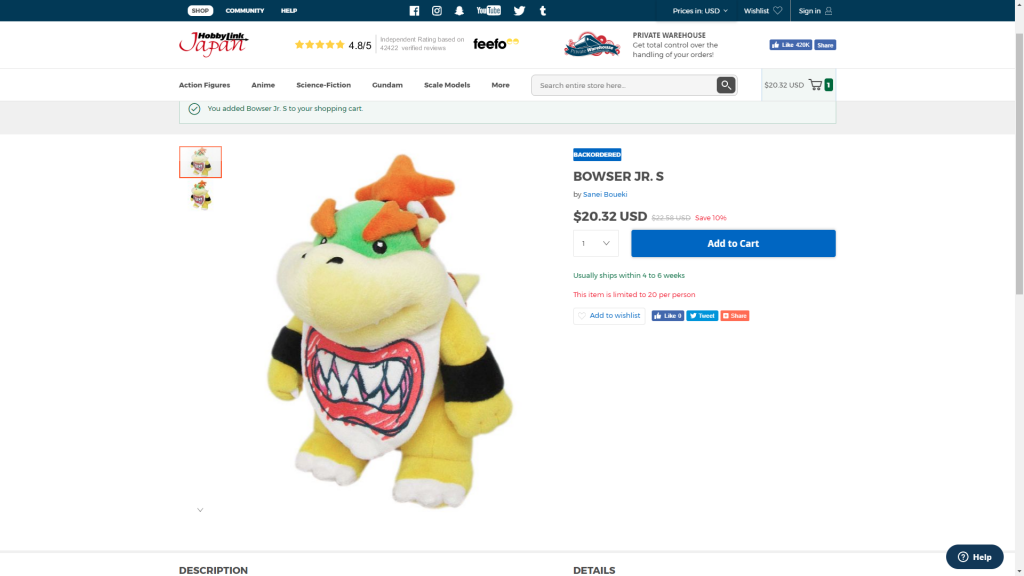 HobbyLink Japan also offers worldwide shipping plus of course, they have already gathered a handful of good reviews around the web. You could also find more items found exclusively in Japan on the website, so be sure to check the whole thing out.
Nevertheless, the real Bowser Jr. plush is indeed worth it for its price. The fake's just trying too hard to blend, and if you think about, you're just going to waste your time on getting the bad item.
OUR VERDICT
The fake Bowser Jr. plush is a deformed plush that reeks of flaws from many angles. Its maker didn't give it much time and effort to make one, hence the low price tag. It also doesn't have any packaging that would at least protect it from external harm.
Finally, the fake plush is made from cheap materials, so it was easy to judge and compare with the real one. However, we'll be harsh on this item as it deserves an 80% terrible rating.