San-ei Super Mario: Captain Toad plush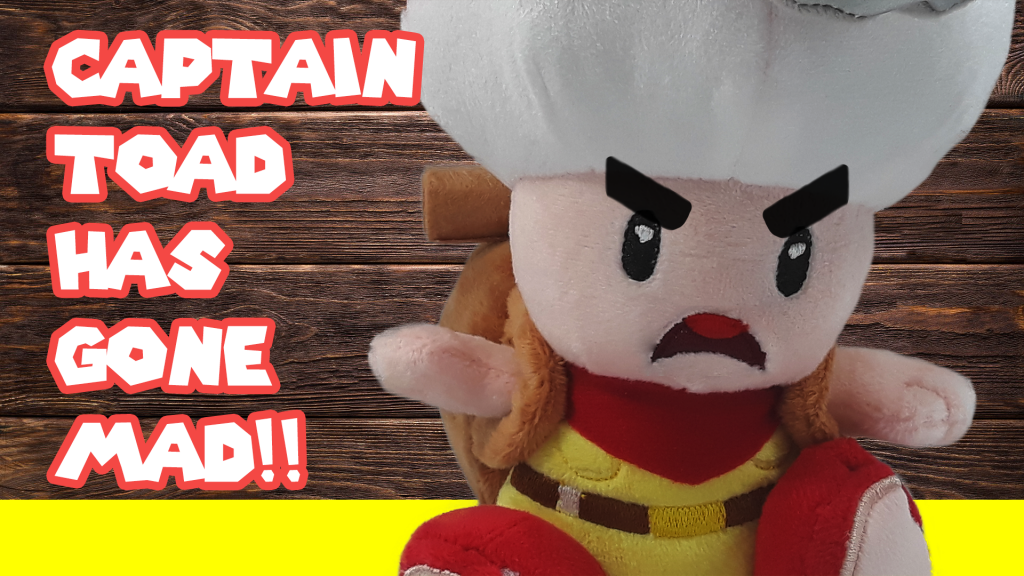 ---
SERIES DETAILS
The adventures of Super Mario isn't near complete without the help of his trusty friend, Captain Toad. One character that's evolved from the original line-up in the classic game.
Throughout more than a decade, Captain Toad had made a lot of appearances in various Super Mario games while assisting the Mario on many adventures until 2014 which was when this self-proclaimed captain got his own game of fun-filled, mind-boggling puzzles. In parallel Super Mario, Captain Toad goes on his own journey to save Toadette!
As a Nintendo Switch port of the game, Captain Toad: Treasure Tracker garnered more than a million of copies sold making it one of the top-selling games in the console. Through various appearances, Captain Toad now enjoys being the main protagonist, and it was also through many games which helped the character to develop to be worthy as Mario.
Nintendo certainly isn't holding back on releasing Mario games of different genres. As a game that caters to the general audience, retro and youth alike, the series grows lovable in many parts of the globe. While merchandise gets quite of a buzz, though, bootleg manufacturers go on full offensive to seize the opportunity getting their hands dirty!

ORIGIN OF FAKE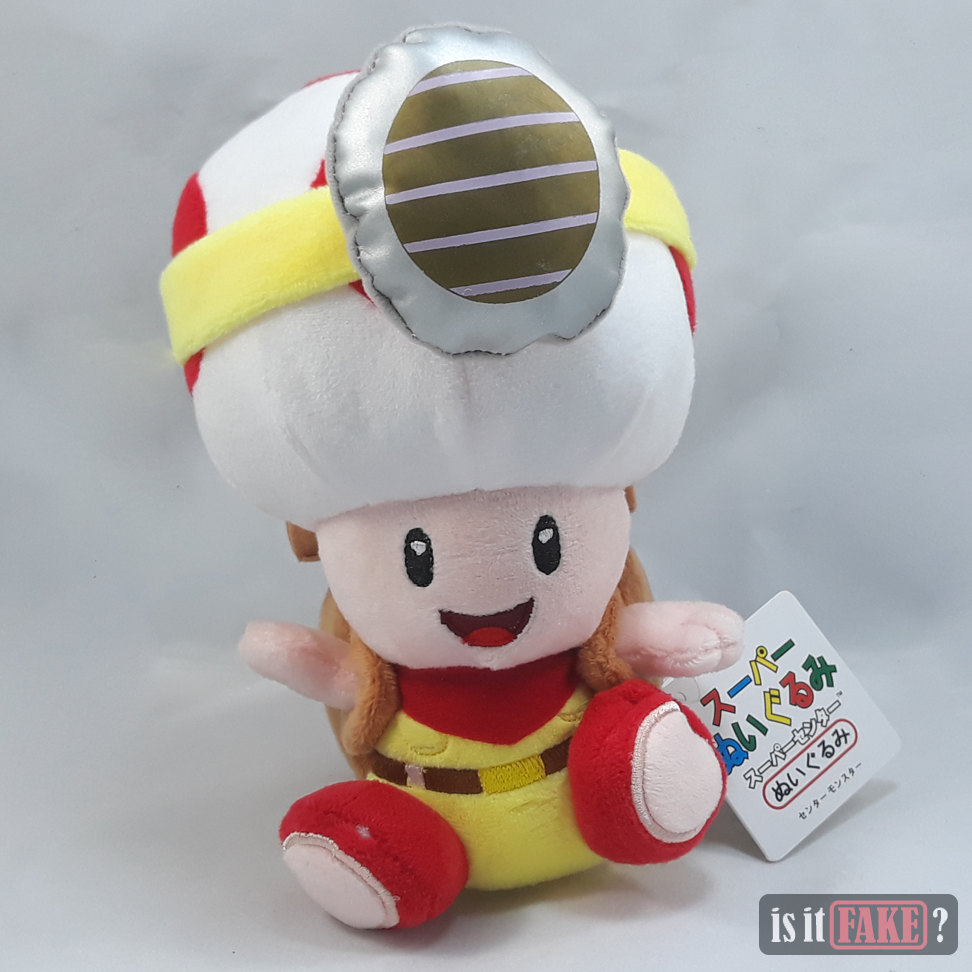 Bought on: AliExpress
Origin: China
Vendor: Toy Zone Store
Distribution Area: Worldwide
You may already have known about it but Super Mario is just as iconic as many classic Japanese characters like Hello Kitty and the Sanrio Friends. Unfortunately, these characters get bootlegged countless of times because of their uncontrollable popularity. Many stores in AliExpress are guilty in this grave act although they'd do anything to mine bits of gold.
Toy Zone Store is one of many generic stores in AliExpress that sells various of items. It isn't really hard to tell whether the items posted are fake or not. Considering just the price and pictures, the store's out there to lure fans of the Super Mario series into grabbing fake items into their collection. Although fans aren't totally to be blamed, the bait of cheap prices and eye-candy, fluffy plushes could really grab their attention.
Regardless, bootlegs are cheap imitation. The authentic plushes made by San-ei will definitely topple off the fake Super Mario plushes that are making rounds. Lo and behold, the fake Captain Toad plush based from San-ei's creations will make you see how a complete mess a fake plush can be!
DESCRIPTION OF FAKE
We already had doubts when we first laid eyes on the fake Captain Toad plush. The reason being that it was delivered only in courier packaging, without a box or bubble wrap to protect the plush. Upon opening the packaging was the fake plush inside a thin, shabby plastic which seems like easy to tear.

Plushes are considered fragile items. Usually, official plushes would come delivered in proper packaging, and if they're a buzz, they'd have branded boxes as well. However, it looks like the vendor doesn't handle their items that well considering that this fake Captain Toad plush only has a weak plastic pack.
Bootleggers, on the other hand, have a keen eye for popular plushes due to their demand, and the more often than not, they could easily fool a lot of their prey into getting a fake plush.

Upon opening the plastic packaging, we look at the fake Captain Toad plush which seems to glare at us with innocence. You'd probably think that there's nothing wrong about the plush. That it's an acceptable plush to begin with, but no, it's totally not. In fact, there are so much flaws to point out, we'd probably ran out of words to describe this fake plush.
We mentioned firsthand that plushes are fragile items, and we weren't wrong. The fake Captain Toad plush flashes its torn left foot as if it's already telling you to throw the plush away. You could already tell that the plush has poor stitching since there are more damages that could be seen on the fake plush's bottom.

Moving on from the damages, the fake Captain Toad plush upfront gives a vibe of imbalance with its features. Noticeably, the hands and feet don't match, and lacks the sense of steadiness. The body, on the other hand, is a bit out of shape, while the bandana just adds up to the whole mess. And if that doesn't annoy you, a major defect can be seen on its right foot which seems like a permanent burrow on the fake plush.
The fake Captain Toad plush, as a whole, looks a bit famished from cotton. The iconic Toad character is well-known for its big mushroom head, and this fake plush couldn't get it right with its oddly-looking head.

Overall, the fake Captain Toad plush seems really off from the game's actual character. Aside from the faulty stitch on its eyes, its headlight's got some scratches if you'll observe it closely.
The fake Captain Toad plush just won't hold back as it boasts its tag in an attempt to deceive the fans of the brand. However, we've visited the website indicated, and expectedly, it couldn't be reached. We also searched for its barcode, and found that it's linked to a Super Mario Bros. Toad keychain plush. Obviously, this tag isn't for the Captain Toad plush which just gives out its full identity as a fake.

Looking at the real Captain Toad plush, you'll notice that its head to body proportion is a lot bigger. Another thing is that the headlight is worn vertically as shown, and the whole body has balance making it the most adorable Captain Toad plush ever made. It's definitely nothing like the bootleg because it's perfectly-made for fans of the game which is bundled with the authentic plush. But don't fret as the individual plush could still be bought for an affordable price!

PRICE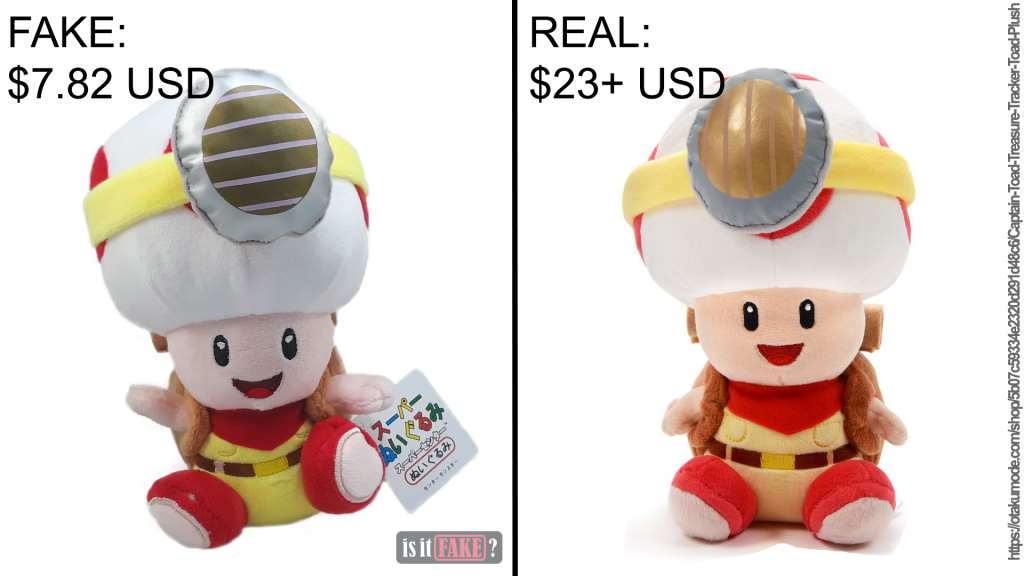 The price of the real Captain Toad plush doesn't come far from the fake plush. If you'll be saving a few more bucks, then you'll already be getting the satisfying quality out of the authentic plush.
Imagine getting yourself an $8 plush that you'll regret eventually, then that's your hard-earned money down the drain. The key to a fulfilling purchase is looking straight ahead on how the item could last – and that's no different from any plush!
WHERE TO GET THE REAL SAN-EI CAPTAIN TOAD PLUSH
The game, Captain Toad: Treasure Tracker, was a hit once again when it was ported on the Nintendo Switch. With a newer batch, the Captain Toad plush could still be found all over the web at ease, and these are some of the shops to look at!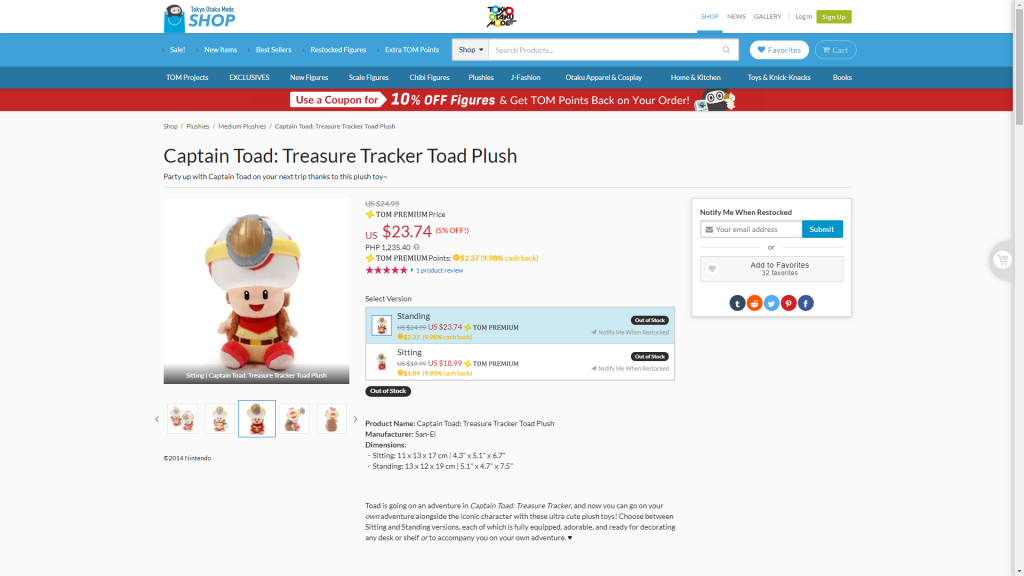 Although already out of stock, the Captain Toad plush in Otakumode sells out for approximately $24. A standing version of the plush is also available for variety, and if you're willing to wait, you can drop your email on their website once stocks are replenished.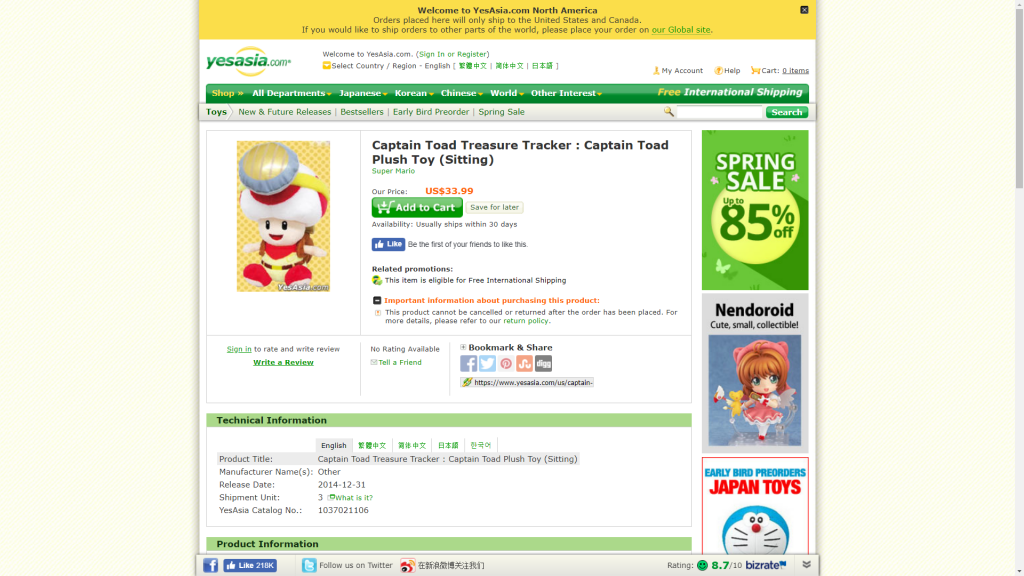 An alternative website which has the adorable Captain Toad plush in stock is at YesAsia. Although they have the plush priced at $33.99 on their website, this place definitely guarantees authenticity as they're well-known for having the latest Asian pop culture merchandise. And if it's eligible for Free International shipping, then why not?
OUR VERDICT
The fake Captain Toad plush tries hard to blend into the Super Mario world but it fails so much because of its poor build. Fake plushes are definitely hard to spot but this fake plush proves otherwise as it lacks meticulous attention to the details of the actual character.
You're better off free from this odd imitation than to suffer its negligible appearance. That is why this fake deserves a 90% terrible score!