Shueisha Death Note: Shinigami Ryuk figure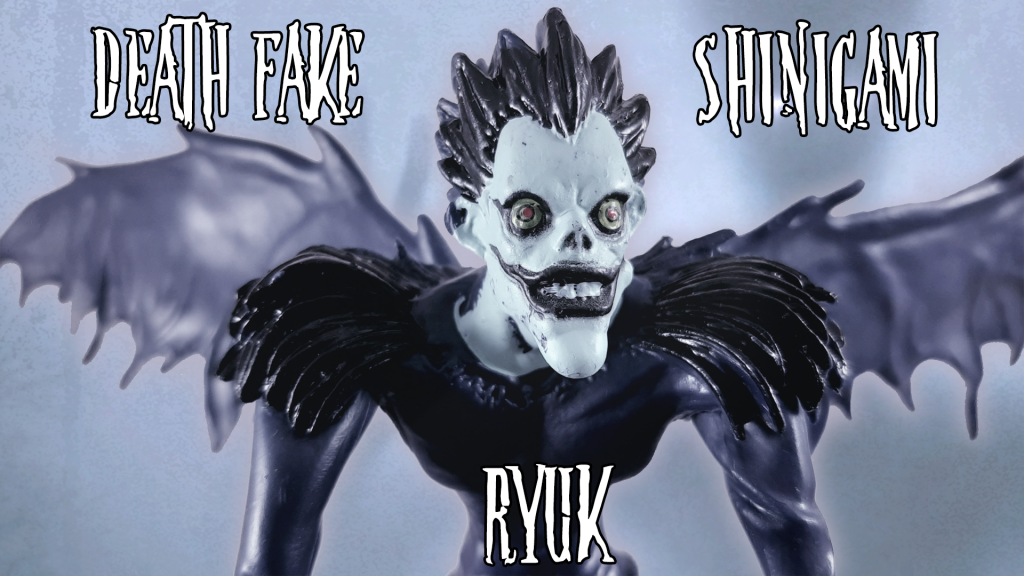 ---
SERIES DETAILS
Somehow, the world isn't just the land, sea, and sky for Light Yagami. There are spirits that gather our earthly souls towards its way to the netherworld. Apparently, one spirit of death called Shinigami Ryuk was bored enough and gave a godly book to Light Yagami — the so-called Death Note.
The Death Note brings death upon those whose name is written on it. Of course, the user must have already seen the face of that person in order for it to work. And in order to achieve a world without crimes, Light Yagami used the book to pick off criminals to be sent straight to their deathbeds. On the other hand, Shinigami Ryuk amuses himself off of Yagami's decisions with the Death Note.
Shueisha, on their release of the Death Note DVD: Special Edition, included a Shinigami Ryuk figure in their packages. Unfortunately, many bootleggers took advantage of the anime's popular release of the figure, and at the same time, released their own bootleg version of it.
ORIGIN OF FAKE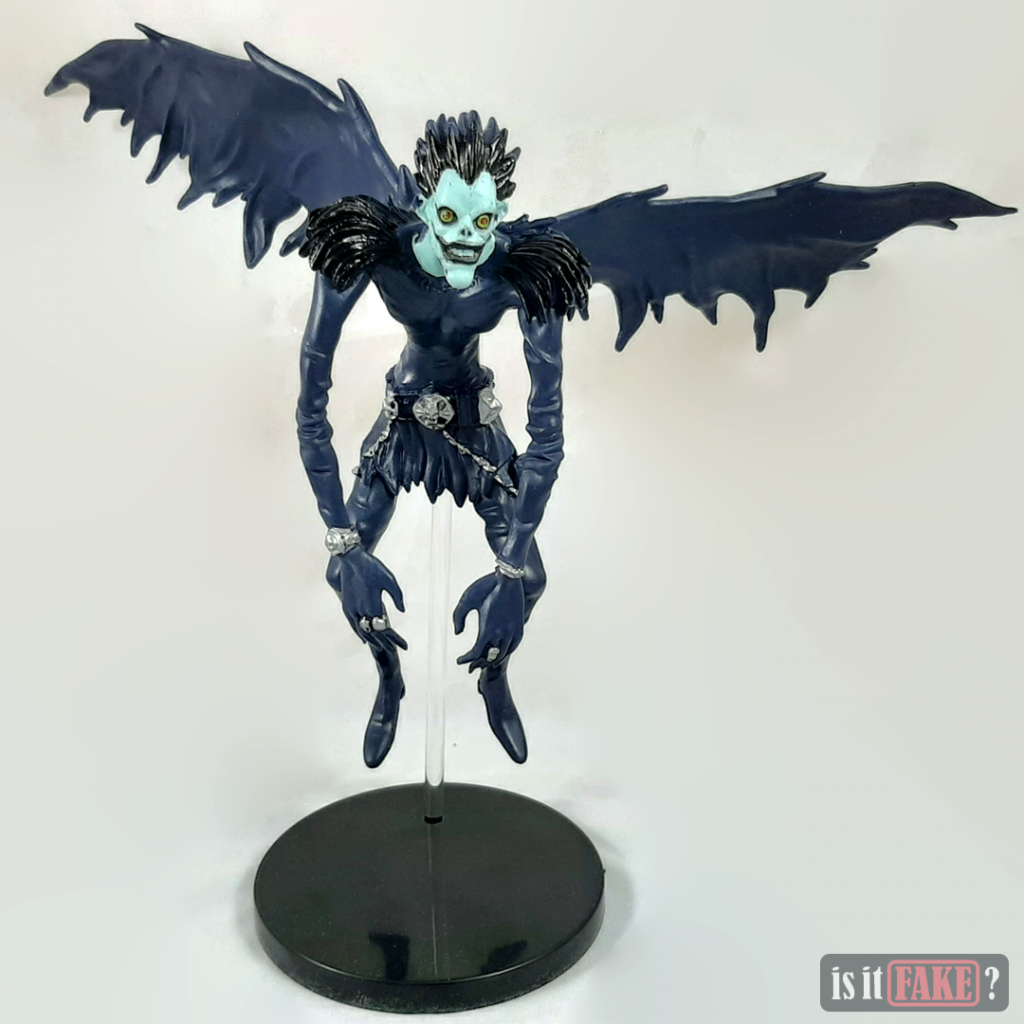 Bought on: AliExpress
Origin: China
Vendor: SELLWORLDER FigureToy Store
Distribution Area: Worldwide
There are many reported cases of the bootleg Shinigami Ryuk making rounds across the internet, and even in anime conventions. When you see a seller that's named SELLWORLDER FigureToy Store, then you would've already guessed that they're selling a fake Shinigami Ryuk figure.
The number one root cause for the number of bootlegs could be the exclusivity of the authentic anime figure. However, this is no excuse to buy yourself a bootleg, and if you ever do, it'll surely backfire towards your collection of figures.
Taking a look at this awful fake Shinigami Ryuk figure should help you make the decision.
DESCRIPTION OF FAKE
This particular design may have been based off that Shinigami Ryuk which came with the Death Note DVD: Special Edition, and most likely, the figure was included in a larger packaging. However, this fake Shinigami Ryuk is only wrapped in thin plastic, so initially, there isn't much telling who made the figure.
The bootleg components included the following: the figure, a set of wings, the connector, and the base. You can see under the base that it has a copyright imprint, but the figure was never meant to be sold individually. Regardless, it was hard to move that figure since the connector didn't really stick to the base. You could say that it's quite loose to be moved around thoughtlessly.
The wings itself already looks like it's in bad shape. The edges are unrefined and the overall surface looks stained. Attaching it to the figure's back was really a hard task, and as you can see, there are still gaps left on its wing sockets.
We know Shinigami Ryuk looks scary despite his apple-loving personality, but this bootleg takes the character's appearance to the next level of horror.
First of all, the face is a huge mess. You can see the eyes and lips are horribly painted. There are quite an odd amount of overlaps around the neck, and it seems like the bootleggers didn't care to paint its ears properly either.
As you may have noticed, there are areas on its head and shoulders that are painted glossy black. It looks weird if it's going to be detailed that way, but disregarding the authentic figure's details, the painted area doesn't look balanced.
The body also has a few stains worthy of dissing. Although the torso might be clear as day, you can see that the hands and the belt are detailed poorly. We don't even know where to start, but it'd help you think if you saw the areas painted in gray first.
Either the rings and bracelets are detailed that way in the authentic figure, or the bootleg is just at its worst. Not only do the ornaments look sloppy, but they're also painted recklessly. The lower body skirt isn't any different as the chains aren't painted accurately.
The legs and feet are totally plain as it looks like. While there are near-to-no spottable flaws, you'll see that the soles are inaccurately painted. Just like the rings and bracelets, the hip area is also a disgusting sight.
Now that you have seen the bootleg in its entirety, getting a glimpse at the real figure should give you an idea that getting the bootleg Shinigami Ryuk figure is a bad decision.
The real Shinigami Ryuk figure from the Death Note DVD Special Edition isn't as eye-grabbing as scaled figures, or simply those that are sold standalone. Of course, the real figure was meant to be collected with the DVD itself, but regardless, the authentic figure holds a detailed and flawless form.
Having them side by side, you should've already realized that the fake isn't even worth a dollar.
PRICE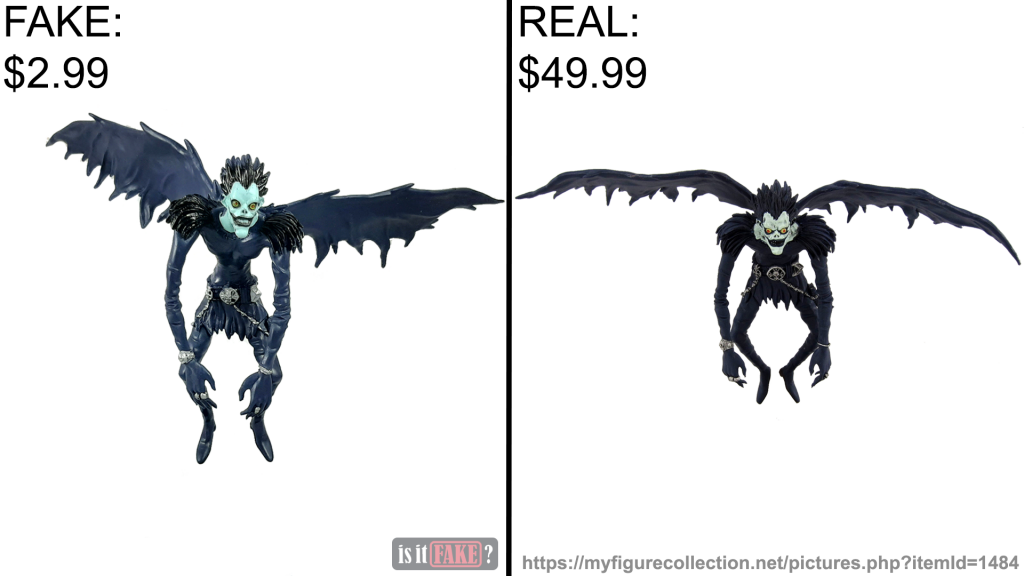 Priced at $2.99 USD, you'd only experience a stressful wait for a totally worthless figure. You'd just be wasting that money while you should be saving it for an authentic that deserves to be in your glass cabinets.
There's no doubt that the real Shinigami Ryuk figure holds a relatively expensive price. Considering that it goes together with the Death Note DVD, it's pretty much a reasonable price for it.
WHERE TO GET A REAL SHUEISHA SHINIGAMI RYUK FIGURE
It may be nearly impossible to get the real Shinigami Ryuk figure from the DVD package, and if you ever find one, you should have every reason to doubt that figure, since many bootlegs of the same design are being distributed.
If you're not really looking for the same design, but you want to get your hands on a Shinigami Ryuk figure, we recommend that go over to BigBadToyStore.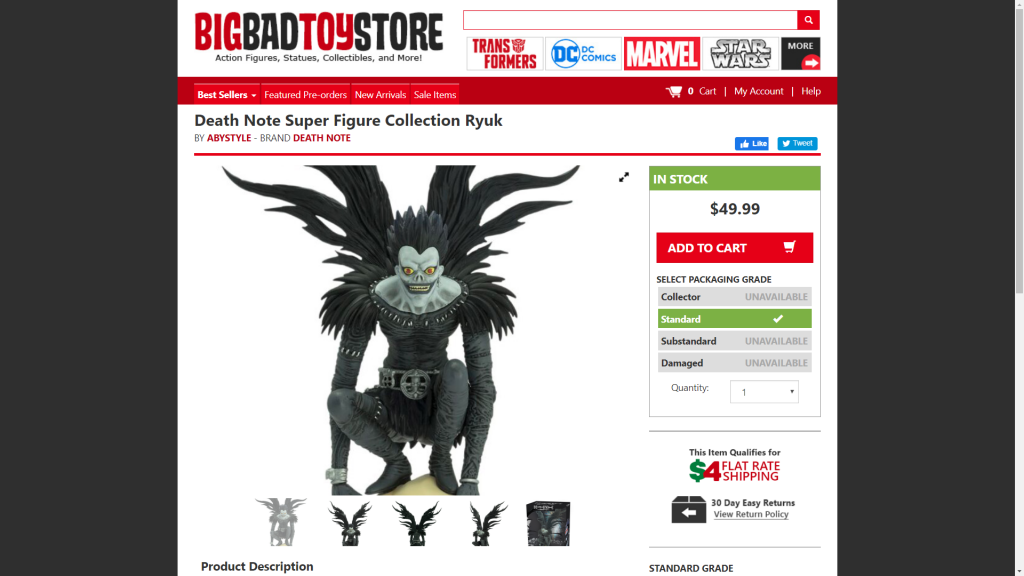 The Ryuk figure from the Super Figure Collection is definitely a craft design. It really shows the details of the devilish character, and if you'll consider the website's worldwide shipping offer, then you're set to get one yourself. It does cost $49.99 USD, but for some people living in particular areas in the US, you can take advantage of the $4 Flat Shipping Rate.
Nevertheless, there are only a few figures based from Shinigami Ryuk that was released compared to other mainstream animes, so it's really a niche where bootleggers come in to attack.
OUR VERDICT
The fake Shinigami Ryuk is a complete mess. It's definitely full of paint job mishaps, and it's a nightmare for detail-oriented collectors. Its absence of a box says a lot about its true nature, but it all goes down to the finished quality of the figure. The bootleg could, perhaps, be displayed to scare off little children during halloween, but it's never worth anything for figure collecting. It deserves to be slammed down with a 90% terrible rating for that reason.