Top Websites to look for KDrama Merchandise: Music Albums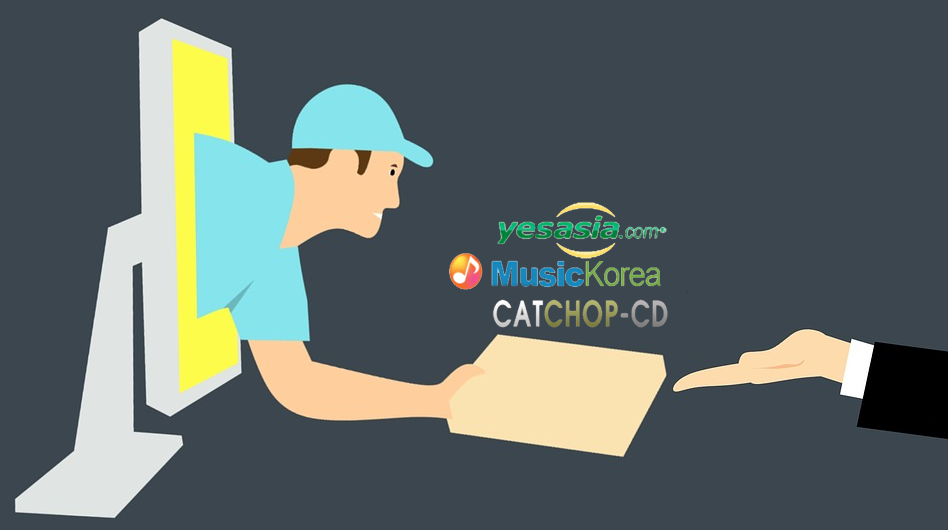 You'll always remember that song you heard in a special scene from a drama. The background music K-dramas deliver are always beyond expectation. The moment you've been hooked to a drama will be the day you'll start loving to listen to its soundtracks. And once it ends, you'd want something to reminisce on. Sadly, there's an end to every drama and as die-hard K-drama fans, how could we ever let go that easily?
The market for K-drama official sound tracks, or OSTs, has ever been so competitive due to its high demand. Successful dramas, especially, have a more special touch on their physical CD tracks. Most of these would include mini photobooks, posters, and a lot more extra goodies. We'll make sure you get a hand on your favorite K-drama albums with this guide.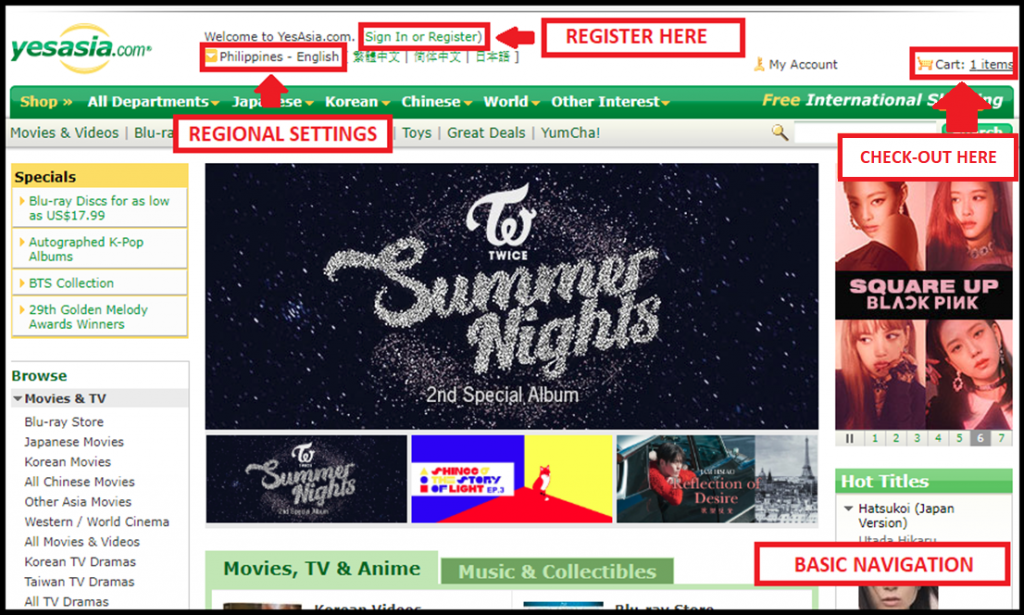 YesAsia is one your trusted sources for official K-drama goodies. You'll be finding yourself at the website's homepage and the above should be your basic links to remember. Make sure you have your region set and have already registered before checking out.
We'll let you know a quick way to sort out to looking for your favorite K-drama OST below:
Doing all of the above should bring you to this list of K-drama OSTs: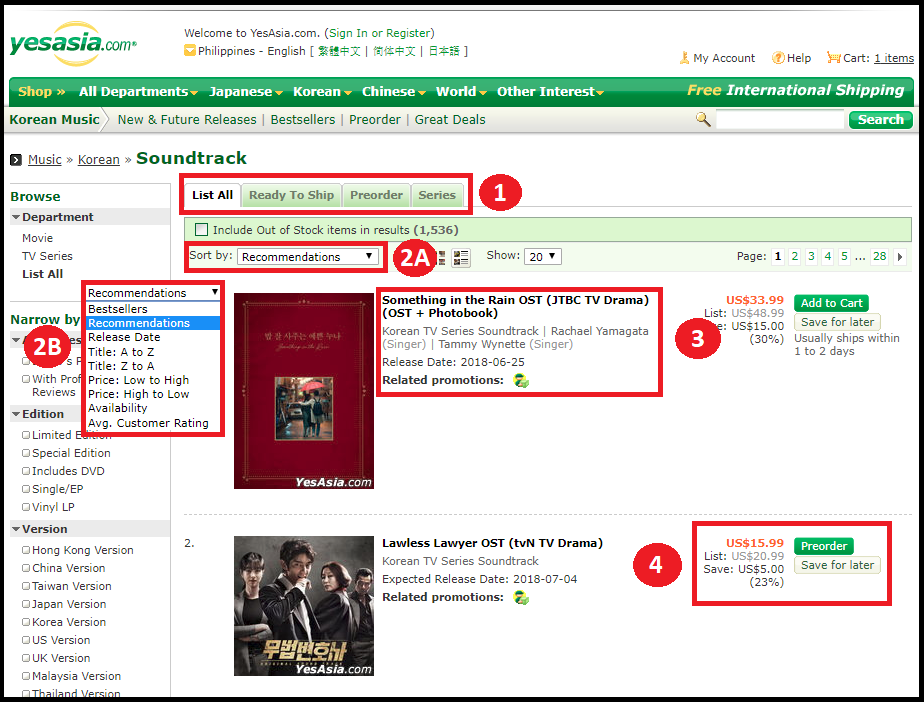 You'll be able to sort out either which is ready for shipping or still on pre-order.

 More sorting options

 Overview of product details

 Price and deals.

Note: As we've mentioned, there are items on pre-order which will be shipped out on the indicated release date
Now let's look at the item details and get into ordering your product from YesAsia. For this example, we'll be using the first item in the list, Something in the Rain OST:
Be sure to read the important notes for eligible promos, YesAsia's notes, and product information. All music sales are counted in official Korean music charts making it an official sale for this item which have you providing your support for the drama. If you're a fan of the drama, you'll love the fact that it also includes a 100-page photobook – more images of our sweet couple, Jin Ah and Joon Hee.
And to finalize your order, follow the steps below:
YesAsia has a wide variety of merchandise not only for Korean goodies but also other popular merchandise from Asia. It's our first stop for Kdrama merchandise as they offer free international shipping for purchases over $39 for standard delivery.
For the delivery time frame in YesAsia, you may refer to the pictures below:
While YesAsia may be a reliable source of your favorite K-drama's official soundtracks, there's no doubt you'll be able to buy official goodies from other stores as well, just in case you didn't find what you're looking for in YesAsia.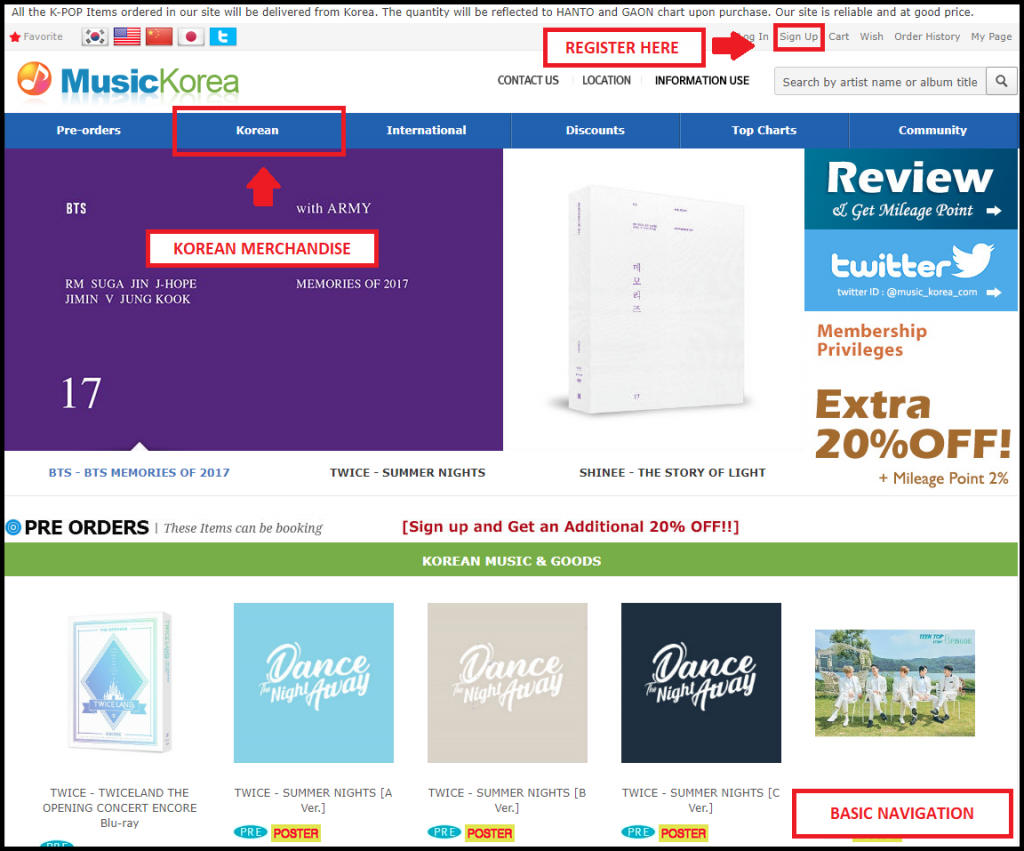 MusicKorea offers a wide range of physical music albums ready to be shipped at your doorstep. Of course, you'd find a lot of K-drama OST choices in here as well. So let's get you browsing through their OST section:
You can either: A) Browse through popular drama OSTs or – B) Search for your favorite drama in the search box. It's much easier to use the search box in MusicKorea than YesAsia as it's accurate. And of course, we'd want to browse other K-drama OSTs we may not have in mind.
For this guide, we'll be choosing a recent popular K-drama, My Mister:
MusicKorea has included every instructions and important reminders in one page making it easier for fans. As for this item, it includes a poster, and poster tubes are only applicable on Express Mail Service or DHL delivery. Although the website doesn't offer free international shipping, you'll be getting your product in no time plus if you're registered in the website, which we highly recommend, you'll be able to avail 20% off on items you order. If you want to cut off some expenses on shipping, you may opt for small packets delivery for orders below 2kg. As an official merchant, all music sales are counted to Korean official music charts.
For shipping details, refer to the image below: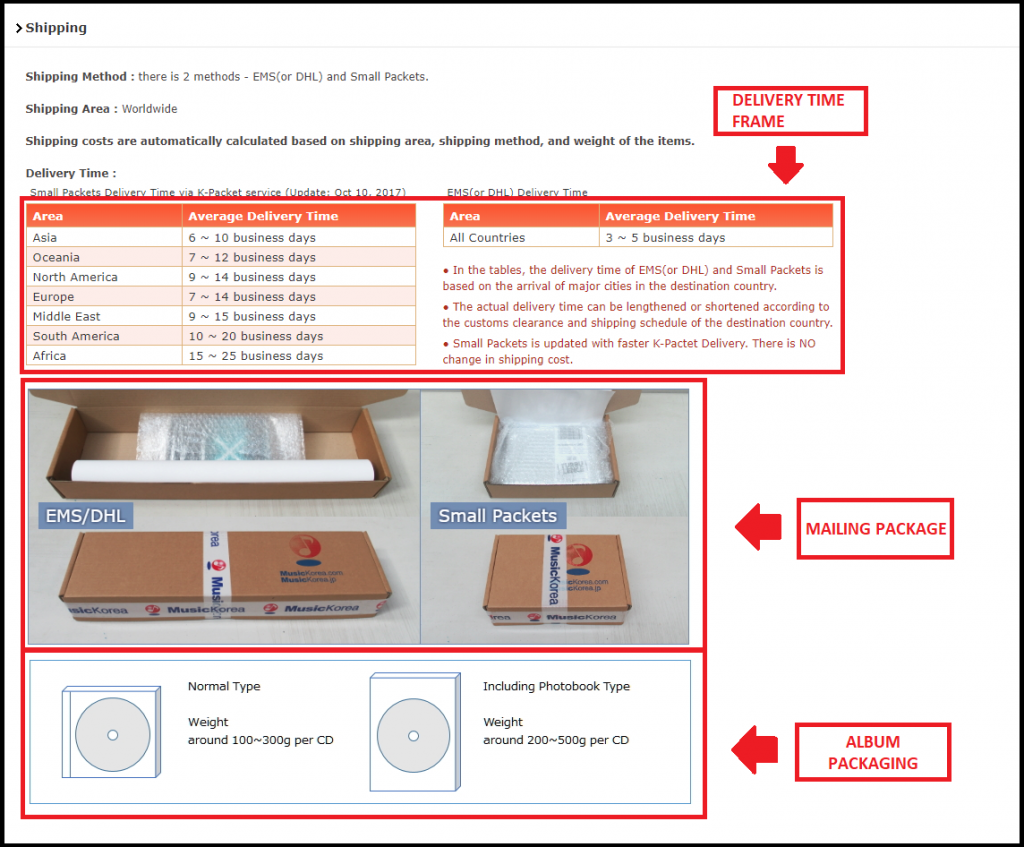 There's not much difference with the average delivery time except for countries from South America and Africa however we recommend EMS or DHL delivery as it's not only the fastest but also the safest choice for shipping.
As for checkout procedures:
The website processes payments via Paypal so you can still use your credit card/debit card without making a paypal account. However, it's still advisable for you to use a paypal account for buyer's protection.
MusicKorea has a lot more to offer besides K-drama OSTs as they're also a stop for K-pop fans. Be sure to check out the other categories of the website.
More K-drama OST shops choices come our way as we bring you a simpler website – Catchop-CD.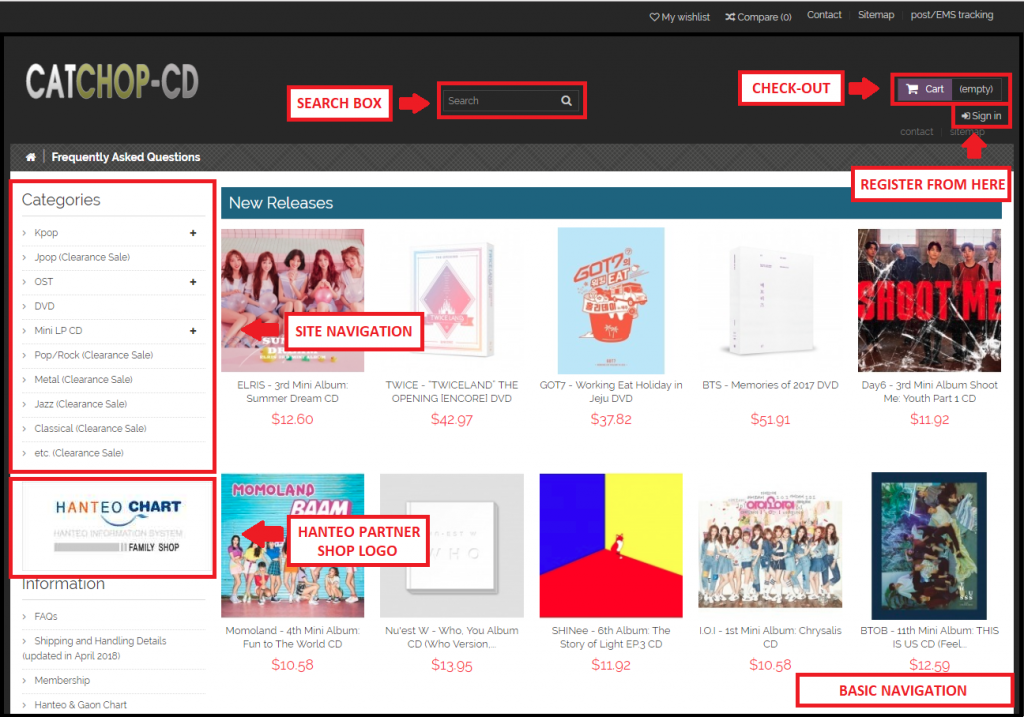 Catchop-CD provides a simple user interface for online shopping with the same product inventory as YesAsia and MusicKorea. In addition to that, it's also a partner shop of Hanteo which means, like YesAsia and MusicKorea, all music sales are counted to official Korean music charts.
Now, let's take a look at how we can get our hands on K-drama OSTs from this website:
In this website, you'll be able to utilize the search box without any problems as it's accurate like that of MusicKorea's search box. Also note that before proceeding, make sure you're registered and already have your details in your account.
After selecting your favorite K-drama OST, it'll bring you to a screen similar to this:
Lastly, you should be on the checkout screen:
The website only processes payments with a credit card/debit card through Eximbay or Paypal, which will charge additional fees.
When you're done with the payment process, the website should be processing your order already. Now, isn't that easy? Catchop-CD also offers a wide variety of up-to-date K-pop and J-pop albums for sale so check them out!
As always, official K-drama merchandise should always be patronized so be on the look out for these logos when shopping in other stores:

These would mean that the website you'll be dealing with are registered as partner shops by official Korean music charts.
As for digital copies, you can listen for free on Spotify or go premium for unlimited skips and ad-free experience. You may miss out on the physical album goodies, though.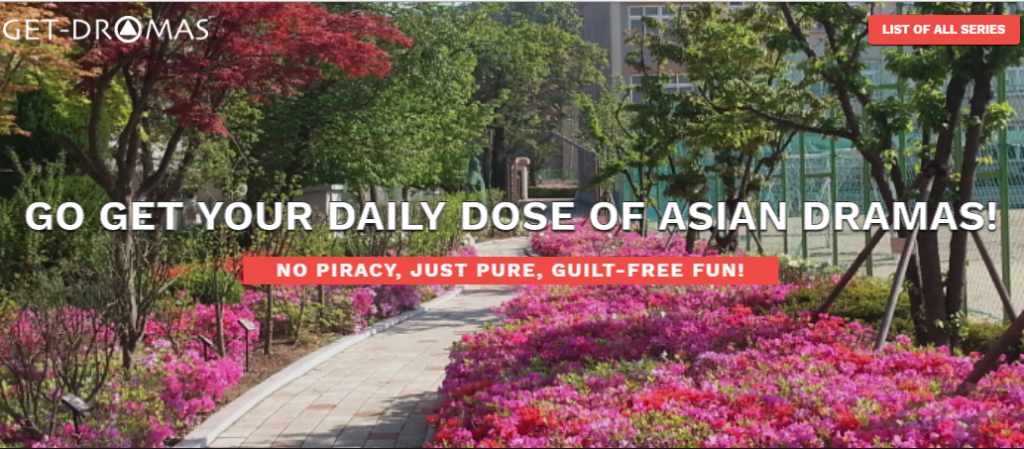 Speaking of official items, you may visit our GET-DRAMAS page for legal source of K-dramas in your country!