The Quintessential Quintuplets Finale Hits The Big Screen in 2022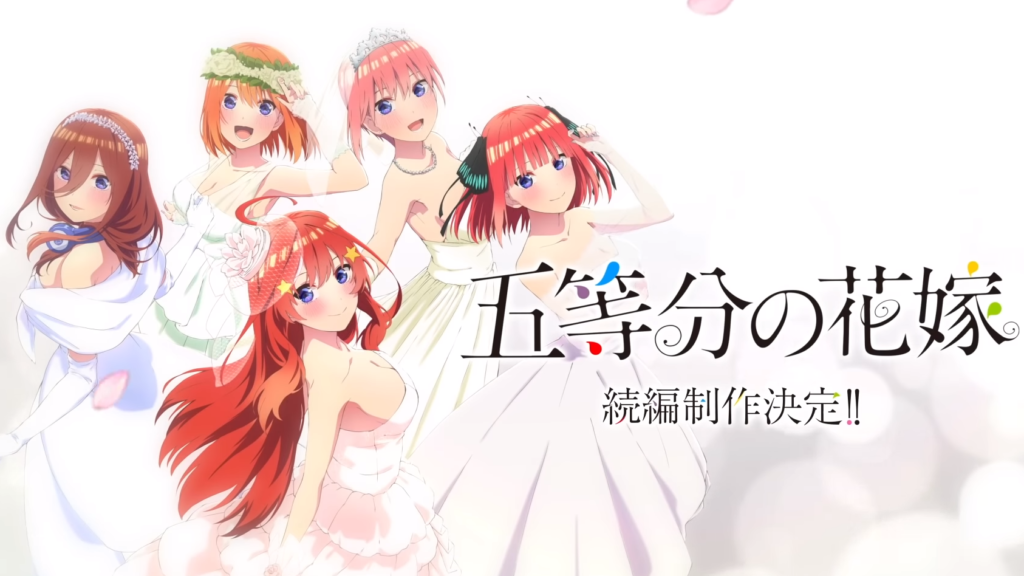 ---
The Quintessential Quintuplets ∬ – Special Event 2021 was recently held in Nakano Sun Plaza last April 18th. During the event, it was announced that the sequel of the series second season will be made into a movie. The announcement was also made on Twitter on the same day:
The quintuplets are seen in glamorous wedding dresses in the announcement's visual. The news also stated that the movie will be premiering in 2022.
Quintessential Quintuplets ∬ (Season 2) first aired on January 7th. The season's final episode aired on March 25th. The first and second season of the anime is available on Crunchyroll in selected regions, while Netflix only has the first season available globally.
The second season of the anime is also available on Blu-ray divided into five DVD volumes matching the Quintuplets. The first disc (Ichika Nakano cover) was released last March 17th. The upcoming discs are to be released respectively: April 21st (Nino Nakano), May 19th (Miku Nakano), June 16th (Yotsuba Nakano), and July 21st (Itsuki Nakano). The fourth and fifth volume jacket illustrations were also revealed on Twitter.
Quintessential Quintuplets is based on a manga written and illustrated by Negi Haruba. The manga launched in Kodansha's Weekly Shonen Magazine in 2017, and ended in February 2020. Kodansha US is releasing the manga in English, and describes the story as such:
Five girls who want to do anything but study, and their tutor: a high school boy who's got book smarts and not much else. Futaro Uesugi took the tutoring gig because he was desperate for cash, but when his students—the five beautiful daughters of a wealthy businessman—find five times the excuses to slack off, what can he do?! At this rate, the sisters won't graduate, so if he wants to get paid, Futaro must think of a plan to suit each of them … Which feels hopeless when five out of five of them think he's a loser!

– Kodansha US
Can't get enough
SOURCE: