Yuuna and the Haunted Hot Springs: FREEing Miyazaki Chisaki Bunny Ver. figure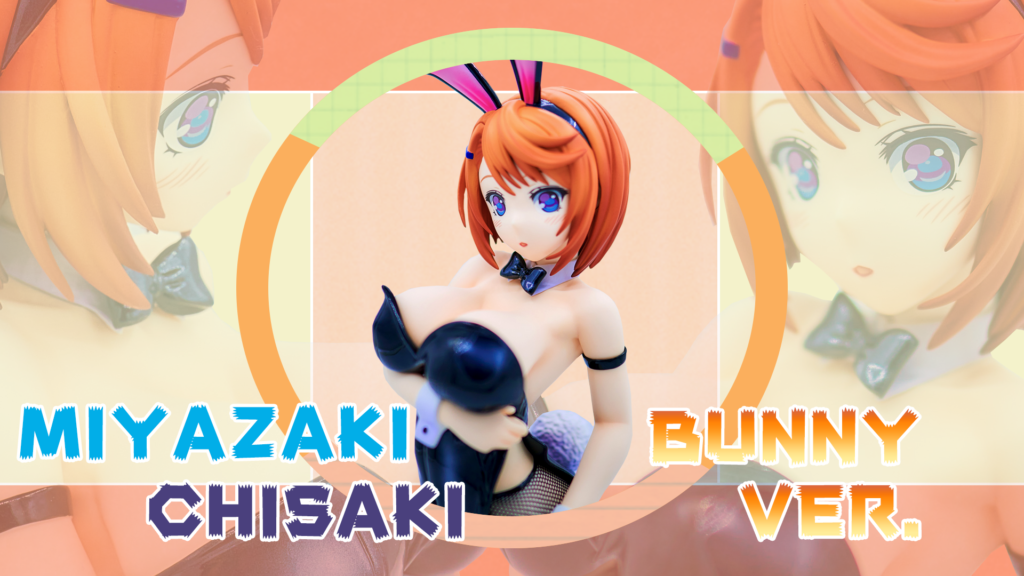 ---
Special thanks to lamex from MyFigureCollection.net for making this article possible
SERIES DETAILS
Kogarashi Fuyuzora struggles to find a home as he's only a high school student. Ever since he was possessed by spirits during his childhood, luck has found it hard to go his way. He eventually found a cheap boarding house to rent in, the Yuragi Inn.
Yuragi Inn is home to several female residents, which is why Kogarashi had difficulties getting in. Among the female tenants, one of them is a ghost who's stuck in the physical world. Kogarashi is the only one who can help her with unfinished business and totally cleanse Yuragi Inn of spirits.
Miyazaki Chisaki is one of the female tenants of Yuragi Inn. She's known for her beauty and popularity in high school. She was the first one to talk to Kogarashi when he went to live in the inn. However conservative she may be, FREEing recreates Miyazaki in a tightly-netted bunny suit!
FREEing Miyazaki Chisaki Bunny Ver. Figure Highlights
It looks like FREEing chose well on who they'll dress up as a bunny among the characters in the series. The Bunny version figures for the anime is actually a gorgeous duo. Yunohana Yuuna, the resident ghost, has a bunny version of her own. Check it out in Good Smile's website!
FREEing is pretty popular when it comes to delivering anime gals in bunny suits. It's a fan-favorite, no doubt! They most often come 1/4 scale, almost twice the size of a 1/7 scale figure. You'll definitely catch the good details on Chisaki here.
The figure definitely came with a box. Of course, it has the seal of authenticity intact, and this is very important. The sticker like what you can see on the packaging is one of the things that proves that a figure is legitimate.
Out of the box, Chisaki looks really cute with her expression. If you'll notice, showing different angles of her face displays a different expression. She looks flabbergasted from a straight angle, but her face of confusion shows from an angle from below her body.
In reality, she wears a completely, glossy black bunny suit that's netted on the legs. The outfit also has a fluffy white tail, but for aesthetic reasons, she looks lovely wearing a cool-colored outfit.
Even from the overview images, you can tell that the figure feels silky smooth. There aren't any misplaced bumps, and low-quality details. To be honest, this figure feels like an improved version of the character, in personality and appearance — no kidding!
Well, there might be some exaggeration on the design, but that's totally fine, right? For example, her bust size in this figure looks a bit larger than the anime character. Also, the back ribs, if you're looking at her side, isn't proportion to her stomach. You'll notice that from the slit where you can have a peek at her tummy.
The legs are covered in real net tights leaving a bit of mystery on her exposed body. The net's amazingly knitted in perfect patterns making her legs look appealing anyway.
FREEing has put attention-to-detail into the figure, indeed. There are appropriate shadowing that can be seen on the elbows and parts that are partially covered. Her hair's accurate to that of the character's faded orange color.
This Miyazaki Chisaki figure is really an astonishing sight. A perfect waifu to be added in your collection — that is, if you're into bunny waifus!
OUR VERDICT
Initial Price: $229 USD
Current Price: $334 USD
A worthy piece such as the Miyazaki Chisaki figure holds true value. Sure, it's still possible to buy the figure in its original price, but other places online already raised as high as $334 USD. The figure's still new as it was released in August 2020, so expect further rise in value.
Needless to say, if you have the money to get ahold of this figure, get it now! Even if you aren't into anime girls in bunny outfits, it's a figure that'll put sparkles on your eyes. Much better if you're a fan of the anime series! It's a wonderful design worthy of its price. It's definitely a good selection if you're buying your first 1:4 scale figure.
The FREEing Miyazaki Chisaki really catches the hearts of men. For that, it deserves an A+ grade for its exceptional design.