Banpresto DXF Dragon Ball Heroes: Masked Saiyan Bardock figure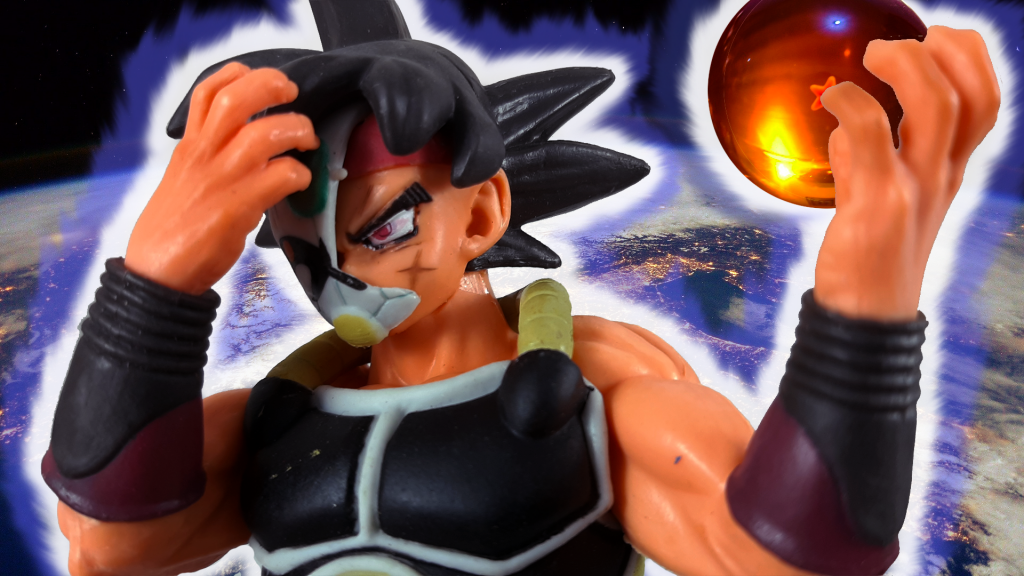 ---
CHARACTER DETAILS
Have you ever wondered why Son Goku is so strong even back when he was only a kid. No child could ever spew out a beam of light out of his two hands. There was none other than the little kid with a tail of a monkey.
Well, he was born a Saiyan. He's the son of Bardock whose resemblance isn't far from Goku — you don't say? While the evil Frieza was out destroying planets, spreading his wrath among the remaining Saiyans in Universe 7, Bardock had the chance to save his son, Goku, to be sent to Earth. Alas, the protective father went down together with his wife while trying to fend off Frieza's forces in the middle of destroying planet Vegeta.
In Dragon Ball Heroes, however, characters go beyond the original story. Here, we can see a mysterious masked Saiyan harboring the name of Son Goku's father. Banpresto wouldn't let this opportunity go since characters with historical meaning would garner a lot of audience. They've had a chance to release the Masked Saiyan: Bardock under the renowned DXF collection.
Whether it's a less known character or not, when there's a chance to copy designs for free, figure pirates will always strike their target relentlessly. These bootleg makers are truly merciless although they won't be able to make much money off their worthless imitations.
ORIGIN OF FAKE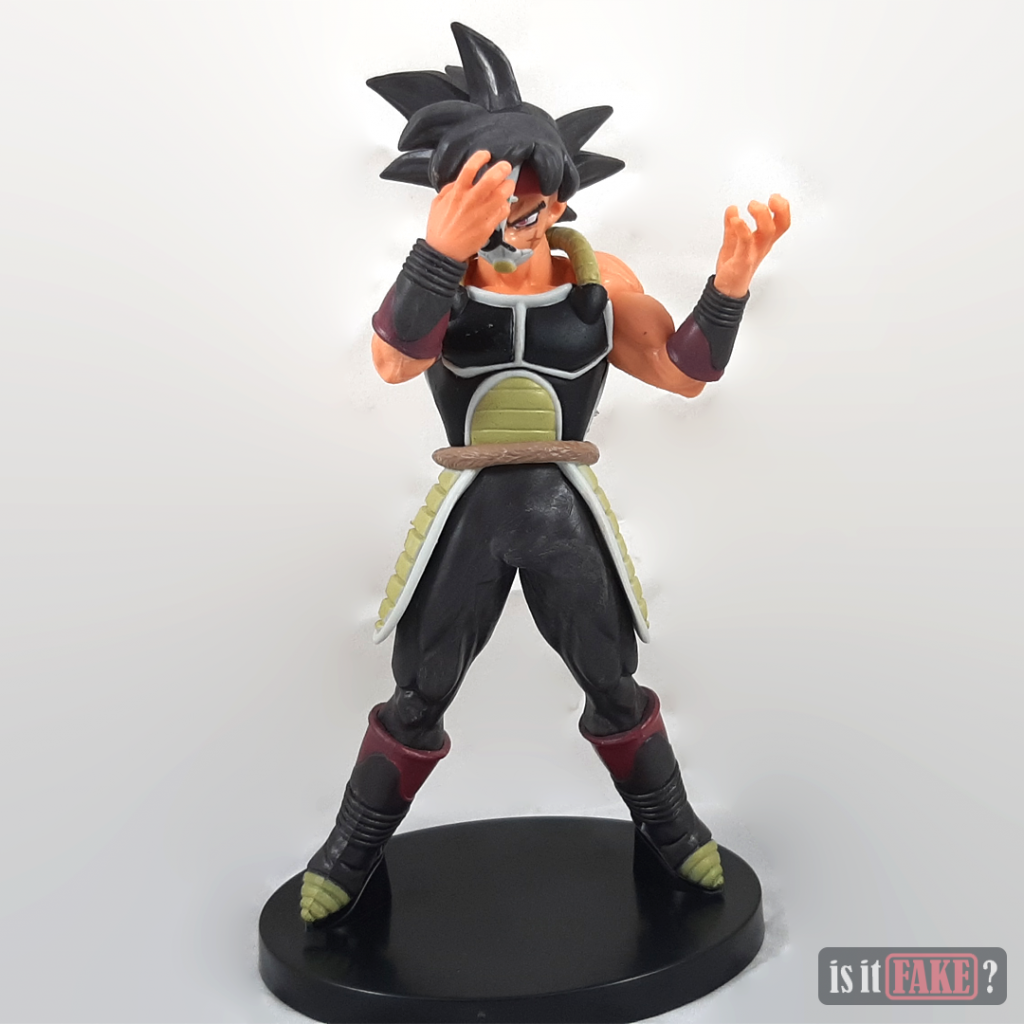 Bought on: AliExpress
Origin: China
Vendor: AMGfun Store
Distribution Area: Worldwide
Needless to say, many bootlegs are found on AliExpress. There's no point in finding out if authentic anime figures even exist in such a website. While many stores use irrelevant names on the website, AMGfun Store has a different sound to it.
If you're trying to bust a bootleg figure, you shouldn't judge it for being 'made in China'. Many Japanese figure manufacturers have factories based in China because they see it as an effective means of mass-producing figures, though undoubtedly, many bootlegs are made in China. Horribly, these items are shipped worldwide, and the only way to stop it is by convincing others not to tolerate bootleg figures.
You also have to look out for bootleg, and you can definitely start with by looking at this fake DXF Masked Saiyan: Bardock figure!
DESCRIPTION OF FAKE
As you can see, the Bardock figure is only inside a thin, cheap plastic. The figure and the base seems intact, but you can tell upfront that the bootleg is really in bad shape.
Most Banpresto prize figures are in a box when obtained through gachas. Authentic prize figures may also be sold by legitimate retailers online, and still profit from it. Regardless, you can already tell that the fake Bardock figure is as such because of its condition and absence of a proper Banpresto packaging.
Obviously, it's hard to distinguish flaws if it's a "Masked" figure, but for the fake Bardock figure, you can already see scratches on its right eye. The scar on its cheek also looks faded. As for its hair, it's noticeably faded and a bit tainted with white paint. You can also see a tiny dent on this area.
Hardly enough, minor defects like these don't come on an authentic figure, and if they do, the defective figure is already subjected for an exchange. Plainly, it looks like bootleggers are trying to make money off a rejected figure.
Moving on to the bootleg's body, the arm bracers look a bit tainted with white, powdery paint. You can also see a tiny spot of glue stain on its left elbow. In the same area, there's an awkward lining, particularly on its left shoulder. A spot of black paint can be found on the back.
The body armor looks a bit odd with its tiny scratch on the left area of the chest. You might also find it annoying that the upper right area of the armor has a paint job that's just way off. Looking at this area at a glance, you can also tell that there's an imbalance between the body and the leg area.
The lower area of the bootleg is a complete mess. First, you see the majority of this area covered in white paint stain, then a couple of dents on the side of the lower armor. What you see that acts as the belt is actually Bardock's tail, though at the back, the tip of the tail looks unrefined and unpolished.
Notably, there are also some stains on the boots — and some dents. All in all, the area too unfinished like the soles of its feet that has too many scratches on it. It was hard attaching the figure and you can see that on the sockets of its soles.
The real DXF: Masked Bardock figure has a jet black finish on it while the padded armor has remarkable details on it. Basing from the real figure, you can tell that getting an authentic figure will be worth every penny because of their well-polished features.
As a prize figure, the real Masked Bardock figure is still on par with quality Banpresto figures. The price also comes into play when comparing both the bootleg and the real one.
PRICE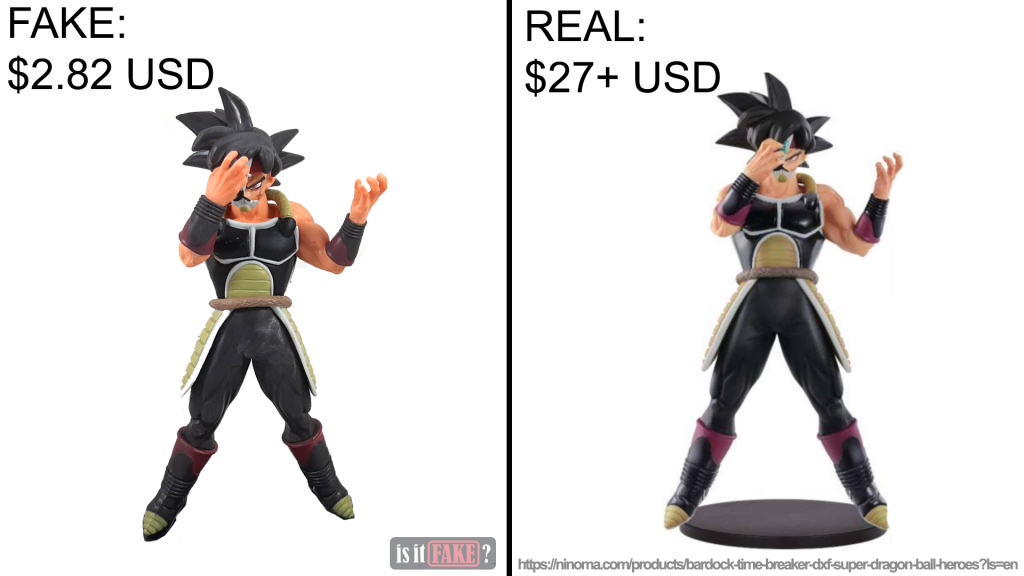 You would normally freak out when you see a good-looking figure priced at roughly $3. Well, sellers on sketchy online shopping malls manipulate their images. And obviously, they have to sell these crappy fakes. The fake Bardock figure isn't any different.
The real DXF Masked Bardock figure can be found online for around $27. Wait! Get your eyeballs back into their sockets, because that price is just as reasonable as any Banpresto figure you can find online. If you want a true-quality item on your collection, you'll definitely have to shell out the funds.
WHERE TO GET REAL BANPRESTO DXF TIME BREAKER BARDOCK FIGURE
The Masked Saiyan: Bardock is still available on many trusted stores online since it was only released last 2018. You can go ahead to Ninoma – The Japanese Market to get the exact figure today!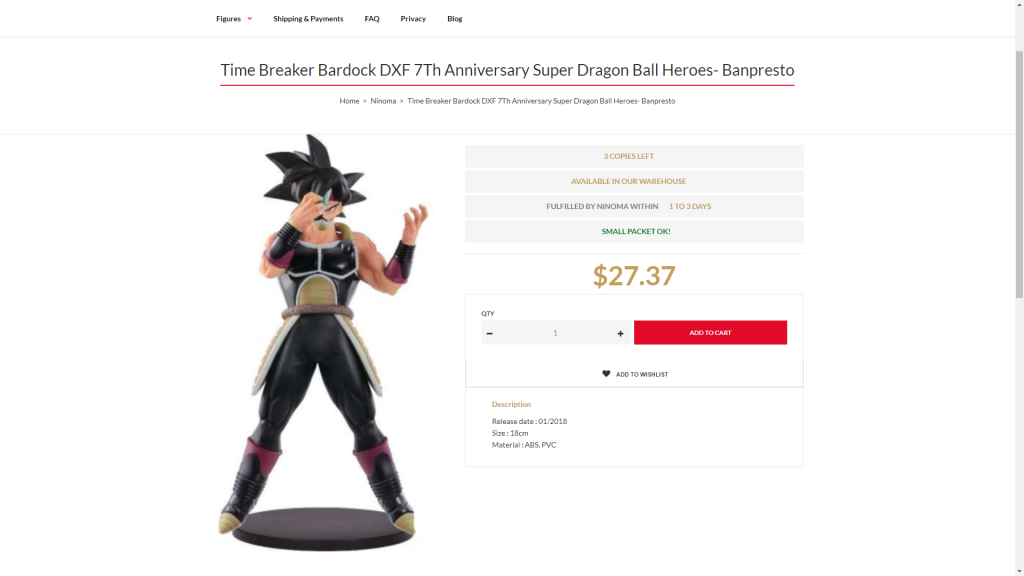 The DXF Bardock figure is priced at $27.50 on Ninoma. The offers various benefits and they're also available for worldwide shipping — which is a must, especially for us overseas collectors. You can also check the website for other varieties of Bardock figures from different manufacturers.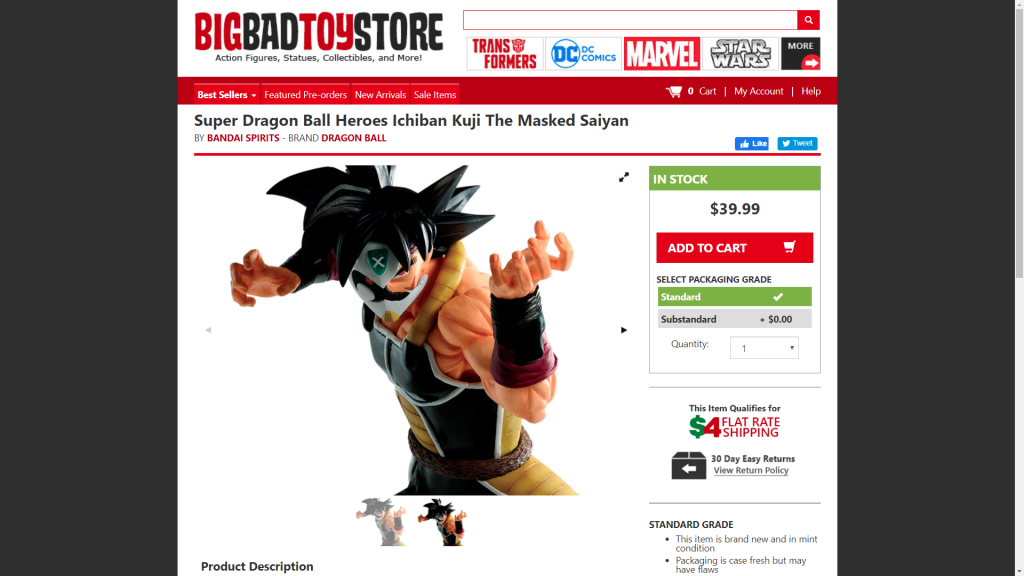 If you want a badass version of the Masked Saiyan, you might want to check the Ichiban Kuji: The Masked Saiyan figure by Bandai Spirits. You can buy the exact figure from the BigBadToyStore for $39.99.
It's absolutely easy to search for legitimate sources of branded anime figures online. Once you find out where to look, you can never go wrong with authentic figures. You might also want to consider joining online communities for collecting anime figures, or just any action figures in general. You'll definitely learn a lot on authentic figures!
OUR VERDICT
The fake Bardock figure really burns your eyes because of its obvious and messy flaws. It doesn't only look bad, but it's also filthy as heck. You'd never want to touch a bootleg again once you get a hand on this Bardock figure. While it's awfully scratched, the paint job on this item called off the deal. It's not worthy of your display cabinets, nor even your desks. This deserves a whack of an 80% terrible rating.