Cardcaptor Sakura: Kerberos plush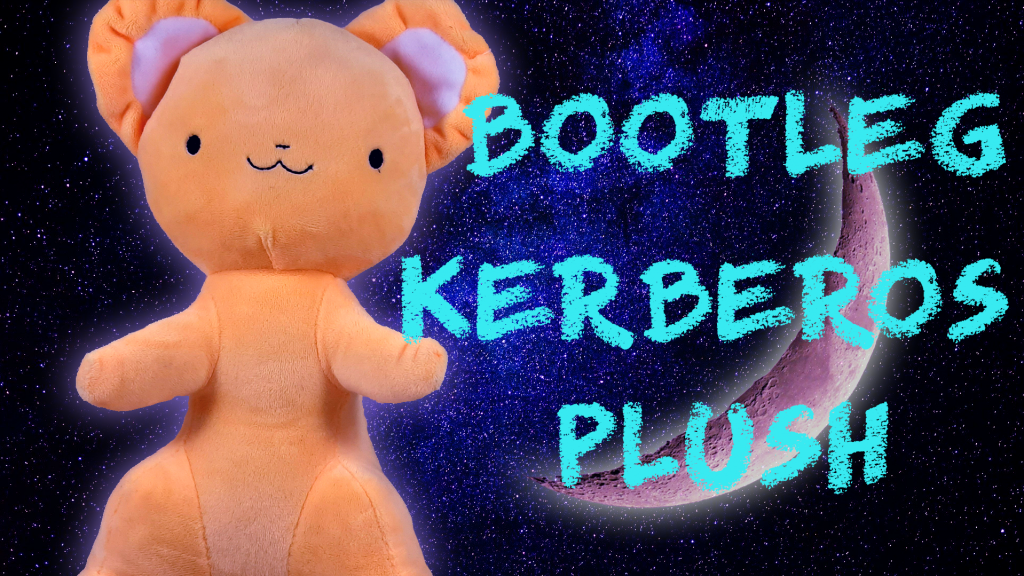 ---
SERIES AND CHARACTER DETAILS
Ever thought of opening a random book that you found in your basement? Well, Sakura Kinimoto happened to find a magical book in her basement that was used to seal mystical cards. Apparently, she opened that book breaking the seal. For that reason, she was chosen by one of the cards' guardian, Kerberos, to put back the cards back into the book — after all, it was Sakura's fault that the cards are wreaking havoc in Tokyo.
Luckily, Kerberos is there for Sakura for the training she needs to capture the cards. This tiny, cub-looking creature happens to be a bossy guardian. Despite his adorable form though, his true form takes the appearance of a majestic, winged cougar. You'd probably stopped wondering how he became a guardian after you see that form.
Most of the time, Kerberos is in his cute form and that's why many who watched the anime wanted to get him as a plush. But of course, bootleggers are always on the lookout for popular items to counterfeit, and unfortunately, Kerberos fell victim for this as well as many fans.
ORIGIN OF FAKE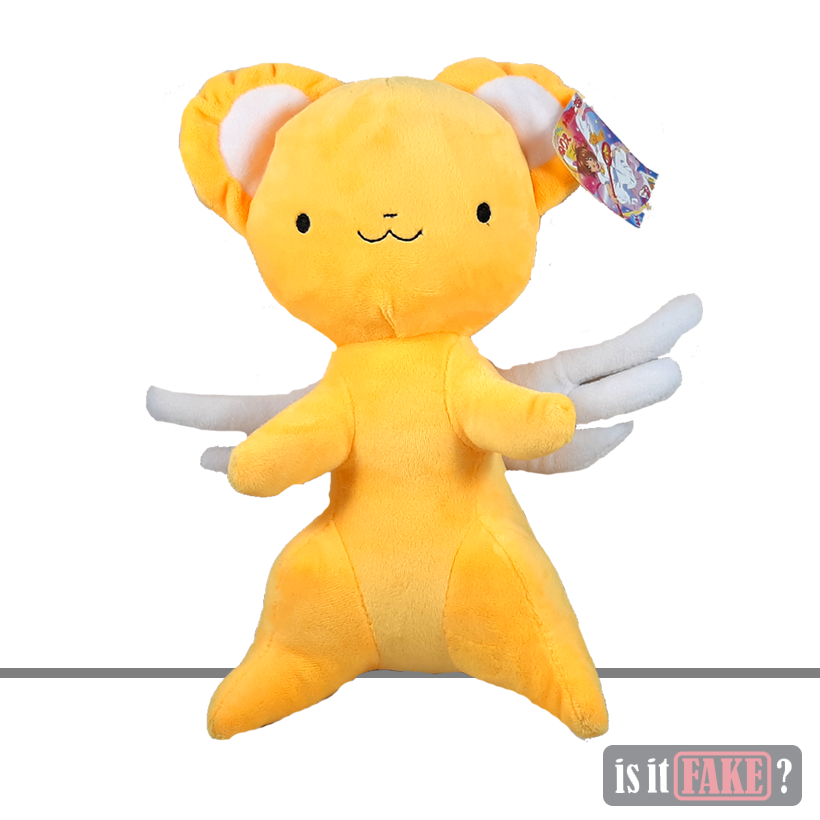 Bought on: AliExpress
Origin: China
Vendor: Whitebeard' Store
Distribution Area: Worldwide
Plushes are one of the products that are easy to counterfeit. Needless to say, they also sell like pancakes because most people find plushies cute. These items can have remarkable values when given as a gift, regardless if they're authentic or fake. That's why stores like the Whitebeard' Store take advantage of selling illegal Japanese plushies instead.
What can you do to protect yourselves from low-quality plush dolls, you say? Better take a look at this fake Kerberos plush!
DESCRIPTION OF FAKE
First of all, any plush that doesn't have any proper packaging has an x-mark on it. You shouldn't settle with something wrapped in thin plastic considering that the plush is prone to sharp objects.
The fake Kerberos plush somehow doesn't have something to wrap it. It isn't even inside that thin plastic where bootlegged plush dolls are usually wrapped. Instead, the fake plush only has a tag on its right ear that basically says it's made in China. The tag, on the other hand, has an awful resolution if you look at it closely.
Looking at the fake plush's face, you can see a couple of odd details.
The eyes and mouth have some outlying threads hanging although the defect is a bit minor. The shape of the head, overall, is weird since you'll see an imbalance between the two sides (left and right). To describe the ears, both of them are plainly made of the plush's skin as there are no stuffings.
If you look at the plush's body upfront, it's possible that you won't see anything wrong with it. However, if you look at the back, you'll see a single thread hanging. The wings are also in bad shape as the center has some loose threads as well. The specific part looks like it'll also fall off easily when pulled with a bit of force as the threads aiding it is also as loose.
Plush doll stitching can be quite tricky. For bootlegs though, this is a spot where you can easily notice a flaw. As for this fake Kerberos plush, you can see that both hands are equally aligned. However, if you look at the stitching, you'll realize that the left stitching is lower than the right side.
There's not a lot to say about the plush's lower body besides both feet are out of shape. The left leg seems bulkier than the other foot. And if you look at its butt, you'll only see a tag that says "made in China".
Authentic plush dolls have convincing tags attached to them, especially if it's an anime plush doll. For a Kerberos plush, you should at least expect tags that are written in Japanese, or if it was made by a western manufacturer, you might as well expect a copyright print on the tag. Unfortunately, there's no trace of that from this fake Kerberos plush.
Lastly, the tail feels dull as it doesn't have any stuffing. Even if that's what's in an authentic Kerberos plush, the tip of the tail says a lot about this bootleg's quality.
Authentic anime plushes are mostly durable. You can definitely tell that from the material that was used for the plush. As for authentic Kerberos plush dolls, the high-quality types are more detailed unlike the bootleg. You can tell from the comparison that the fake is just an inferior copy.
When it comes to the price though, you'd be shocked as to what the fake's price tag shows.
PRICE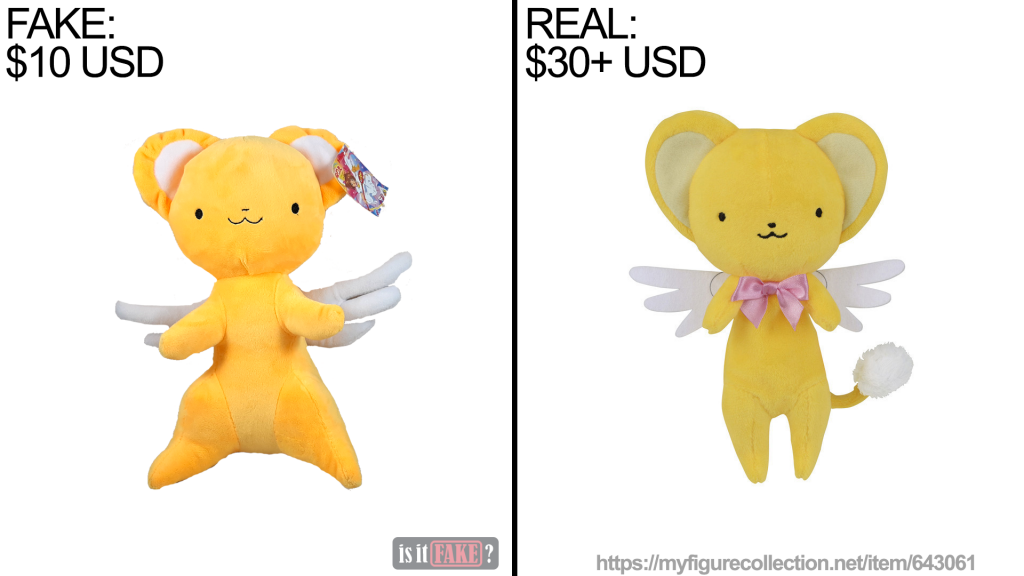 Can you believe spending $10 USD on a low-quality Kerberos plush? We're sure you wouldn't even think about buying any bootleg plush with that price tag. Similar fake Kerberos plush dolls can go up to $30 USD, and that's absolutely insane!
Authentic Kerberos plush starts at around $25 USD, if you're really lucky, and goes up to $60 USD for recent releases. Yes, the price tags for authentic plush dolls really hits hard, but it's definitely worth it.
WHERE TO GET A REAL CARDCAPTOR SAKURA: KERBEROS PLUSH
Apparently, the bootleg is only a mere copy of Kerberos himself. Although the most possible lookalike of the plush may not be available online, there are a few Kerberos plush that you might enjoy having.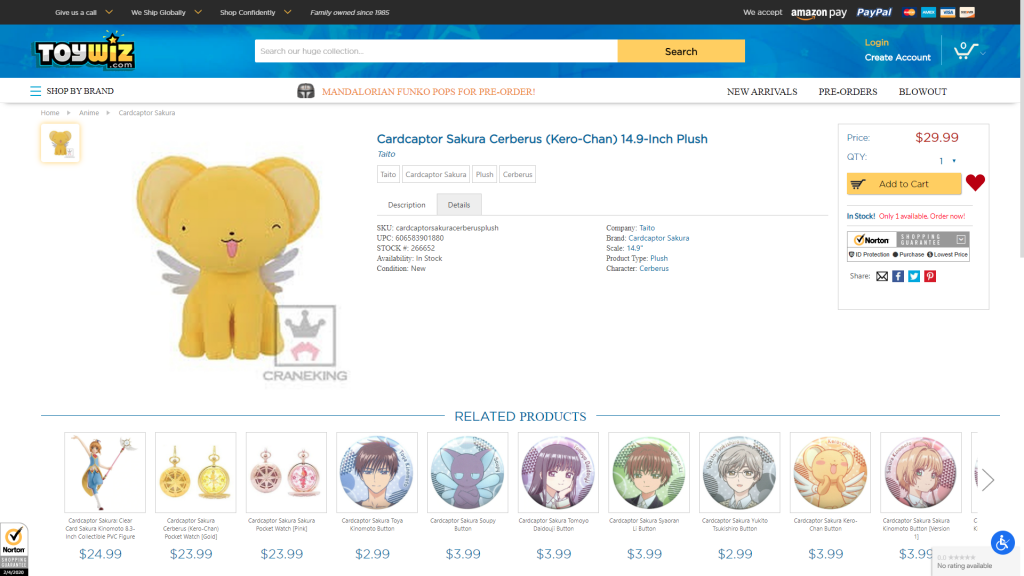 This Kerberos plush from Toywiz will only cost you $29.99. Considering that it's a 15in plush, the price could be the most reasonable for it. There's still a remaining stock on their inventory as of this writing, so it's definitely worth getting now.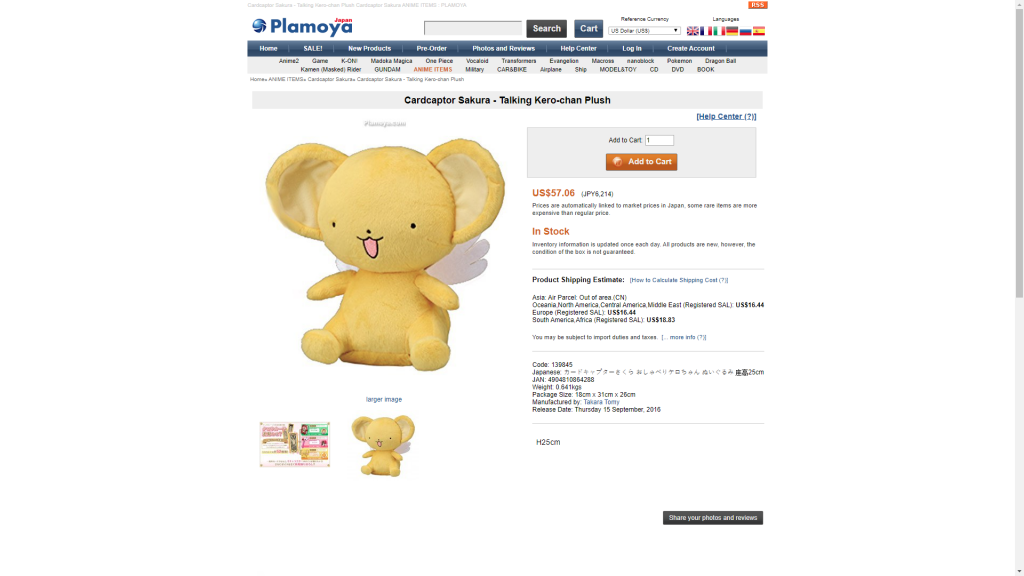 If you want an interactive Kerberos plush, you might want to go over at Plamoya to check out the Talking Kero-Chan plush for roughly $57 USD.
The website has a variety of collection of items from Japan, mainly anime-related stuff, so you want to go and check that out as well.
Japanese authentic plush dolls are really hard to find online, so it's still best to go over physical stores. This is also a better option for shopping plush dolls since you already have a gist of what you're getting, unlike ordering random plush dolls online from shady websites.
OUR VERDICT
The fake Kerberos plush definitely has many flaws that are tough to spot. More or less, these flaws are ones you wouldn't find in any authentic anime plush, because if you do, those are already bound to the defective trash bin.
Regardless, the fake Kerberos plush is in a shallow mess that's full of subtle loose threads. Either way, we'll be giving this plush a 65% awful rating.